As a child growing up in Michigan, I loved hot apple cider in fall and winter.  And it continued to be a favorite even as an adult.  Then we went cruising in Mexico, and I couldn't get cider.
So I came up with "almost" hot apple cider!  Maybe not exactly the same, but still excellent on a cool day in the cockpit.
A Little Background
Apple cider and apple juice are both made from fresh apples.  The big difference is that cider isn't filtered, isn't pasteurized and isn't sweetened.  Apple juice, on the other hand, is filtered so that it's clear, pasteurized so that it stays good much longer and is often sweetened.
We discovered that while we couldn't get cider in Mexico (and my parents and other friends complain about not getting it in Florida and other southern states), you can buy apple juice almost everywhere.  And if you can find UNsweetened apple juice, it tastes fairly similar to cider — or at least similar enough if you are craving hot apple cider and it's your only option!  You can even use sweetened apple juice, but some people find it just "too sweet" — I think it depends on the brand and how much sugar has been added.
No Cinnamon Sticks?
Sometimes, we could get cinnamon sticks; sometimes we couldn't.  If you can't, a bit of ground cinnamon, allspice, nutmeg or pumpkin pie spice works well.  And if you're making a Thermos full to take along on a hike, it's much easier to add ground spices in the Thermos than to try to take cinnamon sticks along without breaking them.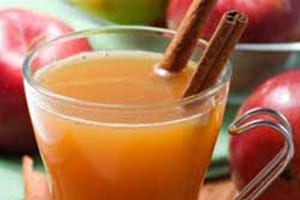 Faux Hot Apple Cider
Craving hot apple cider but can't get cider where you are? Try this tasty alternative!
Print Recipe
Pin Recipe
Ingredients
1

cup

apple juice

1

stick

cinnamon

(OR pumpkin pie spice OR ground cinnamon OR allspice)
Instructions
Heat apple juice until hot but not boiling.

Place cinnamon sticks in mugs and pour apple juice over them.

If you're using ground spices, add them to the apple juice as it's heating. Only use about 1/8 teaspoon per mug, and be careful to mix them in thoroughly before pouring or else one mug will get all the
Notes
Optional: If desired, add a shot of rum, brandy or other appropriate liquor.
Great to take along in a Thermos on a cold day! With a Thermos, it's usually best to use ground spices and shake it up well before pouring.
Nutrition Facts
Faux Hot Apple Cider
Amount Per Serving
Calories 122
% Daily Value*
Fat 0g0%
Cholesterol 0mg0%
Sodium 10mg0%
Potassium 250mg7%
Carbohydrates 30g10%
Protein 0g0%
Vitamin C 2.2mg3%
Calcium 55mg6%
Iron 0.6mg3%
* Percent Daily Values are based on a 2000 calorie diet.
Want over 800 boat-friendly recipes, over 100 substitutions, and tons of tips for cooking on a boat?


Some links in this article (including all Amazon links) are affiliate links, meaning that we earn from qualifying purchases.