Is green bean casserole a holiday tradition for you? It sure is for my husband, Dave.
That's the one thing he requests every year for Thanksgiving, Christmas, his birthday, our anniversary, even Valentine's Day!
When we began cruising in Mexico, I discovered that I had a problem: I couldn't find Campbell's Cream of Mushroom Soup or French-Fried Onions. What was I going to do??
Thinking about it, I realized that the Cream of Mushroom soup is really just a very thick white sauce with mushrooms added in. And while I couldn't exactly re-create the French Fried Onions, I could carmelize some for flavor and then add some slivered almonds or ramen noodle crumbles for crunch.
Dave was delighted with the result. And now that he's developed a milk allergy, I use a few alternate ingredients and it still works out. And two years ago, when we were living temporarily in a motel room with a "kitchenette" without an oven, I even did the whole thing on the stovetop.
Was it exactly the same? No. But was it close enough to be comfort food? Absolutely.
Here's how I did it, with lots of "variations" depending on what you do or don't have available.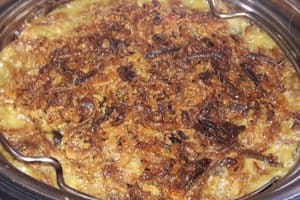 Green Bean Casserole – From Scratch
You can still make green bean casserole even if you can't find Cream of Mushroom soup or French-fried onions. There's even a dairy-free option in the variations (it's so good that I've taken it to potlucks and no one would have known if I didn't put a sign on it).
Print Recipe
Pin Recipe
Ingredients
4

tablespoons

butter

(OR margarine OR canola oil OR vegetable oil)

4

tablespoons

flour

1

teaspoon

chicken or vegetable bouillon powder

(OR 1 bouillon cube OR 1 teaspoon salt)

1-1/2

cups

milk

(OR evaporated milk OR cream OR soymilk OR almond milk)

1

large can mushrooms

(OR 2 small cans OR 1 to 2 cups fresh mushrooms)

3

cans green beans

(cut, whole, French-cut — can even be yellow OR 4 to 5 cups fresh green beans)

1

can French-friend onions

(OR 1 cup sliced and quartered onion plus 2 tablespoons butter or margarine)

1/4

cup

almonds, slivered or roughly chopped and/or 1/2 cup uncooked Ramen noodles, crushed (plain — no spice packet or mix)

(optional)
Instructions
Prepare the onions:
If you don't have French-fried onions, begin by carmelizing the onions in the butter over medium heat. To carmelize, heat butter over medium heat, add the onions and let them cook until golden brown, stirring very rarely — they won't carmelize if you stir too often. The onions can be carmelizing while you're preparing the rest of the dish — just keep an eye on it every so often to make sure they're not burning!
Prepare the "mushroom soup:"
Melt the butter in a small saucepan, then stir in the flour and bouillon powder. Very slowly add the milk, stirring constantly so that lumps don't form. Bring to a boil over medium heat, continuing to stir constantly.

Let boil for about 3 minutes, until very thick.

Drain the mushrooms and stir them in (if using fresh mushrooms, you may want to roughly chop them depending on how large they are). NOTE: I like to reserve the liquid for use in other cooking (ditto for the green bean liquid).
Prepare the casserole (if baking in an oven — stovetop directions below):
If using fresh green beans, steam or cook in a little water so that they are about half done.

Drain green beans and place in a baking dish — a casserole or bread pan works well, but you can use almost anything. Mix in the "mushroom soup" and half the onions.

Sprinkle the remaining onions over the top, then add the almonds and/or ramen noodles if using.

Bake, uncovered, at 350 for 30 minutes.
Stovetop directions:
If using fresh green beans, steam or cook in a little water so that they are about half done.

Drain the beans and add to the saucepan with the "mushroom soup." Add the onions and mix together. Cook over medium heat until it just gently boils. Turn heat to low and cook for a few minutes, until beans are thoroughly heated through.

If serving in a serving bowl, put beans in bowl and top with almonds and/or ramen noodles.

If serving on individual plates, top each serving with almonds and/or ramen noodles.
Notes
If you are baking something else at the same time, the casserole is okay at almost any temperature — you may just need to adjust the time a little.
Dairy-Free: Use canola oil in place of butter and soy or almond milk in place of regular.
Omnia Oven: Bakes well in an Omnia Stove Top Oven; this batch size is good. Bake for about 20 minutes — keep temperature fairly high.
Nutrition Facts
Green Bean Casserole – From Scratch
Amount Per Serving
Calories 113
Calories from Fat 72
% Daily Value*
Fat 8g12%
Cholesterol 19mg6%
Sodium 131mg5%
Potassium 84mg2%
Carbohydrates 6g2%
Protein 2g4%
Vitamin A 265IU5%
Vitamin C 0.2mg0%
Calcium 62mg6%
Iron 0.3mg2%
* Percent Daily Values are based on a 2000 calorie diet.
Want over 800 boat-friendly recipes, over 100 substitutions, and tons of tips for cooking on a boat?


Some links in this article (including all Amazon links) are affiliate links, meaning that we earn from qualifying purchases.