Gear breaks. Yep, that's the unfortunate reality of cruising. Even worse, you don't know what's going to break, how it will break or when it will break. But I can pretty well guarantee that something will sometime. Whether you're going out for the afternoon or heading around the world.
Over our years of cruising, we discovered that there are basically two types of cruisers: those who have thought ahead about what might break and those who haven't. And contrary to what you might think, it's those who have planned for stuff to break who are the happiest. Over and over, it's the people who haven't planned ahead who are the most stressed . . . and end up hating cruising.
Because yes, stuff breaks. Even with the best preventive maintenance, you can't avoid it.
But here's the good news. You don't have to be able to fix everything immediately (sure, it's nice if you can, but that's just not always possible). What you do need is a plan of what you'll do in the meantime.
So, take a few minutes and think about some of the most common galley gear breakages and what you'd do. Hopefully, the answer won't be "panic!" Actually, in most cases you can continue your trip — you don't have to immediately get something fixed.
There's no universal answers to these questions — a great deal depends on where you are, how long you're planning to be out and what options might exist on your boat — but I'll give some possible "think ahead" plans for what you can can until something can be fixed.
Refrigerator. Transfer items into a cooler to keep them for a few days; see if ice is available; cook and eat most perishable meats immediately; use pressure cooker as a giant can to keep food for a couple of days; give food to nearby boats (maybe they'll keep it for you; maybe it's just a gift, but better than it going to waste); have a party for everyone in the anchorage and use all your perishable foods. Have sufficient non-refrigerated (canned or otherwise) food to last the remainder of the trip.
Cooler (broken hinge, crack in box). Duct tape; eat items quickly; have sufficient other food for trip.
Stove. Use grill (you can cook on the grill in a pan); cook over wood on the beach; have plenty of food that doesn't have to be cooked.
Water (tank leak, run out, go bad). Have water in more than one container; manual purifier (if in freshwater) or watermaker (salt water); strain and boil water if in freshwater; other non-alcoholic drinks; don't use for non-essential purposes; institute rationing; use liquid from canned food in cooking.
Water (pump not work). If it's the pressure water pump that's bad, have a manual pump. There may be an inspection port that's large enough for you to be able to dip water out of the tank.
Pan (lost overboard while washing?). Have more than one; cook food in metal foil.
Can opener. Have a spare. Maybe two spares.
Knife. Have a sharpener. Spares.
Coffeemaker. Carry some instant coffee as a backup.
Electricity is another key item to think about — depending on your systems, it may power your refrigerator and water pump. It provides light. Some boats have an electric stove, coffeemaker and/or microwave. And on most boats, electricity is needed for the propane solenoid. Losing electricity means that all those are gone and will need work arounds — a manual freshwater pump, flashlights or a Coleman lantern, knowing how to bypass the solenoid — or cook on the grill, if the fuel is separate.
Admittedly, having the ability to fix things that break is great. But it's also important to think about what you can do if you can't fix something. And while I've listed galley stuff here, you should think about the rest of the boat systems, too. See a nifty way to have an Emergency Toilet: The Wag Bag
So what galley systems did I miss? And what backup plans do you have?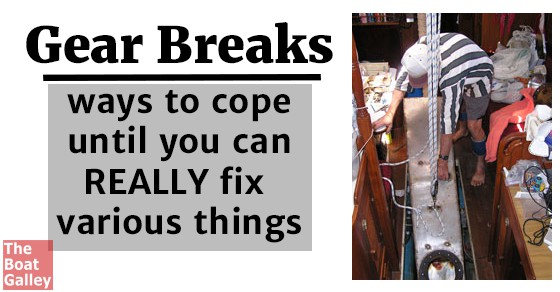 Some links above (including all Amazon links) are affiliate links, meaning that I earn from qualifying purchases. Learn more.