It's early morning on the boat, just barely light in that pre-dawn time that I love. Not even a ripple on the water.
Suddenly I hear a breath and turn my head just in time to see the fin of a dolphin disappear beneath the surface. I wait, and a few seconds later I'm greeted by not one or two dolphins, but a dozen or more. A few minutes later Dave points to an osprey searching for his breakfast.
---
---
Dave and I watch, transfixed, enjoying the magic. We both know that in just a couple weeks, our winter cruise will be ending and the boat will go into storage for the summer hurricane season. A bit later, over breakfast, Dave voiced what we've both been thinking. "I don't want to go back."
And so the discussion began. Actually, less of a discussion and more just making plans. Yes, we'll go back to our house this summer, but only long enough to sell it. Then we'll be full-time liveaboards and cruisers again. The boat is "home."
This month's recipes and tip are inspired by the fact that boat (and land!) refrigerators are never as big as we'd like. Start with real sour cream that you can make from non-refrigerated ingredients, create a delicious fruit topping from it that only needs to be chilled after it's made up, and serve it over fresh oranges that have never been refrigerated.
A bonus is that this topping can be served several different ways. I'll often serve it on successive days in different ways and with different fruit and no one guesses it's the "same" recipe.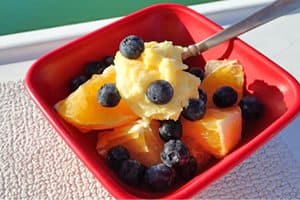 Fruit Topping
We love this delicious fruit topping you can serve many different ways. And if you don't have a fridge, I share how to make your own sour cream from un-refrigerated ingredients.
Print Recipe
Pin Recipe
Ingredients
1

cup

commercial sour cream

or make your own, below

1

(3-ounce) package

instant vanilla pudding mix

1 to 2

tablespoons

milk

or water, as needed
Sour Cream with no refrigerated ingredients
1

(8-ounce) can

Media Crema

(half and half sold in the Latin/Mexican foods aisle of most groceries)

2

teaspoons

white vinegar

or lemon juice or lime juice
Instructions
Place sour cream in a small lidded bowl and stir in half the pudding mix. Slowly add the remaining mix and stir in.

Thickness will vary by the sour cream used; thin to desired consistency with milk or water. Make it thinner for a dip; moderately thick for a parfait and thicker still as a topping.

Mixture will be slightly grainy; cover and refrigerate 30 minutes, stir briskly and it will be smooth.
Homemade Sour Cream
Place Media Crema in small lidded bowl being sure to scrape the can well. Stir in one teaspoon of vinegar, then the second. Can be used immediately in Fruit Topping recipe or cover and refrigerate for 30 minutes to thicken fully before using otherwise. Keep any unused portion refrigerated.
Notes
Serving Ideas:
Dip for bite-sized pieces of fruit. Set dip out in small bowls and put fruit in larger bowls with toothpicks or small forks to skewer it with. Great for an afternoon snack or happy hour!
Fruit parfait. In small clear glasses, put a layer of bite-sized pieces of fruit then drizzle a tablespoon of the topping; repeat until glass is full. A nice dessert on a hot day.
Fruit bowl. My choice for breakfast – fill a small bowl with fruit then add a dollop of topping for just a touch of decadence.
---
Our FREE Provisioning Spreadsheet
Wondering how much of what foods to take on your next trip? Know just how much to buy of what — all arranged by grocery store aisle — with our handy Provisioning Spreadsheet. Includes detailed instructions to edit it for your favorite foods, how much your family eats, and how long you'll be gone. No spreadsheet skills needed!
It's FREE — get it here.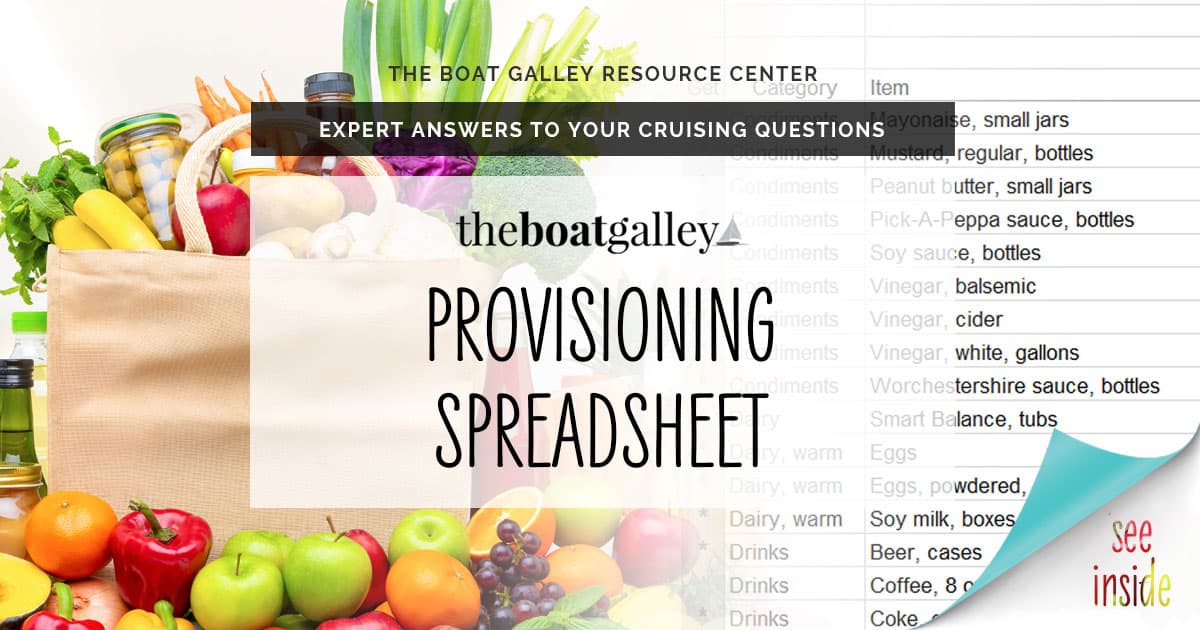 800+ recipes made from readily-obtainable ingredients with hand utensils, including numerous choices to suit every taste. Recipes are all boat-friendly: designed to be made with limited water and electrical appliances and frequent options for making with non-refrigerated ingredients. Get it in our store, on Amazon, or for Kindle.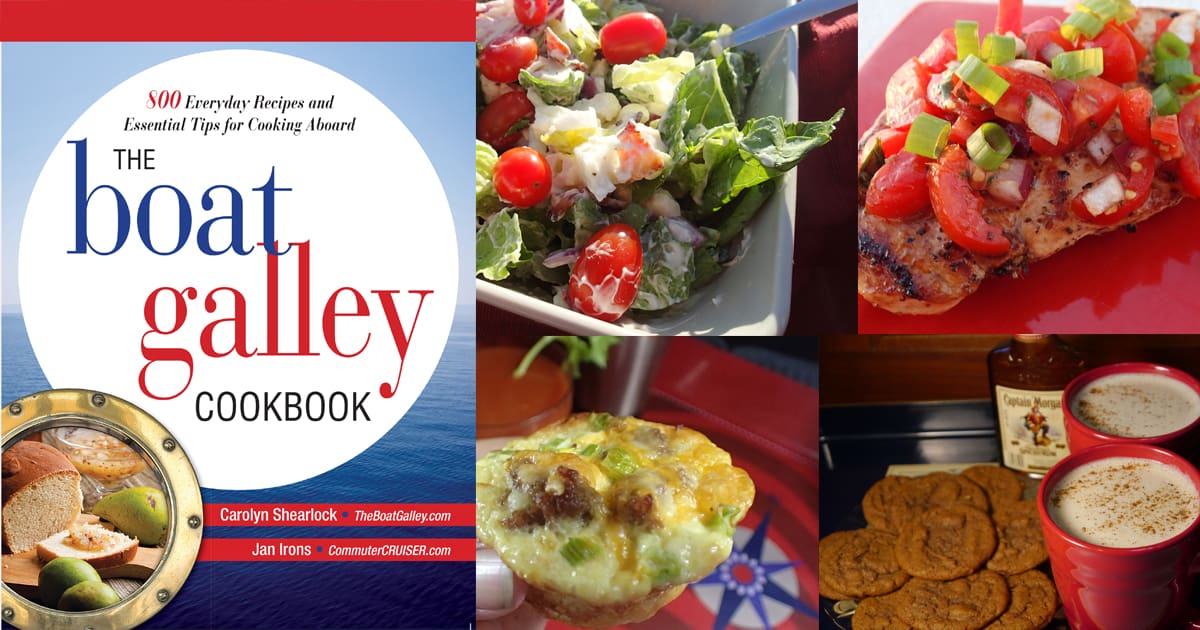 Some links above (including all Amazon links) are affiliate links, meaning that I earn from qualifying purchases. Learn more.