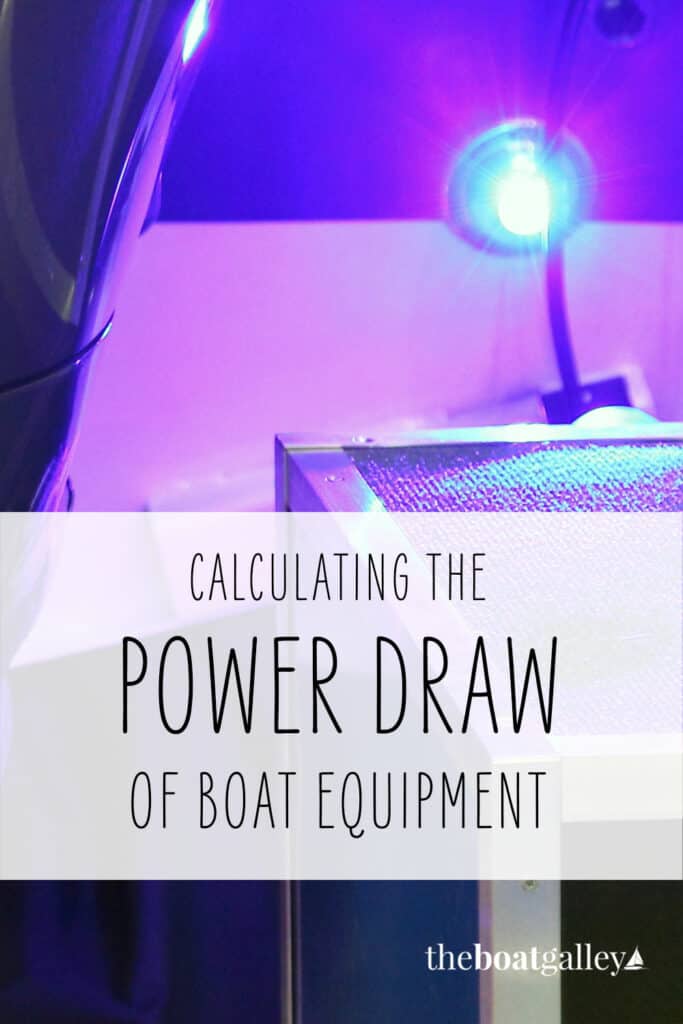 I've written about several devices to keep you cool in the summer heat. Unfortunately, most of them require power (wind scoops and swimming are the exceptions). Getting any new device requires an analysis of whether you have enough power and whether this is what you want to use it on. 
Since we began cruising in 2002, Dave and I have felt that sufficient power aboard is an important part of making living aboard and cruising a sustainable lifestyle.
On one hand, we seek out low power draw options for our needs. One of the reasons that I first began The Boat Galley in 2010 was to talk about the power draw for various galley appliances and pass on techniques for cooking with few to no electrical appliances. Still, it can be difficult to find the power used by various devices.
Many items either tell how much power they use in watts or tell the amps for being plugged in to a standard house (110v) power supply. On boats, we generally look at power draw in terms of 12v amp-hours.
If an item natively uses 12V power, and tells the amps, it's simple. Take the amps stated and figure how many hours a day you'll use the item. Let's take my Caframo fan that draws 1 amp and assume that I have one running 24 hours a day – that's 24 amp-hours.
If the items draw is marked in watts, you begin by dividing watts by 12 to get the 12V amps. Then again, figure the number of hours you'll use the item and multiply. The mattress cooler that I talked about last week uses 8 watts, so .66 12V amps. 8 hours a night, and the total power used is 5.28 amp-hours.
If the item runs on 110V (normal shore current in the US), you multiply the amps by 10 to get the 12V draw, then combine with average usage to determine the amp-hours. Since there's a bit of inefficiency when using an inverter, I always round the result up.
So now you know how much a new gizmo that you're thinking of getting will cost in terms of power.
Next, check out power available. Start with how much battery capacity you have in amp-hours, and how many are usable (generally 50% for lead-acid batteries and 80% for lithium). Then see how much of that you're using and how quickly you're recharging it from wind, solar, generator and alternator. We find that a battery monitor is essential for knowing exactly what is going on (read about ours here). Do you still have power available? Is it sufficient for your gizmo?
If a particular item requires too much power for your system, you can decide to do without, check alternatives that may draw less, or decide to increase your battery capacity or your power generation capability. In general, look first at battery capacity if you are fully charged early in the day, and power generation if you are rarely reach a full charge.
Everyone has a different idea of what an acceptable lifestyle is. For us, it's lights, a refrigerator and freezer, a rechargeable vacuum, plenty of power for computers and other electronics, and fans and other devices to stay cool without air conditioning. We also have a watermaker, but it runs off our generator not the batteries.
We have 300 amp-hours of lithium batteries, which charge much more efficiently than lead-acid and also can be discharged further, which helps if we have a cloudy day or two. We have 495 watts of SunPower A+ solar panels. Additionally, we have a Honda 2200 generator, which is needed for power in December and January when the days are short and the sun is lower to the horizon, so the solar panels don't produce as much; we rarely use it other than for the watermaker the other 10 months of the year. And finally, there's an alternator on the engine which helps out when we're motoring.
Getting a new device – particularly one that will require more than a minimal amount of power – isn't a snap decision. Just realize that you have a certain number of amp-hours to spend, and then decide how you want to spend them. And if you don't have enough for something you really want, figure out how to get more. 
---
Be sure to subscribe to The Boat Galley newsletter to keep up with what we're up to and get helpful tips and encouragement from the water.
Here's your "Quick Start" to everything you need to know when living on a boat:


Making Boat Life Better
Some links in this article (including all Amazon links) are affiliate links, meaning that we earn from qualifying purchases.