I'm feeling stupid. Barefoot Gal was hauled out nine days ago, and Dave and I planned to do routine maintenance on our drive leg while the yard did the bottom paint. Our part of the work hasn't gone quite as expected.
To quickly summarize, Gemini catamarans with diesel engines have a steerable drive leg. Every two years, you are supposed to change the lower unit oil and, when needed, remove and clean up the steering pin.
We've changed the lower unit oil before, and when we bought the boat we bought the extractor to remove the steering pin whenever we'd have to. And it was time for us to do so, as the steering was getting stiff.
We read the instructions about how to pull the steering pin and even watched a YouTube video. We knew that since our steering was stiff, it was likely to be stubborn about coming out.
Well, stubborn wasn't quite the word. Try impossible. But Dave and I were convinced we'd get it out.
Without going into too many details, we soaked the pin in penetrating oil and then functionally "got a bigger hammer." We kept saying that it should budge with the force we were using, that it seemed like there was some sort of set screw or retaining pin. But we hadn't seen one in the videos or a mention of one in what we'd read. And while there was a crosswise pin partway down the casting that the steering pin was in, it certainly did not look like it went through the steering pin.
We literally did everything we could think of for two days to get that pin out. Broke the bolts in the extractor and in getting them out, buggered up the threads in the device so that we had to have a machine shop re-true them. Three cans of what several mechanics said was the best penetrating oil (Deep Creep). We built our own 10-pound slide hammer to replace the extractor and be able to use more force. We spent hours squirting penetrating oil around the pin and then twisting the casting around it to get the oil going everywhere. When we started, it took a 4-pound hammer to move the casting. Little by little, all the gunk around the pin was flushed out until it spun with just the touch of a finger.
Yet the pin still wouldn't budge. Finally, I wrote an email to Walt, who designed the extractor and is also a TBG reader. Asked him if he knew of any tricks . . . and there we had it: "you did remove the pin that holds the reverse latch, didn't you?"
Well, no. That's the pin that we thought didn't go through the steering pin. And it doesn't go through it. It just clips the edge of it to, uh, keep it in place.
Talk about feeling stupid.
Then it got worse. We discovered that in all our efforts to remove the steering pin, we'd managed to put a slight bend in the retaining pin. So now it wouldn't come out either.
Back to the machine shop. They were able to press it out and even made us a new one. The next morning, with our rebuilt extractor, the steering pin just slid out. Easily. Damn.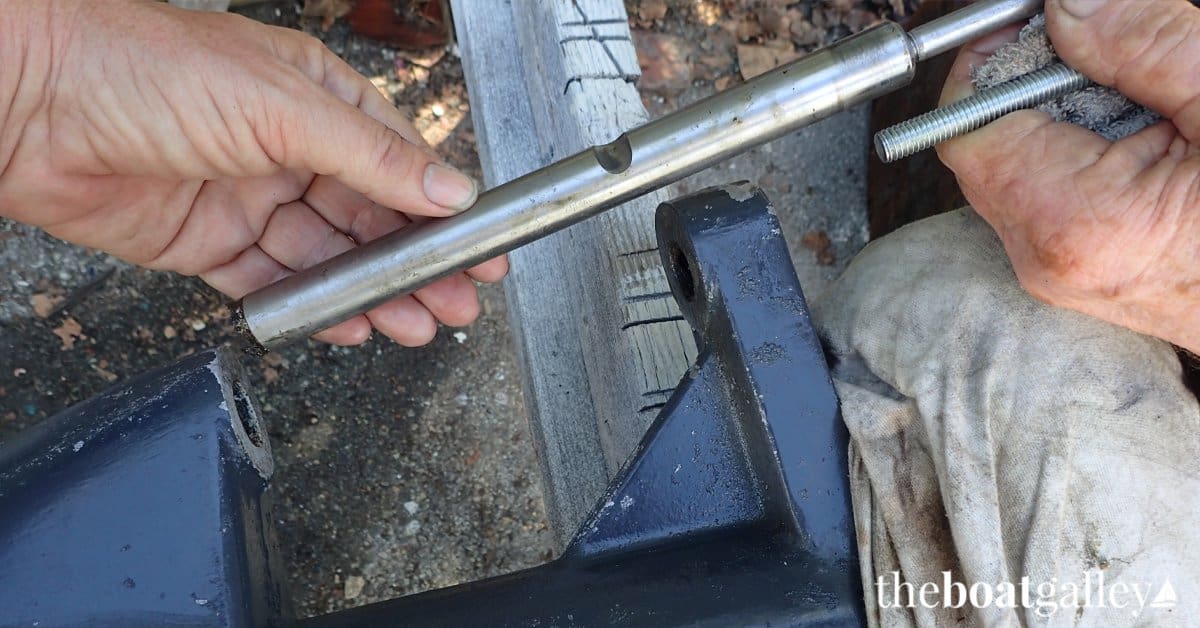 So, three days of wasted effort and creating work for ourselves. About $400 in penetrating oil, replacement bolts, extractor repair, parts to build a slide hammer, a heavier weight for the slide hammer and two trips to the machine shop.
We've been cruising long enough not to get into this situation. And both Dave and I are (usually) pretty mechanical. But every so often, you have to be reminded of some simple truths:
When a project is going badly, stop and reevaluate. We'd been told that this pin would be hard to get out so we just keep applying more force. We needed to go back and look at different drawings of the steering assembly and different videos of how to pull it. After the fact, we found pictures of how the second pin held the first.
Slowing down a tad to think about the problem might have ultimately been faster.
Ask people who have gone before you. Don't assume you have everything figured out. This was our saving grace, both in information from Walt and the help of the machine shop.
Feeling stupid at times is part of the cruising life. We learn by making mistakes. Don't beat yourself up over it. Move on.
Sure, I'm not happy about the money, time and physical effort we spent unnecessarily. But it doesn't do any good for me to dwell on it. Take the lessons and move on.
When I told a cruising friend about what had happened and the solution, his reply was perfect:
Boats are so full of stuff like that. Beat your brains out, break shit, then realize there is one easy missing link to the solution. A metaphor for life maybe?"
John Herlig, Ave del Mar
Yep. We were schooled. When things are seeming impossible, see if there is one easy missing link to the solution.
On the plus side, I now know what a slide hammer is and how to build one. Just in case you're interested: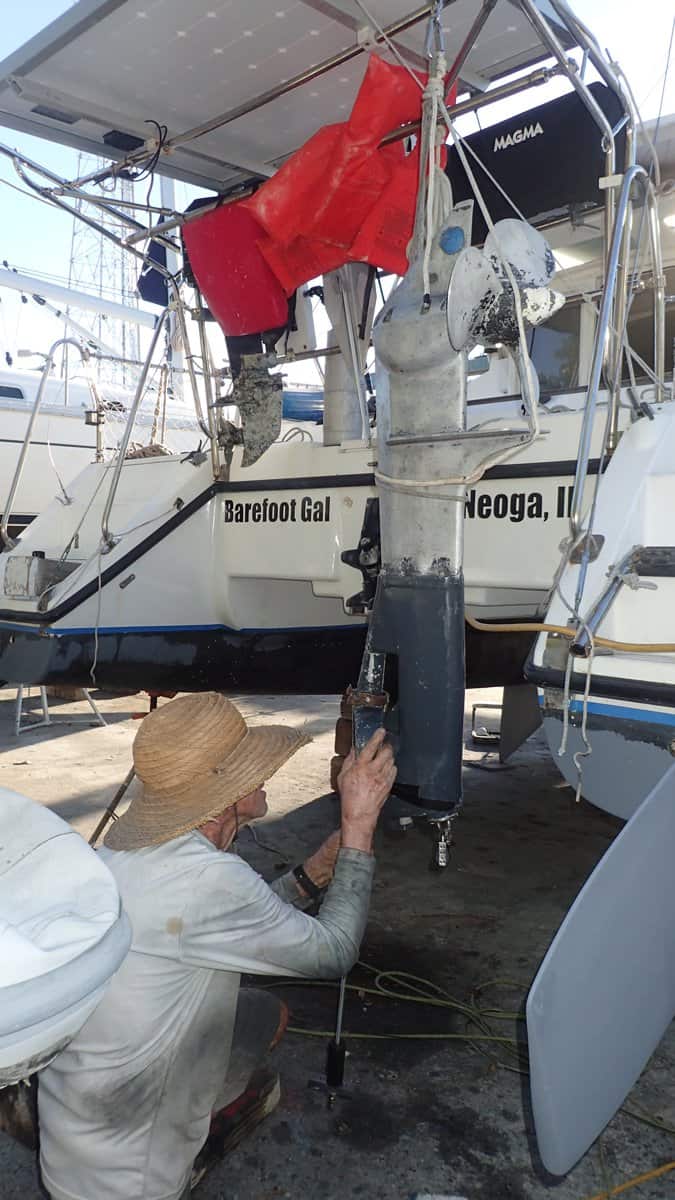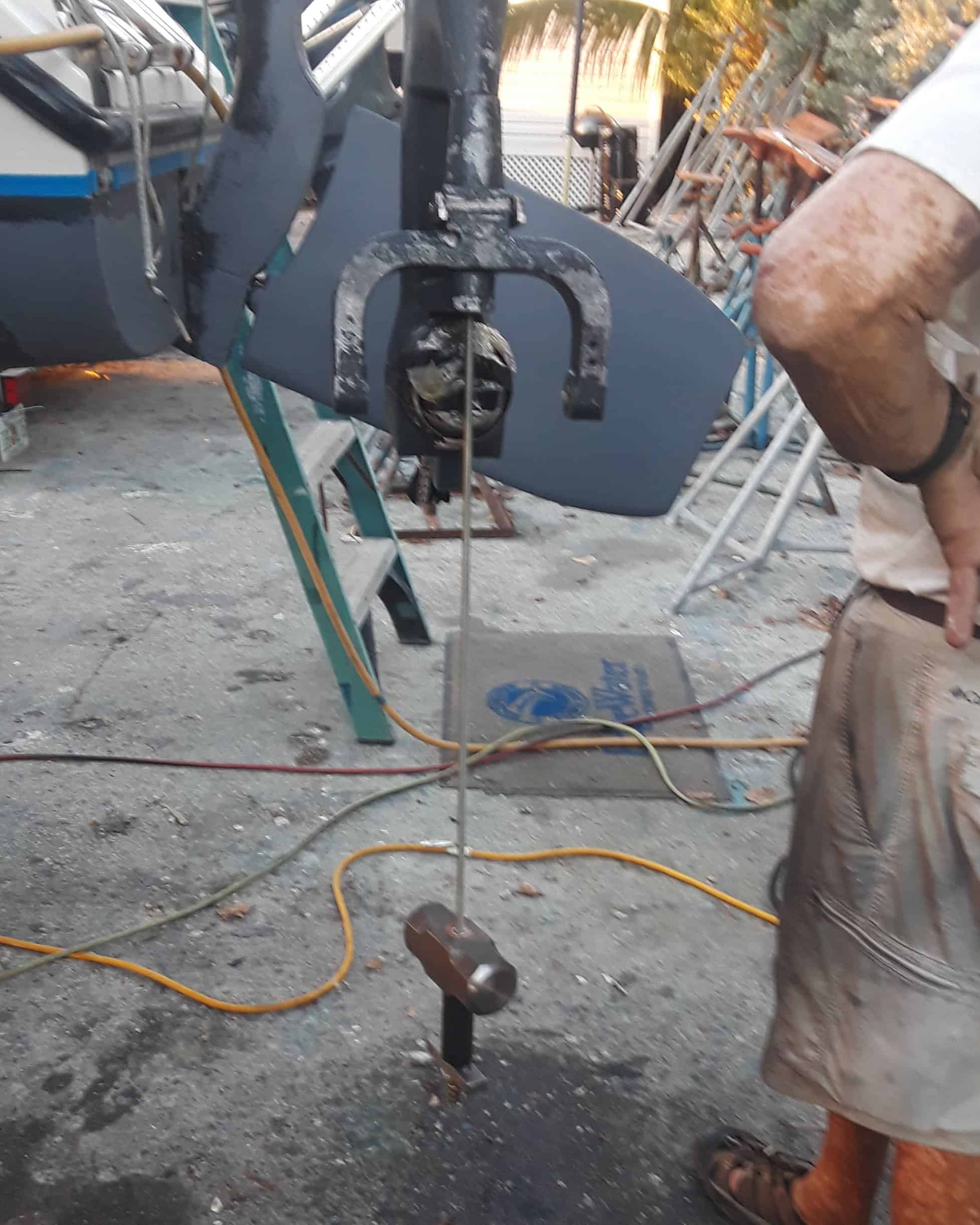 Some links in this article (including all Amazon links) are affiliate links, meaning that we earn from qualifying purchases.