If you already know about this tool, you'll say "well of course." If, like Dave and I, you've never heard of it, it's the best thing since sliced bread. Or maybe any kind of bread.
This past fall, we ended up scraping all the bottom paint off Barefoot Gal. About a third came off very easily, a third with more effort, and a third simply did not want to come off (we joked that it must have been mixed with 5200).*
Now the thing about a catamaran vs. a monohull is that the cat has a lot of bottom area that's parallel to the ground. I laid on my back for days — weeks — on end, scraping away while Dave followed behind, wetsanding it down to the gel coat. I tried several different scrapers and kept returning to a simple putty knife as doing the best job without gouging up the gel coat.
As I was about three-quarters done, another Gemini came into the yard. The owner saw what I was doing and went back to his tool bag and handed me this slightly different scraper, telling me to see if it worked any better (he is a retired shop teacher and obviously knew the answer). I couldn't believe the difference — it literally cut the work in half.  How much time would it have saved if we'd had it from the start?
It's called a 6-in-1 painter's tool. While it has a sharp edge which makes the scraping much easier, it doesn't tear up the gel coat like the hook-type paint scrapers do (unless, of course, you put a huge amount of pressure on the scraping edge). The big advantage over a putty knife is that the scraping edge can be sharpened. I found that I needed to sharpen it every 4 to 6 hours of use. To be honest, the scraper is the only one of the six "functions" that I've used.
That evening, I ordered my own 6-in-1 tool. About a week later, I ordered a second one so that Dave and I could both use one at the same time. You can get them at most home improvement and hardware stores, I ordered ours online as the nearest store was over a half hour away. This is what I got:
Since then, we've used it for many other projects as well — notably, cleaning off old sealant when rebedding deck hardware and getting all sorts of "gunk" off the engine and engine compartment. We found it much better for just about everything — the only time that the putty knife is better is when we need something really thin to get between parts.
*Some have asked why we didn't soda blast the paint off or use a chemical paint remover. We didn't soda or sand blast as we didn't want to remove or damage the gel coat. We tested using a chemical paint remover, and hated the thought of of working with one over our head. So we scraped and wetsanded.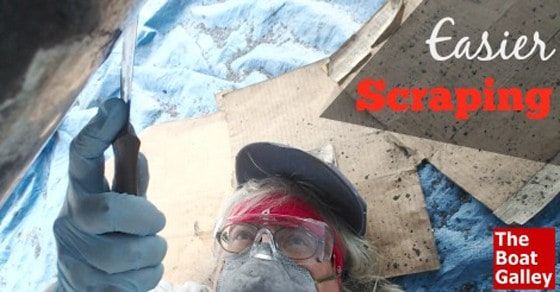 Making Boat Life Better
Some links in this article (including all Amazon links) are affiliate links, meaning that we earn from qualifying purchases.