Over the years, on both our boats and living in a very small house, we've had a number of cordless handheld vacuums. The original DustBuster, a Shark, several Mexican models, then three different Ryobi ones.
Most weren't really satisfactory, lacking the power we wanted. Our first Ryobi was great . . . but we sold it with our house. The replacement Ryobi died quickly, but since the previous one had been so good, we bought another. And when that one quickly died, we re-thought our approach.
We really wanted a cordless handheld vacuum. We'd once had a corded one and just found it to be a nuisance to drag a cord around a boat. And handheld? We didn't have the room to store something larger, as well as we needed it to get into tight spaces easily. The other requirements were that it have decent battery life, great suction, no weird bags that we couldn't find in foreign countries and it had to last.
A while before the Ryobi fiascos, I'd done a roundup of reader recommendations on boat vacuums and the winner had been the Dyson Cordless Handheld. But Dysons are expensive, costing several times what our other vacuums had cost. So we'd balked.
Then it dawned on us that if the Dyson worked as well as people said it did . . . and actually lasted . . . it would cost less in the long run while giving better service. So I took a very deep breath and ordered one. Because it's expensive as handheld vacuums go, I wanted to use it for a fair amount of time before writing a review.
Here's the bottom line: It's been over a year and a half now, with daily use, and we love it. We should have bought it 15 years ago and saved all the money we spent on the crappy ones.
It is powerful — we generally use it on the regular setting to conserve the battery but when needed, the "turbo" has noticeably more suction.
The trigger "on" button is great for conserving power — no fumbling to find the switch.
It is nicely balanced in our hands.
The two standard attachments that come with it have been sufficient for everything we've used it for.
Emptying the dust container is easy to do, and it just neatly falls into the trash bag.
The filter can be washed out — no need to find a replacement (and should you ever need to replace, enough Dysons have been sold with this filter that they are easy to find online).
The battery, in addition to being rechargeable, is replaceable. So if it slowly loses its ability to hold a charge, you don't have to buy a whole new vacuum!
We bought the "regular" V6 Trigger handheld. There is also a version made for dog hair — we did not get it, but people who have it with shedding dogs say it is very, very good. More recently, they've come out with a "Boat and Auto" model that could be worth looking into as it has the motorized tool for dog hair and several other potentially useful attachments. The basic unit on all of these is the same as ours; the others simply have various attachments packaged together with it (for less than they'd cost separately).
You can buy them directly from Dyson or through Amazon:
There are many attachments sold individually and parts are readily available from both Dyson and Amazon.
Three things to know:
You need to charge the vacuum either from shore power or with a pure sine wave inverter (not a modified sine wave inverter — read here if you are unfamiliar with the dintinction), but it does not take a large inverter. We use this Kensington 150 watt inverter  that plugs into a "cigarette lighter" socket that we had previously purchased for other reasons: Kensington Auto/Air Power Inverter (Amazon).
The cap on the filter can tend to fall off. Not a problem inside but if we were using the vacuum on deck and the cap went overboard, it'd be a problem. So we added a piece of tape.

Try not to suck any water up in it. The good news is that we've gotten some in a couple of times and haven't killed the vacuum. But the water will get into the dust bowl and mix with the dust . . . and then you have to clean the resulting mud out.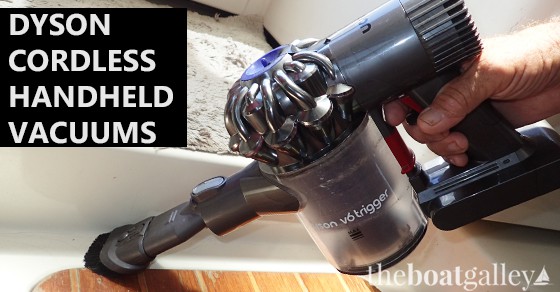 Some links above (including all Amazon links) are affiliate links, meaning that I earn from qualifying purchases. Learn more.