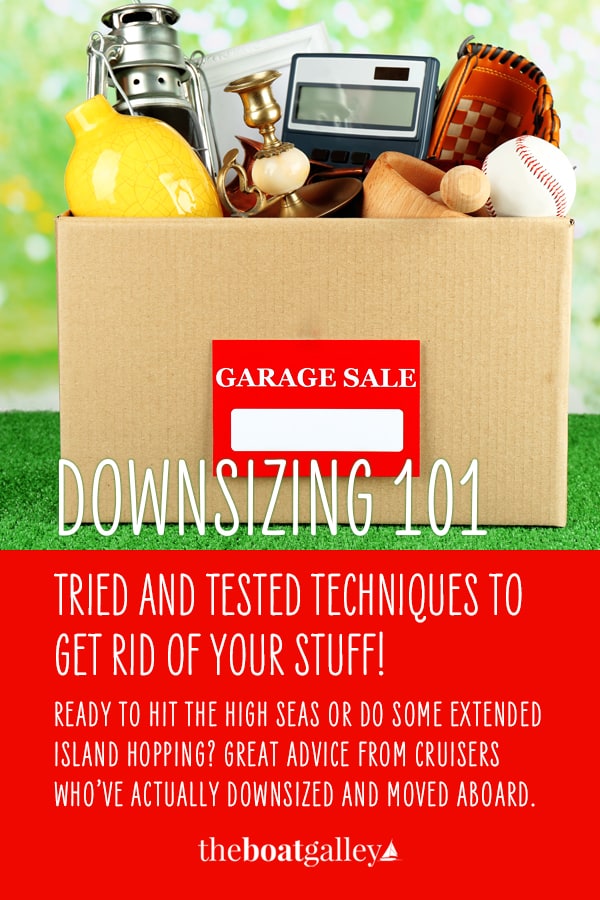 Cruising comes in all forms, from weekends afloat to annual charters, a 1 or 2-year mid-career break, part-year cruising or full-time. Many times, it includes some downsizing — whether moving to a smaller house or apartment to afford the boat, or selling it all for financial and logistical freedom.
But where do you even start when downsizing to live on a boat? Thinking about culling an entire house worth of goods is daunting. Overwhelming. Even paralyzing.
I've done it three times now: once to move from our house into an apartment before we did a lot of land travel in the late 1990's, again in 2002/03 when we moved aboard our first cruising boat, Que Tal; and again when we decided to make Barefoot Gal our full-time home in 2015. Somehow, between each of those, we'd managed to collect more stuff than I thought possible.
How to downsize:
START DOWNSIZING EARLY
Start early and start with things that will be easy and go quickly. You want to see fast progress to encourage you. Don't choose something that's sentimental and going to be hard to let go of.
TOUCH THINGS ONCE
When you pick something up, decide what you are going to do with it. Don't set it aside to decide later — you'll just end up with everything in a "decide later" pile.
I know, you may have a few things that you need to ask family or friends if they want. You can set those aside until you get an answer — but ask immediately. Take a picture, text or email it, call — and then if the answer is "no," decide what you're going to do with it instead.
SCAN PHOTOS
Scanning photos and scrapbooks is a wonderful way to take them with you, with no space required. It can take some time, though and is great to do as you are doing other things. Read my article about speeding up the job considerably with a high-speed photo scanner.
DECIDE THE BASIC CATEGORIES
Knowing the possible choices for each item helps. When my brother suddenly offered some storage space before we moved aboard Que Tal, it was wonderful but I had to re-sort the whole "put in storage" pile.
Are you planning to have a small storage unit? Leave things with one (or more) relatives? Will you have a garage sale? Ebay? Craigslist? Specialty groups? Donate to a charity? Give things to family and friends? And then there's always the trash pile.
LEARN HOW AND WHERE TO SELL ONLINE
If you haven't done it before, learn the basics of selling on Craigslist and eBay. Find Facebook "virtual garage sale" groups in your area and learn their rules. If you're in a Facebook group that caters to a hobby where you might be selling items, find out if and when you're allowed to post.
Meeting Buyers
The biggest problem in some of the selling strategies is having to meet with people. It takes time and there will be no-shows. If you live in an out-of-the-way spot, know which GPS services can find you (Google maps, Bing, Waze) and which can't! Or make arrangements to meet at a nearby business (this is also good if there is a security concern).
Taking Payments
Decide what payment methods you'll take.
Cash only?
Will you take a check? Certified check?
Paypal is good, particularly for higher-priced items. Sign up for Paypal if you don't already have it, and put the app on your smartphone; someone can pay you from their phone and you'll see it on your phone almost instantaneously.
If you want to take credit/debit cards, you can also get a little device from Paypal that plugs into your phone so that you can swipe credit/debit cards and have the money deposited in your PayPal account.
Read about Craigslist scams so you don't get taken in.
Where to Sell Online
There are four good places to sell online:
eBay: Have to pay a fee, but you just ship sold items out, don't have to arrange meetings. Secure payment.
Craigslist: Free, but have to arrange time and place to show items. Take reasonable security precautions before inviting someone into your home.
Facebook local groups: Free, no shipping cost, have to deal with meeting someone and arranging payment.
Facebook interest groups: Great way to sell specialized items that may not have much of a local market. Friends report very quick sales when items are priced right. Have to ship and deal with payments, but no fees.
You may also belong to some groups (Scouts, church, sailing or book clubs) where you can list and sell items on their website. Learn their rules and listing procedures.
OTHER SALES OPTIONS
You may be able to have a garage sale (even better if your neighborhood has one that you can get in on); this is where being able to take credit and debit cards can considerably increase sales. We also some items in consignment shops. I sold some coins, jewelry, and silverware to specialty dealers. I discovered that many of my treasures didn't have a lot of value to others.
START SELLING
A friend remarked that he tried to list a few things for sale every day so that he didn't have to list, show or ship too many at any one time, and so that there was steady progress. "Otherwise," he said "it's easy for a week to pass and you still haven't gotten rid of anything."
Pick where you think the best place to sell an item is, and list it there. If it doesn't sell in a week, remove the listing and create a new one in another venue.
TIMING TAKES PRECEDENCE OVER SENTIMENT
Twice, we sold our Y-Flyer one design racing sailboat. The second time, to move full-time aboard Barefoot Gal, was particularly hard. At Dave's age, the chances of getting another one in the future were slim. Dave had sailed Y-Flyers for 50 years, I for 25. Our home club's annual regatta was scheduled to be just two weeks before we closed the sale on our house. We would have loved to sail the regatta one last time.
But the reality was that all the out-of-towners coming for the regatta were our best chance to sell the boat. And if they bought it, they'd want to sail it themselves since they wouldn't be bringing their own boat (couldn't trail two home with one vehicle). So we put it up for sale before the regatta and specifically said: "come sail the regatta in your new boat." It sold; it was bittersweet to take the check at the welcome aboard party.
GET RID OF STUFF
Don't let the piles for storage, give to friends/family, donate and even trash get too large. Get things out of the house as soon as possible. Seeing progress is key to staying motivated.
ABOVE ALL, START DOWNSIZING
Yes, the job can look overwhelming. Don't think about it all. Just pick one cupboard, one closet, one bookcase or a box from the attic and deal with it. The important thing is to just keep moving forward. Do something every day. You'll be amazed at how you start plowing through things.
This article was originally written in June 2018; it was updated and expanded in February 2020.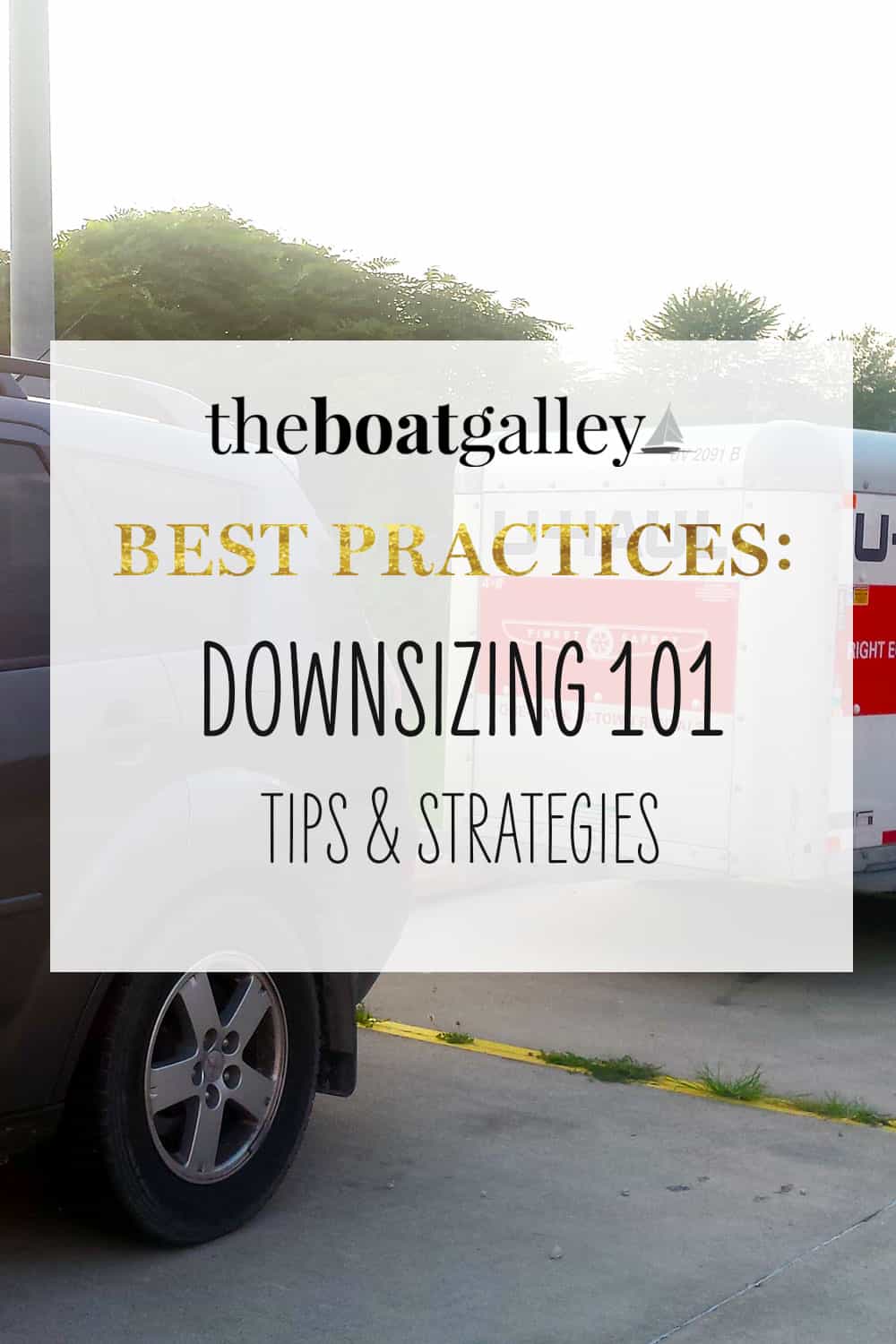 ---
Our FREE Provisioning Spreadsheet
Wondering how much of what foods to take on your next trip? Know just how much to buy of what — all arranged by grocery store aisle — with our handy Provisioning Spreadsheet. Includes detailed instructions to edit it for your favorite foods, how much your family eats, and how long you'll be gone. No spreadsheet skills needed!
It's FREE — get it here.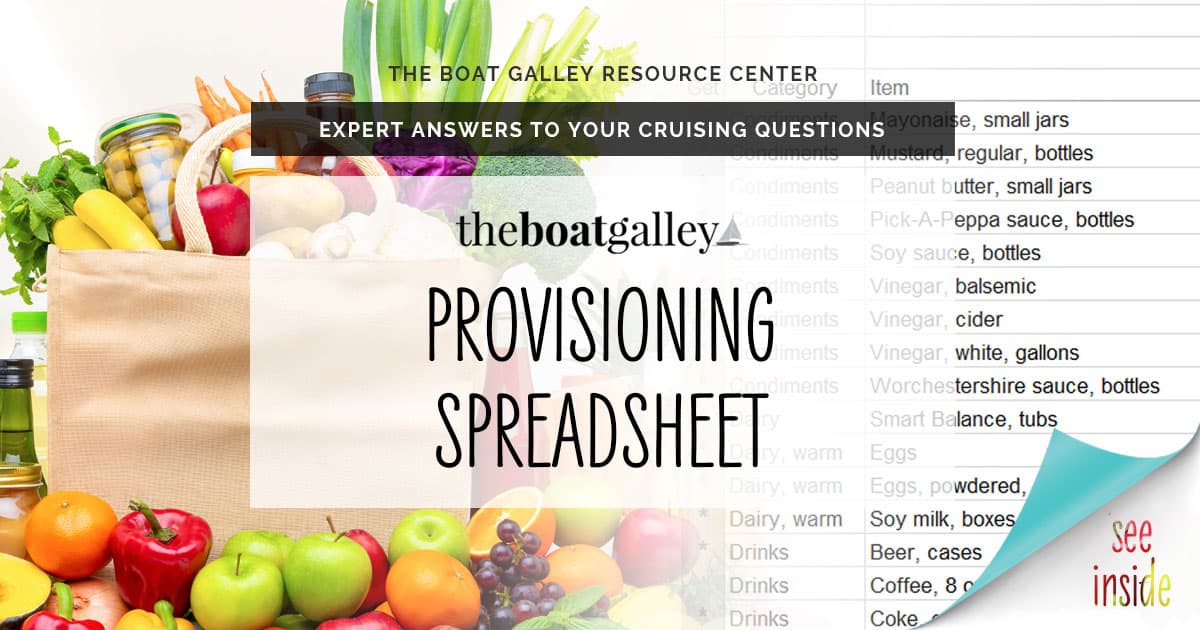 Some links above (including all Amazon links) are affiliate links, meaning that I earn from qualifying purchases. Learn more.