A quick safety tip . . . any time you light a fire, make sure the wind can't take embers towards the dinghy!
If you're having a beach barbecue, beach dinghies sufficiently far away (and not downwind) that embers can't make tiny pinholes in tubes or (much worse) set a gas tank on fire.  This was the scenario that I happened to overhear two cruisers talking about at LoretoFest, which had apparently happened some years ago.
Getting ready to cruise? Prepare to Cruise (a FREE mini-course) gives you lots of free resources along with affordable recommended courses and coaching for more in-depth needs.
Luckily, they noticed what was happening and moved the dinghy while it was still at the "making pinholes" stage, but it must have been terrifying to move the dink knowing that there was a tank of gas there.  And then, of course, they had a dinghy to repair the next day and rides to bum in the meantime.
And that got me thinking about a few other situations I've seen.  On the first night of our first charter, we were bow and stern anchored in a small cove.  We had planned to grill steaks to celebrate our first night, but the charcoal grill was on the stern and the wind had switched so that it was coming over the aft port quarter.  Any charcoal embers would land right on deck!
Rather than move the boat — which wasn't a realistic possibility given the size of the cove — my Dave and Jan's David figured out how to move the grill and mount it on a lifeline stanchion at the "most downwind" point of the boat (fun with the minimal tool kit that's on a charter boat).  Worked perfectly and the embers fell harmlessly into the water.
The rest of the week, conventionally anchored and with the grill back in its original position on the stern rail, we were careful to move the dinghy to the side of the boat before lighting the grill at the stern.  We also did this on Que Tal, even though she had a gas grill with lava rocks — more than once, a bit of marinade or fat would flame up and send embers over the side.
If you are cruising in a place where you are burning trash ashore, again be sure to light your fire well away from where the dinghy is beached.
Many marinas totally prohibit the use of grills (gas or charcoal), but if yours does permit it be sure to check wind direction and location of nearby boats and dinghies . . . and don't leave it unattended, even for a minute!
Thinking about it in the abstract, it seems so simple to keep the dinghy away from flames.  But when you're having a party — and maybe a couple of other boats have their dinghies tied up to your boat — or you're in a hurry, it's easy to forget to check which way the wind is blowing and make sure nothing is in the "line of fire" — literally!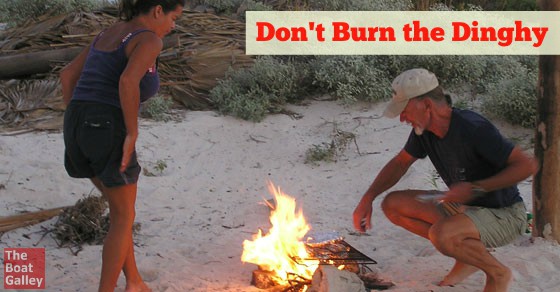 Some links above (including all Amazon links) are affiliate links, meaning that I earn from qualifying purchases. Learn more.