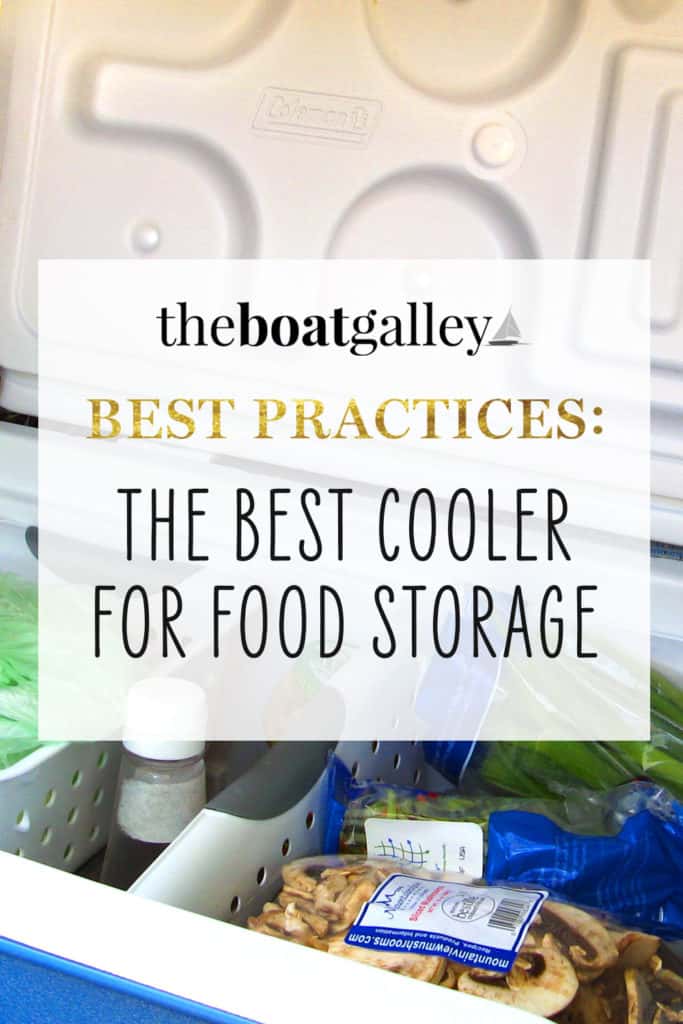 If you don't have a refrigerator, a good cooler is invaluable for being able to store food and have fresh produce that can't be kept at room temperature.  With a good cooler for storing food, you have a tremendous variety of foods and menus available, and won't feel like you're just "making do."
But when you start looking at a "food storage" cooler — as opposed to one that will keep drinks or one to keep food cold for an hour on the way home from the store — you'll quickly see that there is a huge price difference in various brands.  Do you really need to spend $300 (or more!) for a decent ice box?
My Experience
My basic answer is NO — but it comes with several caveats. I'll start by saying that I don't have any personal experience with using one of the expensive coolers — I have friends and campground acquaintances who have told me their experiences.
I looked very seriously at the expensive coolers a few years ago, before we made a long (2-month) tent camping trip, over half of it in 90+ temps.  I finally decided to start out with a Coleman Xtreme 70-quart cooler that cost less than $50 and see if it would do what we needed.  It did, and we've used it on several more trips.
5- and 6-Day Coolers
Once you get into the coolers that are marketed as 5- or 6-day coolers, the insulation seems to be fairly equal in all of them regardless of price — about 2″ thick. The difference between the ones that sell for $100 or under and those going for $300 or more seems to be in the overall construction quality and features.
On the more expensive coolers, the lid has a sturdy latch; on cheaper ones, it does not — just a "tight fit." Without a latch, it can be a real problem if the cooler tips over! This can be a consideration on rough passages where a knockdown is possible.
More expensive coolers have much more rugged hinges — important if anyone aboard isn't very gentle. With a cheaper one, carry duct tape and be prepared to improvise.
Many of the less expensive coolers have "drink holders" in the top, which seems like a nice feature until you realize that there is almost no insulation where the cutout is. Fill the cup holder with foam peanuts and duct tape over the top.
The more expensive coolers tend to have places designed for tie-downs that are beefed up accordingly. With the cheaper ones, you'll have to run lines to the handles — and the handles haven't been designed to take this type of load and are more likely to break.
Drain plugs are more rugged on more expensive units, and less likely to leak or pop open (I never had a problem with ours, but I've heard people complain).
When to Buy a Tougher Cooler
After I wrote this article, I got an e-mail from Dave on S/V Auspicious, who has direct experience with both cheaper (Igloo) and expensive (Yeti) coolers on offshore passages. 
He said, "I purchased an Igloo Marine 72 cooler as part of a "pack" (the big cooler, a smaller cubic cooler, and a seating pad) for about $100. Over the next four years I spent about $300 to replace broken handles, tie down loops, hinges, and latches. When the case of the cooler cracked from cumulative UV exposure I gave up and bought a Yeti cooler. While expensive to purchase initially, two years downstream the Yeti has lived up to its advertised robustness. Perhaps the Igloo is fine for those who loiter in anchorages and only sail in gentle conditions, for those who sail offshore and often the more sturdy cooler ends up being cheaper."
I'd say his experience fits in perfectly with my thoughts: if you're spending time in protected waters, you don't need the expensive cooler. But if you'll be in rough conditions, the extra features and robustness will pay off in the long run.
Tips for Buying a Cooler for Storing Food
A couple of other tips on selecting a cooler for week-long food storage, before I get into my choices:
The larger the cooler, the more efficient it will be — if you use that extra space for more ice. If it just holds more air, it will be less efficient.
A 65- or 70-quart cooler is about the minimum size needed to have enough ice and space for food.
All-white "marine" coolers really do a better job of insulating if they are sitting in the sun — but if you're going to throw a blanket over the cooler for extra insulation, it really doesn't matter what color the cooler is.
Soft-sided coolers are great for taking to the store or defrosting the refrigerator, but totally insufficient for long-term storage. They just don't have the insulation.
I've never seen a Styrofoam cooler that was up to the task, either — the lids don't fit tightly enough and the Styrofoam tends to break.
The Coleman coolers that are "steel belted" and look like the ones available 30+ years ago just aren't the same. They are not nearly as bullet-proof as they used to be and the insulation is not as good as the Xtreme series.
12-volt coolers have way too large a current draw to use aboard most boats (about 3.75 amps at 12 volts and they run constantly, no on and off cycling — 90 amp-hours per 24-hour day, or nearly what a 12-volt refrigerator would use), will only chill items a maximum of 40 degrees Farenheit below the ambient temperature AND you can't put ice in them (unless it's in a plastic bottle) to add to the cold.
The point above does NOT apply to the Engel Portable Refrigerator/Freezers, which also run on 12 volts but are extremely good (and much, much more expensive). Read my article about the Engel Portable Refrigerator/Freezer here.
If you're going to be lugging the ice chest up and down the dock regularly, a wheeled one will make it easier. But a dolly or dock cart (preferably the type that can be used as a dolly) will work just as well if you already have it — and it will definitely be sturdier! Wheels and axles on coolers tend to break easily on rough ground.
If you are new to cruising without a refrigerator (and hence maybe not sure of your plans), or have plans to install a refrigerator in the near future, I'd go with one of the cheaper coolers unless you are 100% positive you need the beefier features in the short run.  The expensive ones have their place — I'm not arguing against them.  However, for cruisers who spend weekends or even a week or two at a time on the boat, in reasonably sheltered waters, the cheaper ones will do just as well.
My Choices
For a less expensive cooler that will need a certain amount of "babying," I recommend (links are to Amazon; prices are similar at many big box stores and will vary depending on sales):
Coleman Xtreme or Ultimate Xtreme coolers — that's what we used and block ice lasted 7 days in 90+ degree heat (and the cooler sat in a parked car much of the time, so it was even hotter), although I did pile blankets and tarps over the cooler and kept a separate cooler for drinks.

Igloo Maxcold coolers — the "Maxcold" name has some smaller coolers, soft-sided coolers and ones without insulated tops that are NOT what you need. But the larger ones that are solid are good.
If you are 100% positive that you're going to be cruising for longer periods of time without a refrigerator, or need something that can stand up to rougher conditions, check out the Yeti. It's the one brand that almost everyone I've spoken with has been happy with.
The other often-mentioned brand of "bulletproof" coolers is Engel (see them on Amazon, about the same price as Yeti — Engel also makes great 12 volt fridge/freezers).  I've heard mixed reviews on them — most people liking them, but a few having problems with hinges and latches breaking, although parts could be purchased to repair them.
Whatever cooler you get, pre-chilling your food before loading it in the cooler will really help the ice last longer.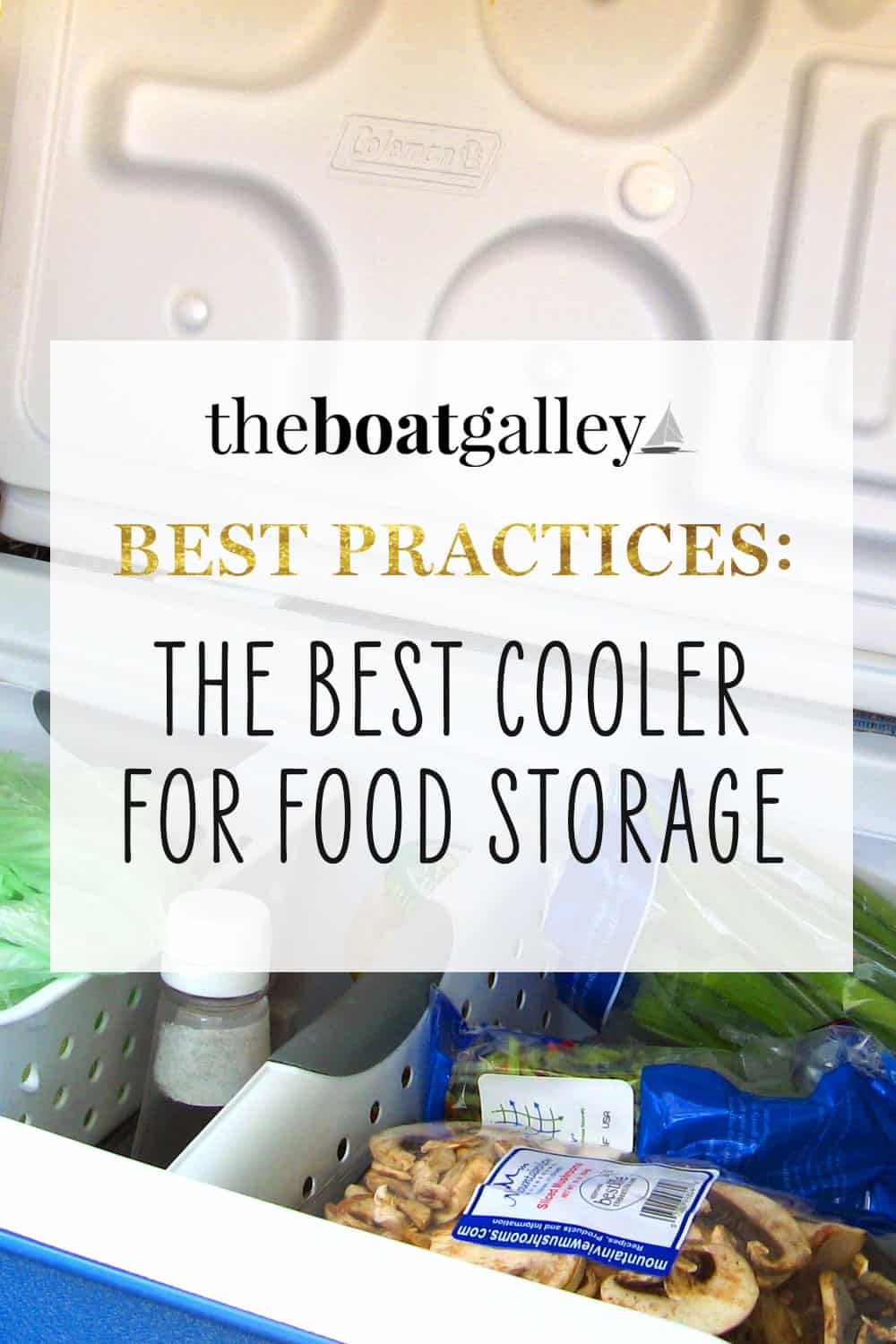 Making Boat Life Better
Some links in this article (including all Amazon links) are affiliate links, meaning that we earn from qualifying purchases.