Living ashore, most people have a dishwasher and a relatively unlimited supply of water and thus don't think about how much water something takes to clean.
On a boat, the situation is different. Instead of high-powered jets of water to get food particles out of nooks and crannies, we have to use a hand brush and dish rag. I rather quickly learned to think about how I'd clean something when I bought it. (UPDATE: Take a look at the yuck that can happen when I didn't think about cleanability.)
And I learned that things that are difficult to clean generally took more water. Although we had a watermaker, running it took power — power that I'd prefer to use for fun stuff like m

usic, movies or downloading and editing photos.
I soon discovered that some of my galley gear was much harder to clean — and thus took more water — than other items. Here's a few things I learned:
Non-stick pans take a lot less water to clean than traditional.
Things with tight openings — like the space behind the blade of the top vegetable peeler in the photo — are hard to clean. The peeler on the bottom takes a lot less water as the blade is open and the spaces in the handle (which usually don't get food bits in them) are larger.
One-piece handles on utensils are a snap to clean while those with seams and decorations take more effort, a brush and more water. In the photo of the two spoons, it's easy to see that the top one is much more streamlined than the bottom one. While there is some difference in washing tableware, the difference is much larger when it comes to mixing spoons and cooking utensils that tend to get more "gunk" on them.
Things that can be taken apart for cleaning are almost always better than things that can't be. For example, most box-style graters don't come apart and it can be hard to wash cheese out of the inside. Single piece graters or A-frame ones that separate into 2 pieces are much simpler to clean.
Admittedly, there are other considerations in your gear choices, such as how well something works and how much space it takes to stow. But I learned that I also had to consider cleaning — in terms of time, water and just being able to thoroughly remove all bits of food when doing dishes by hand.
And if you read some of my outfitting articles, you'll probably notice that with many items, ease of cleaning is one reason that I like one piece of gear over another.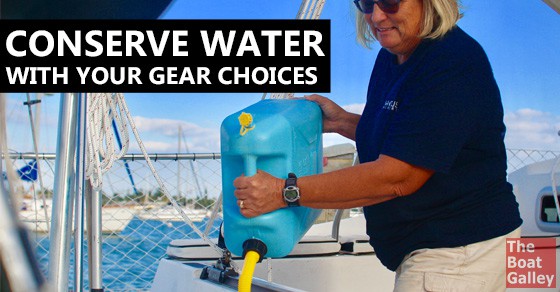 Making Boat Life Better
Some links in this article (including all Amazon links) are affiliate links, meaning that we earn from qualifying purchases.