Iced tea is a summer staple, and a great choice on boats when you really don't want another soda or beer.
But how to make it without boiling water or putting something hot in the refrigerator?
Basically, when it's over 100º F. outside, I don't want to have heat from the stove or humidity from boiling water inside the boat. And the refrigerator is running almost nonstop, and I don't want to overtax it by putting in a bottle of hot liquid as would happen with sun tea.
Cold-brewed tea is the perfect answer. Just add tea bags to a bottle of water, put it in the refrigerator, and let it brew as it chills. No heat or humidty in the boat and no load on the refrigerator beyond what any other stored drink would impose on it.
Just recently, I saw that Lipton's (and probably some other brands) were selling special tea bags for cold brewed tea and bought a package to try. I really didn't notice a difference in the finished product — despite saying that the tea would be fully brewed in 5 minutes of frequent dunking, it tasted more like colored water at that point. Left overnight, it brewed to a normal taste. Bottom line: the special cold brew tea bags aren't necessary and really don't add anything.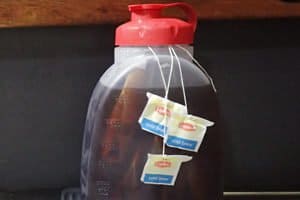 Cold-Brewed Iced Tea
Iced tea sure hits the spot on a hot day. Here's a great way to make it that won't heat up the kitchen or boat! Cold-brewed tea also puts a lot less load on the refrigerator!
Print Recipe
Pin Recipe
Servings:
8
8-ounce glasses
Ingredients
1/2

gallon

water

12

tea bags
Instructions
Fill half gallon bottle with water, leaving at least an inch and a half of air space at the top.

Put tea bags in water, with tags hanging outside of top.

Put lid on and screw on tight.

Place in refrigerator at least 10 hours or overnight until tea is chilled and brewed. Tea bags can be removed.
Notes
LCHF: Caffeine will raise some diabetic's blood sugar (it does mine!), in which case use decaffeinated tea bags.  
Note: I like my tea fairly strong; use fewer tea bags if you like yours weaker.
Variations: instead of just using "regular" (black) tea, try a mix of different teas. I usually use half black tea, and add whatever others I find: green tea, Constant Comment, lemongrass, and jamaica (hibiscus) are all great by themselves or mixed together.
Nutrition Facts
Cold-Brewed Iced Tea
Amount Per Serving
Calories 0
% Daily Value*
Fat 0g0%
Cholesterol 0mg0%
Sodium 11mg0%
Carbohydrates 0g0%
Protein 0g0%
Calcium 7mg1%
* Percent Daily Values are based on a 2000 calorie diet.
Want over 800 boat-friendly recipes, over 100 substitutions, and tons of tips for cooking on a boat?


Some links in this article (including all Amazon links) are affiliate links, meaning that we earn from qualifying purchases.