When we purchased Que Tal, we were sort of surprised to find that the previous owners left a bunch of large candles on board. We couldn't imagine using them — the fire hazard, heat in the boat, getting blown out or bumped if in the cockpit and more. We eventually traded them to some fishermen who can't always get batteries in the remote fish camps and wanted some backups for their flashlights.
My friend Robin on The Cat's Meow came up with a much better solution that I saw when we spent a week on their boat a couple years ago. A battery-powered LED "candle"! Even if one of her cats knocked one over, it was no big deal — no burned kitty and no blazing boat.
Unfortunately, the photos that I took of them turned out a total blur as I forgot to turn the flash on. But I loved them — just a nice soft light with no heat, no fire hazard, and much nicer looking than many of the small LED lights I see.
She used them both as a night light in the head and had one on the galley table in the evening. The one on the galley table was on a timer so that if you were off the boat after sunset, there was a little bit of light as you were coming back aboard.
We often use one in the cockpit of Barefoot Gal after the sun goes down — just enough light to move safely (and see drinks or snacks) but not enough to interfere with stargazing.
The candles with a timer typically come on at the same time every day for a set number of hours — typically 4, 5 or 6. Otherwise they come with a simple on/off switch.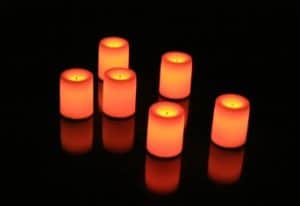 They also come in a variety of sizes and shapes, ranging from small votives to ones that are 3″ in diameter and 6″ tall. Shorter ones have less of a tendency to tip over with the motion of a boat and are easier to store when underway. Some look more realistic than others as well.
The primary difference in brands is how energy efficient they are — some brands will only last a few nights despite supposedly using LEDs. Combining an energy efficient design with lithium batteries, other brands/models will go 6 months on a single set of batteries. Another option is to use rechargables (make sure to choose ones that use AA or AAA batteries and not button types).
The "Inglow" brand gets consistently high marks across all their models and is available on Amazon. Interestingly, they are not the highest priced with the votives being a great deal at just over $2 each (no timer) with batteries included (larger candles cost more):
NOTE that if you buy ones with batteries included, there is often a clear plastic protective strip over the batteries so they won't discharge before they are purchased — be sure to remove it or the candle won't work.
UPDATE: We got one of the pillars to use on Barefoot Gal last winter and love it — perfect in the cockpit for "just a bit" of light to find our wine glass in the dark! It nicely complements the brighter Luci Lights and Solar Kandle Rail Lights that we have in places where we need the brighter light.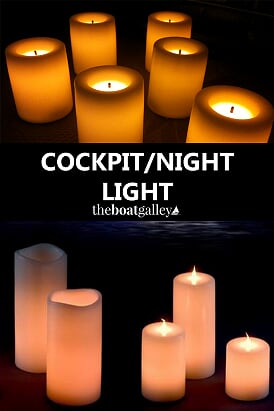 Some links above (including all Amazon links) are affiliate links, meaning that I earn from qualifying purchases. Learn more.