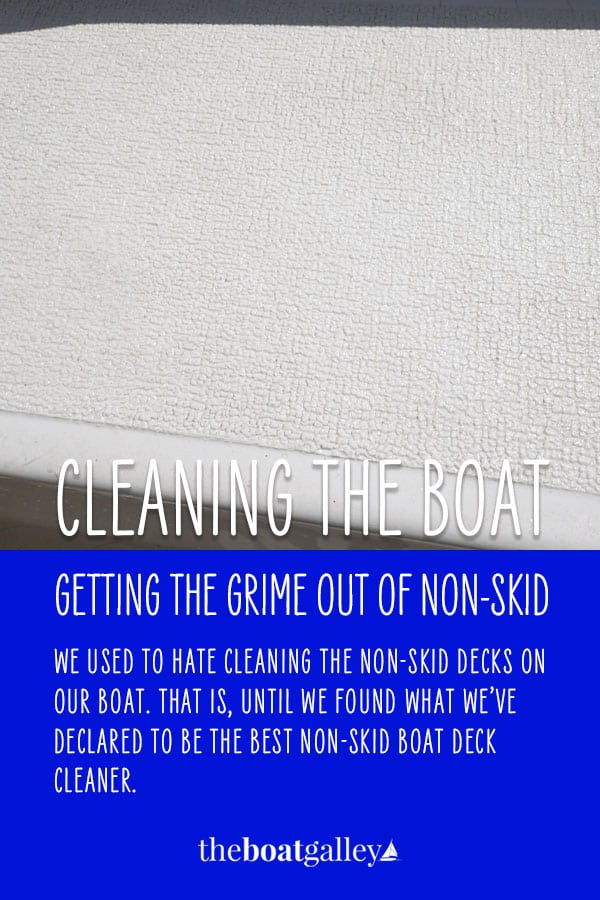 Dave and I used to hate cleaning the non-skid decks on our boat, Barefoot Gal. That is, until we found what we've declared to be the BEST non-skid boat deck cleaner.
Barefoot Gal has white non-skid decks. They attract dirt like you wouldn't believe – particularly the steps up the transom where we board. Of course, we're usually wearing shoes since we've been ashore, and the black just gets ground in. The cockpit floor gets pretty bad, too.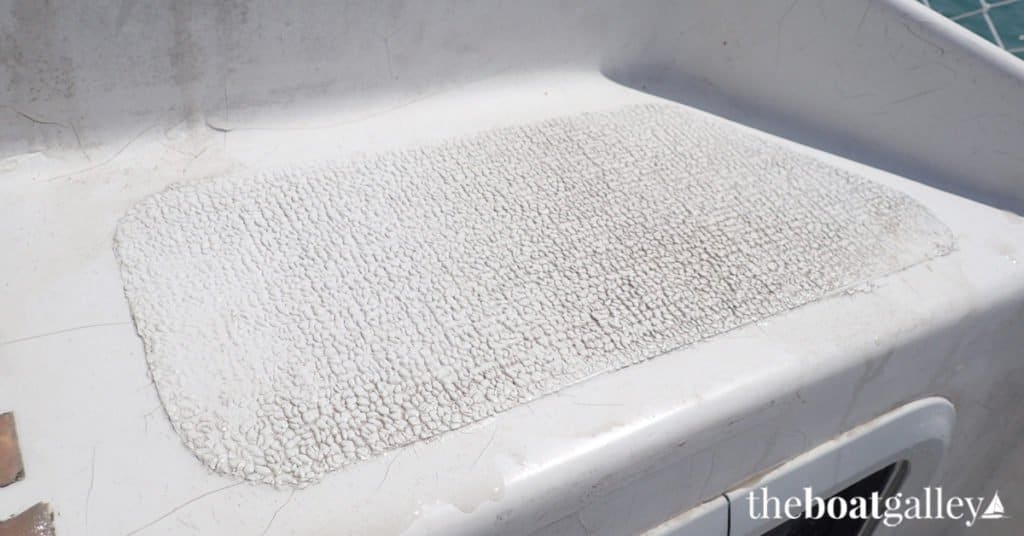 Now, we're not clean freaks but we do want the boat to look nice. However, we like to do other things too, so we don't want to spend every waking moment scrubbing the decks . . .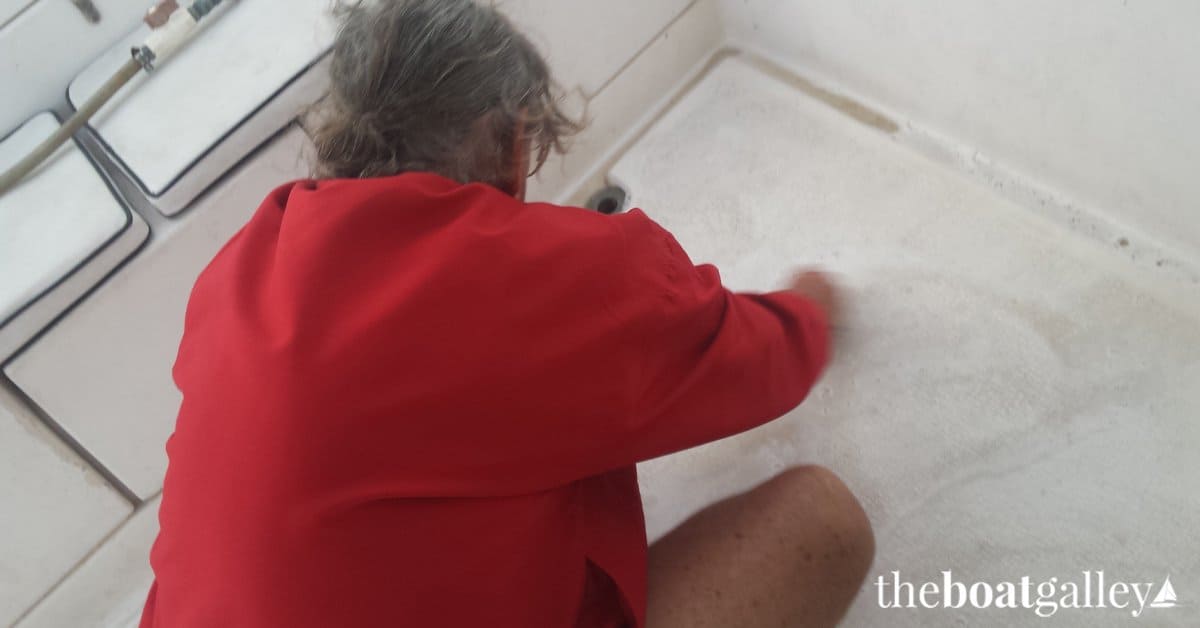 Over the first two years that we owned Barefoot Gal, we tried a lot of products – both those designed for boats and a number of non-marine cleaners. None got raves.
The Best Non-Skid Boat Deck Cleaner
Then in the spring of 2016, we were in West Marine. Dave picked up a bottle off their Non-Skid Deck Cleaner. I'll admit that I sort of rolled my eyes, wondering how it was going to be any different from anything else we'd tried. Dave made some comment about since he was the one doing the cleaning, he got to try what he wanted to . . . and after all, it did say it was specifically for non-skid decks. So we got it.
It has proven to be by far the best thing we've tried!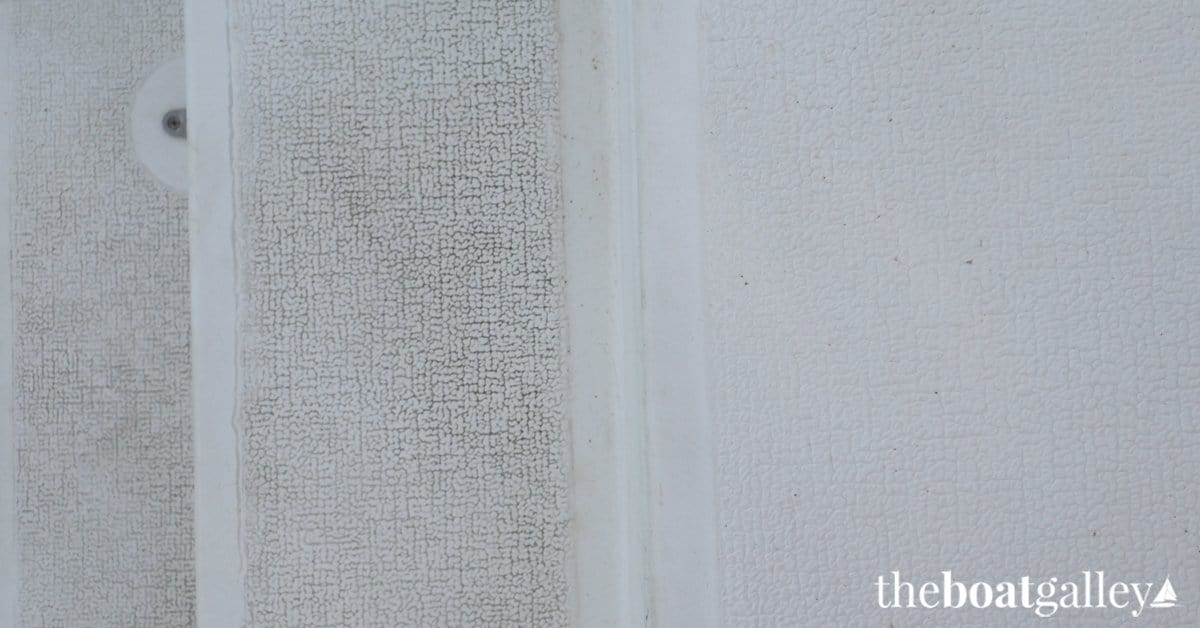 How to Use Non-Skid Boat Deck Cleaner
You wet the deck down, pour a little of the cleaner on and spread it around with a deck brush (you don't have to scrub with the deck brush; just spread the water and cleaner suds to cover the area). Wait 2 or 3 minutes while the cleaner does it stuff. Go over the area again with the deck brush to loosen the dirt – you don't have to scrub hard. Then rinse with fresh water (they're specific about using fresh; we haven't tried using salt water to see if it makes a difference).
Yes, it really is that easy. Less than 10 minutes and zero scrubbing on our hands and knees.
We've found that using a sprayer of some type – a tank sprayer, Aquabot or cockpit shower – works better than just pouring the rinse water due to having a bit of force behind it to push the dirt and soap out of the non-skid.
Other Uses for Non-Skid Boat Deck Cleaner
We also have a lot of textured fiberglass trim in the boat, and it's always been a pain to clean. Krud Kutter with a toothbrush was the best way I'd found, but it was pretty labor intensive. After seeing how well (aka easily) the Non-Skid Deck Cleaner worked in the cockpit, I decided to try some. Only problem was that we were out. Another trip to West Marine.
I discovered that in addition to the "regular" Non-Skid Deck Cleaner that West Marine markets, they also have one that's part of their "Pure Oceans" environmentally friendly line. Dave was skeptical that it would work as well but we both thought that having to scrub a little more was worth it for a no-bleach product (he hadn't seen it when he bought the first bottle as it was in a different area).
Surprise! It worked every bit as well. And yes, it was much easier to clean the trim with it than Krud Kutter – I wet the trim with a sponge and then used a nail brush with the cleaner. I then used a bar rag with fresh water to rinse it off.
Removing Rust Stains on Boat Decks
While the West Marine Non-Skid Deck Cleaner worked really well on the "regular" dirt on the deck, the Non-Skid Deck Cleaner did not remove rust stains or a few other mystery stains that came with the boat. Emboldened by his success, Dave decided to try some FSR (Fiberglass Stain Remover) on them and was surprised at how well it worked – although it did little on just plain dirt.
I highly recommend these two products! I know that Starbrite also makes a Non-Skid Deck Cleaner but haven't tried it so I can't report on it.
Bottom Line
Has it made our boat look like new? I'll admit not. Barefoot Gal is 17 years old and her gelcoat is chalky. But she is noticeably cleaner with a lot less work than what Dave had previously used. And where I've used it on the non-skid fiberglass floors inside the boat, as well as the textured trim, I've been impressed too.
Buying Non-Skid Deck Cleaner and FSR
You can buy both at West Marine (you can buy online and have it shipped to you or delivered to a nearby store); FSR is also available from Amazon:
West Marine Pure Oceans Non-Skid Deck Cleaner (Note: This product is no longer available from West Marine.)
Here's your "Quick Start" to everything you need to know when living on a boat:


Making Boat Life Better
Some links in this article (including all Amazon links) are affiliate links, meaning that we earn from qualifying purchases.