Your refrigerator is probably the biggest power hog on your boat. So you don't want to throw cold air away with leaking seals. Checking the seals takes just a minute and lets you know if you need to replace or rework them.
Use an ice box or cooler instead of a refrigerator? You don't want to have to buy ice more often than you absolutely need to. Test your seals in exactly the same way!
Great meals start with having delicious, real ingredients. Go up to three weeks between grocery trips, even with a tiny refrigerator. Eating Well with a Tiny Fridge is a step-by-step course full of galley-tested strategies that teaches you what foods can safely be stored without refrigeration, how to do it, and how to maximize the space you do have. CORONAVIRUS SPECIAL: PAY WHAT YOU CAN AFFORD, FREE TO $19.
All you need is a piece of paper – a dollar bill is traditionally used, but any paper will work. Open the door or lift the lid and lay the paper over the seal, with enough on the outside to be able to grasp it. Close the door or lid as usual, then see if you can pull the paper out.
If it comes out easily, the seals need to be replaced. You are definitely losing cold air!
If your refrigerator is top loading, it's also likely that the lid is held in place only by gravity. If that's the case with yours, you may want to think about fashioning some type of latches to hold the lid down.
Latches will do two things – seal the lid more tightly and keep the lid from coming loose in boisterous conditions and possibly injuring someone.
And another quick tip from a cruiser I met at LoretoFest (I apologize, I didn't get his name): if you have a bad seal but can't get a replacement where you are, you can make a temporary replacement with a tube of silicone caulk and some waxed paper (this works best for a top loader).
Remove the old seal thoroughly. Tape the waxed paper to cover the area that the seal will rest on (not the surface you want the seal attached to) – keep the tape well back from where the seal will rest. Lay down a thick bead of silicone where you want the seal. Carefully close the lid and leave it undisturbed while the silicone cures. When it does, remove the tape from the waxed paper and open the lid. Peel the waxed paper from the silicone, being careful not to put any nicks or chips in the silicone. Done!
Want more help with your small refrigerator? Take a look at my online course, Eating Well With A Tiny Fridge.
CORONAVIRUS SPECIAL: PAY WHAT YOU CAN AFFORD, FREE TO $19.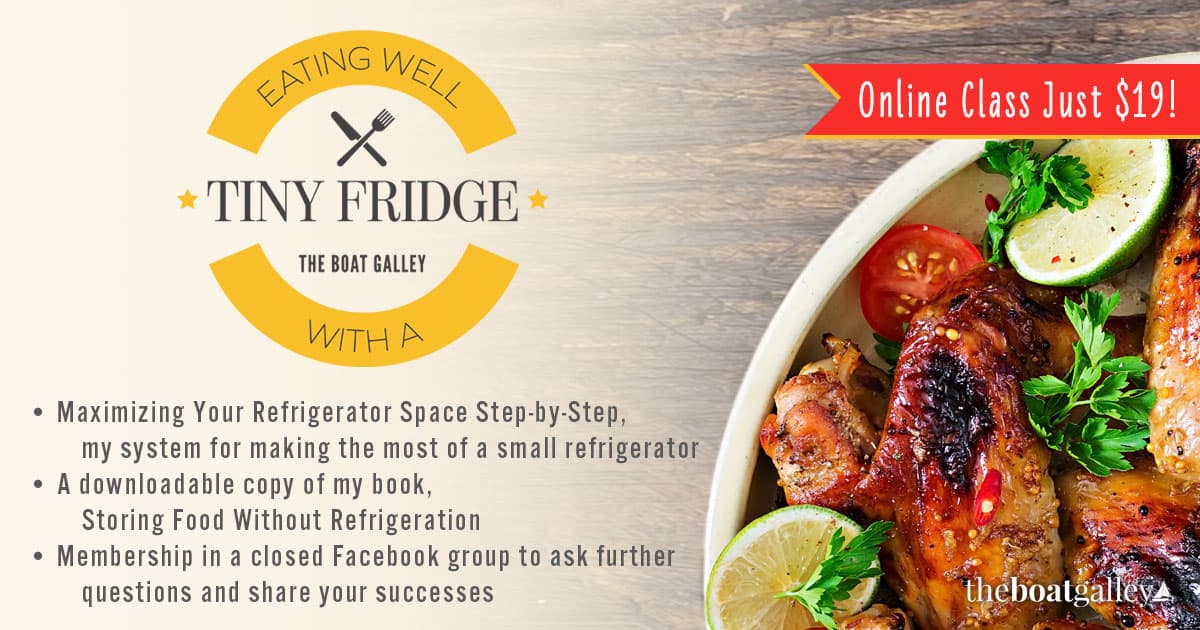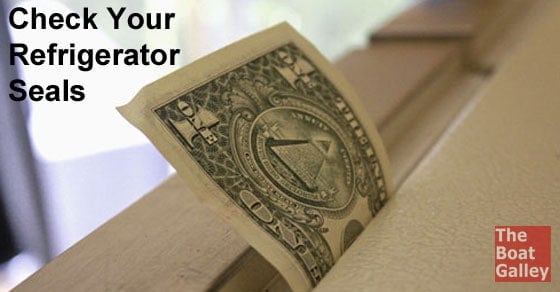 Some links above (including all Amazon links) are affiliate links, meaning that I earn from qualifying purchases. Learn more.