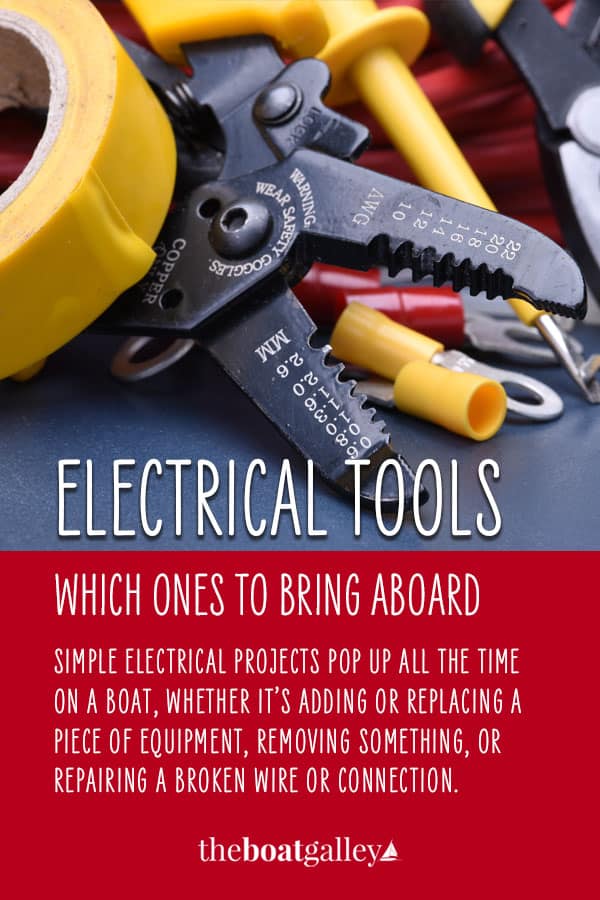 Wire crimpers, strippers, cutters, connectors and shrink tubing are essential boat wiring tools. You have to have them on your boat. Simple electrical projects pop up all the time on a boat, whether it's adding or replacing a piece of equipment, removing something, or repairing a broken wire or connection.
I learned the rudimentary principles of DC wiring in — don't laugh — a fourth-grade "enrichment" class, where we wired lights, buzzers, switches and even electromagnets to 6v batteries. While it gave me a good introduction to circuits, it didn't teach me much of the nuts and bolts of boat wiring.
BOAT WIRING REFERENCE BOOK
After trying to make sense of several different "boat wiring" books, I finally found Don Casey's Sailboat Electrics Simplified which kept things pretty simple and straightforward for a beginner. I highly recommend it as this has gotten me through 90% of the electrical tasks I've undertaken (and I have done virtually all the electrical work on our boats). You may need other references, either online or in more advanced books, for particular projects but it's a good starting point.
You can get Sailboat Electrics Simplified either as a stand-alone book or, for not much more, as part of his Complete Illustrated Sailboat Maintenance Manual, which combines six basic reference books into one (read my review of it here). P.S. These are good basic reference books for power boats, too.
BOAT WIRING TOOLS
Neither Casey nor the other books I bought talked in detail about choosing and buying the basic boat wiring tools. Our first boat came with a complete set of electrical tools, which I used and honestly didn't think about whether they were good or bad; I simply used them.
Our second boat — Barefoot Gal — didn't have any tools aboard when we bought her. I went to Amazon, planning to buy the same oat wiring tools we'd had on Que Tal. Interestingly, I discovered that they all got pretty poor reviews. I investigated further and then bought a totally different set, spending a bit more.
We've now owned BG 3-1/2 years and every time I do an electrical project, I make some sort of comment about how much easier it is to do with better tools. Here's a listing of my current boat wiring tools and why I like each one:
Wire stripper
My Neico wire stripper is probably the biggest improvement over tools I've used in the past. It just perfectly strips the wire every time, working on wire sizes from 10 to 24 AWG. It has never nicked or broken the wire strands, even on the tiny wires used in LED lights.
It's still doing a great job after more than four years, contrary to the cheaper "automatic" wire stripper I had on QT (similar to this one) that had to be replaced periodically when it got too dull to cut cleanly through the wire cover. Further, the Neiko takes a lot less grip strength than the previous one, and is easier to set to strip exactly the amount needed with measurements written right on the tool.
It can also cut wire and make crimps but I prefer other tools for both of those tasks. I have also used the "pliers" style of stripper — like this — in the past and had mediocre results at best, with ragged cuts through the insulation and many nicks in the wire strands; it also takes more grip strength to get the leverage to pull the insulation off. This one is infinitely better.
Ratcheting Wire Crimpers
Ratcheting wire crimpers makes it possible for almost anyone to get a good, secure crimp. This particular crimper is simply easier to use than other ratcheting wire crimpers I've used.
First off, it makes a nice double crimp which is more secure than a single crimp. Second, the ratcheting function allows you to put the connector in the crimper, tighten down slightly so that the connector does not fall out, then put the wire into the connector, hold the wire with one hand and squeeze the handles together to make the crimp with the other.
While ratcheting crimpers should work this way, not all really do — either not being able to hold the connector without starting the crimp (making it impossible to slide the wire in) or requiring considerably more grip strength such that it took two hands for me to make a crimp.
Final point: ratcheting crimpers are designed so that once started, the crimp can't be stopped until complete. That is, you can't remove the connector and wire midway through. But sometimes something gets screwed up and you need to. Pretty much all ratcheting crimpers have a release lever, but some are infinitely easier to operate than others. This one is one of the easier ones.
Side Cutters
My side cutters aren't anything different from what I had on QT, but I find side cutters (aka "wire cutters") to be better for cutting the typical sizes of wire used on a boat than either the "wire cutters" that are part of strippers or crimpers, or large wire cutters designed for much larger wire (those have their place, I just don't like them for smaller projects). I find a 6-inch pair to be the best size. You can find cheap "generic" ones in most home improvement and hardware stores, but the name brands tend to have better blades and an easier motion.
Butane Torch
Marine electrical connections need to be waterproof, and this involves using either shrinkwrap connectors or putting shrinkwrap over a regular connection. Either way, you need to heat it for it to shrink and make a watertight seal over the wire and connector. Some people use a simple butane lighter, but I find that using the right tool makes the job a lot easier — and a true butane torch is much easier to use for other tasks such as heating seized metal parts to get them apart.
The butane torch I have now is far more adjustable than the first one I had, plus it stays lit (the previous one would go out with even the tiniest puff of wind). The one thing to remember about this one is that it is set up for hands-free operation — in other words, you have to actually turn it off, not just release the handle.
SUPPLIES
You can either buy connectors that have integrated heat-shrink tubing or separate connectors and heat-shrink. I prefer the separate as you can make the tubing however long you desire for a particular project and it's cheaper.
Marine electrical connectors
Ancor brand makes good marine-grade crimp-on connectors. Avoid the temptation to buy the cheaper ones designed for cars and RVs — they'll corrode in a marine environment and you'll have to re-do all the connections (corrosion also increases the risk of an electrical fire).
Keep a selection of red, blue and yellow (the colors refer to the size wires they are for) butt and ring connectors. You may also need a few spade connectors and other types. If you're starting from scratch, this is a good collection, then you can add others as the need arises:
Heat shrink tubing
Again, buying the Ancor tubing that is designed for a marine environment is worth it. I find that I use 1/4″ tubing the most often, but I do use enough of the other sizes that I keep all on hand (for most applications, you can cut a 6″ piece in two):
CONCLUSION
Admittedly, I have a lot of other "electrical" tools and supplies such as a multimeter, fuses, wire brushes, larger wire cutters and so on. But if you are just getting started, these items are a good basic kit and then you can add items as you need them.
If you are doing anything with large cable — like battery cable — most brick-and-mortar marine stores (such as a local West Marine) have a work table with large cable cutters and crimpers so that you don't have to buy them for a one-time use.

Making Boat Life Better
Some links in this article (including all Amazon links) are affiliate links, meaning that we earn from qualifying purchases.