This is a guest article by my friend, Jan Irons, of S/V Winterlude and CommuterCruiser.com, with whom I wrote The Boat Galley Cookbook. Jan and her husband David are expert grillers—which my husband Dave and I sure aren't. While I've had a lot of success with bread in the oven and on the stovetop, I knew that Jan had great luck baking it on the grill. It's a great option when it's hot out!
Bread on the Grill
By Jan Irons
One of the reasons we rarely bake bread aboard is the heat generated by the oven—and the length of time it takes to bake. Then we stumbled onto baking bread on the grill and it makes all the difference in the world!
Since every grill is different, you'll need to get to know your grill before you have that perfect loaf of bread, but after a couple of trial runs, everyone will be asking how you did that! I'll bet the first loaf off your grill will be just fine—mine was a bit burnt on the bottom, but tasty, hot and delicious. And nothing smells better than fresh baking bread wafting over the anchorage!
Use any bread recipe, such as Carolyn's White Bread, Swedish Rye or Zucchini Bread. Rolls and buns will probably bake in 15 to 20 minutes and loaves will take 20 to 30 minutes depending on size and temperature. Be sure to check periodically to monitor progress.
A few tips:
Smaller loaves or rolls are better because they bake all the way through before burning on the bottom. Try using the Swedish Rye bread recipe—it's already sized to make a nice "personal" loaf, perfect for two for dinner.
Be sure to slash the top two or three times to release the steam while the bread is baking. I forgot the first time and my bread was good, but a bit soggy inside.
Grills don't circulate hot air as well as your oven. You may need to move it around the grill during the baking process to bake evenly.
Burning the bottom is the most common mistake in grilling bread—as I discovered on my first attempt. Do NOT set the bread in the middle of the grill unless you have a grill that has better temperature control than most. I turned a metal loaf pan upside down, placed a piece of foil on top for insulation and set the loaf directly on that. You can try putting two metal pans together to get the bread farther away from the heat. Or put it on an elevated rack if you have one. If not, just experiment. If the bottom is burning, move it away from the hottest point of heat and elevate more.
If you decide to have burgers on the grill—try baking some buns first. The buns can be cooling while you finish grilling the burgers.
Don't try this the first time when you're having company, but DO try it. I think you'll be like me and very happy with the results.
UPDATE: Using a baking stone on the grill will help with the burnt bottom problem due to hot spots, and if you have an Omnia Stove Top Oven it works very well on the grill (not just for bread, but anything).

---
Our FREE Provisioning Spreadsheet
Wondering how much of what foods to take on your next trip? Know just how much to buy of what — all arranged by grocery store aisle — with our handy Provisioning Spreadsheet. Includes detailed instructions to edit it for your favorite foods, how much your family eats, and how long you'll be gone. No spreadsheet skills needed!
It's FREE — get it here.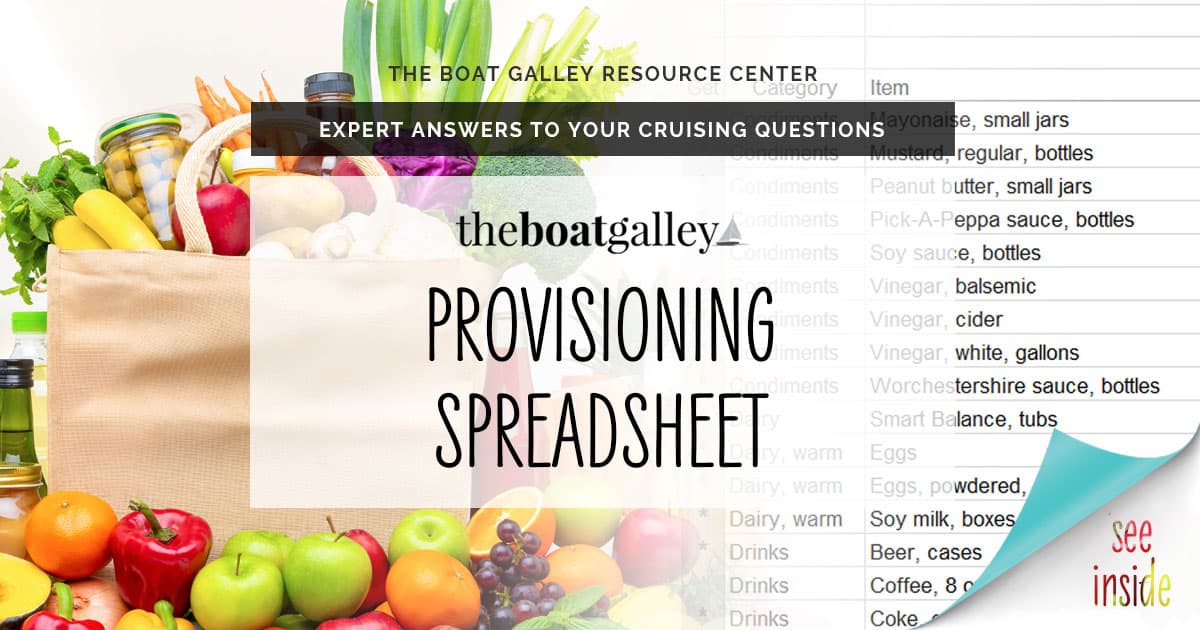 Some links above (including all Amazon links) are affiliate links, meaning that I earn from qualifying purchases. Learn more.