It's Thanksgiving Week! What a strange, strange year it's been, and while things didn't go at all according to plan, there's still plenty that I am thankful for. And many of those things come from cruising.
First might be the flexibility that cruising has given me. The ability to change plans on a moment's notice, and to always have numerous back-up plans. Believe me, that skill has been handy in 2020 and 2021!
Getting ready to cruise? Prepare to Cruise (a FREE mini-course) gives you lots of free resources along with affordable recommended courses and coaching for more in-depth needs.
Cruising also helped me be comfortable having family and friends at a distance and interacting mostly with Dave. We're also lucky to be in a warm climate where it's easy to socialize outdoors, at a distance.
Then there is the experience in provisioning and cooking at home. We can limit our trips to stores and cut down our exposure to COVID.
I'm happy for having a boat, where we could still travel and do something "different." And the community here at Boot Key Harbor has been fantastic for simply being a community – checking on each other, helping each other stay safe, and finding ways to provide entertainment (we've had many evening VHF seminars and trivia contests).
But I'm also very thankful for the community that has arisen out of The Boat Galley. TBG is a labor of love, but it's also how I have a bit of income. In a time when many small businesses have failed, you've continued to support me and the rest of The Boat Galley team, both by buying our courses and products and by the emails, Facebook comments and waving as you dinghy by. The number of "speedy recovery" notes to Dave for his hip replacement was truly astounding.
I often close my notes with "I'm glad you're part of The Boat Galley." That's not just being polite. I truly am glad you're part of my world.
---
Be sure to subscribe to The Boat Galley newsletter to keep up with what we're up to and get helpful tips and encouragement from the water.
---
Our FREE Provisioning Spreadsheet
Wondering how much of what foods to take on your next trip? Know just how much to buy of what — all arranged by grocery store aisle — with our handy Provisioning Spreadsheet. Includes detailed instructions to edit it for your favorite foods, how much your family eats, and how long you'll be gone. No spreadsheet skills needed!
It's FREE — get it here.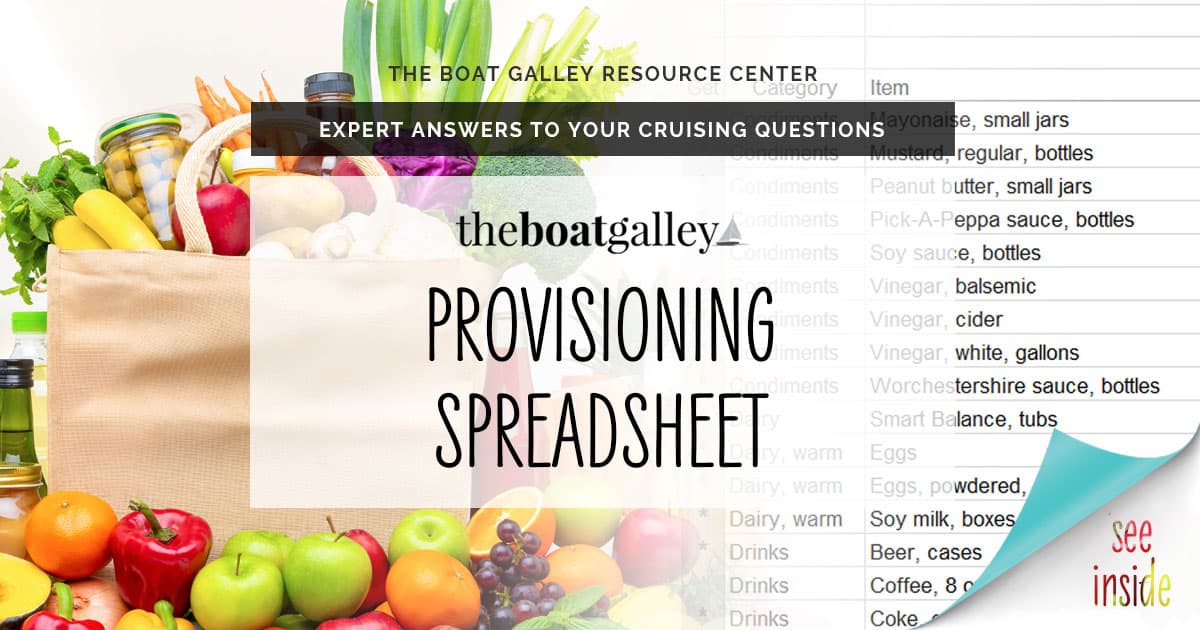 Some links above (including all Amazon links) are affiliate links, meaning that I earn from qualifying purchases. Learn more.