Hanging fruit baskets seem like such a great idea on a boat, yet in practice they have several problems.
I just love it when a reader sends in a way to really improve a piece of galley gear. Jackie Bartz of Lively Lady, currently in the Rio Dulce, Guatemala sent me information on what she calls her "cheap-y" fruit basket that she and her husband created.
What I immediately noticed was that her design solves all three of the problems I had with a wire basket. It won't rust, there aren't pressure lines on the fruit (causing rot) and it keeps bugs and flies (and, reports Jackie, fruit bats!) off the fruit.
I guess if you want it done right, you've got to do-it-yourself!
Luckily in this case, it's a pretty easy DIY job.
Jackie got three colanders at the dollar store and her husband drilled three equidistant holes in the rim of each. Then they ran 1/8″ line through them, tying simple overhand knots in the line for the colanders to rest on (see close up below) and tying the lines together at the top to hang from a hook.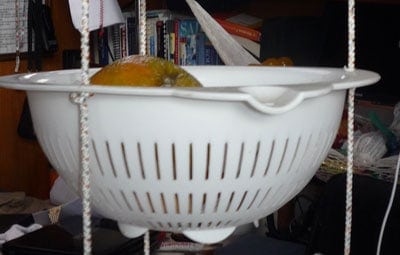 Jackie made the cover out of netting (you can get bridal veil netting almost everywhere and it's fine enough to keep even the tiniest bugs out). She put a long zipper in one side, running from the top to the bottom. Then she folded over the top and bottom into casings and ran more thin line through them to be able to pull the netting tightly shut at the top and bottom.
A trick I learned on a charter we were once on: clip a bungee cord from the bottom to something below the baskets when underway to limit the swing. Using bungee or shock cord provides some give so that the produce isn't tossed around by a hard stop!
Need More Help? Whether you have no refrigerator or a tiny one, the information in The Boat Galley Guide to Storing Food without Refrigeration (229 pages) lets you have great meals, using fresh food, on your next camping or boating adventure. Instead of spending a fortune on freeze-dried meals in a bag, spend just $15 (or less!) and have fresh fruit and vegetables, meat, milk, eggs, cheese, sour cream and everything else you need for delicious, satisfying meals. Learn more.
Pin it now! Save it for later!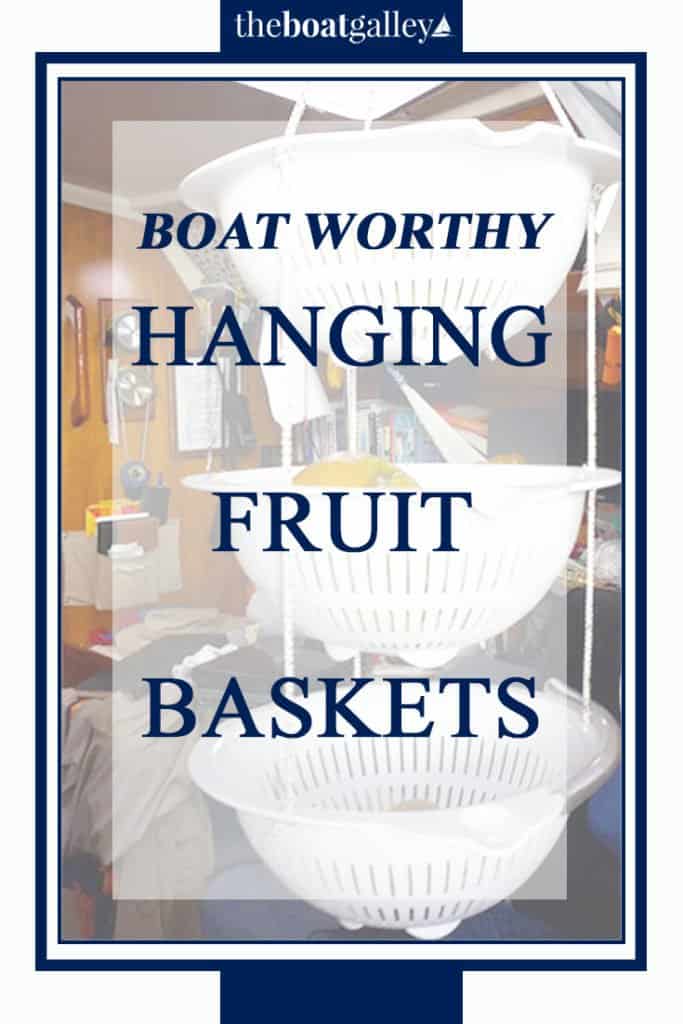 Some links above (including all Amazon links) are affiliate links, meaning that I earn from qualifying purchases. Learn more.