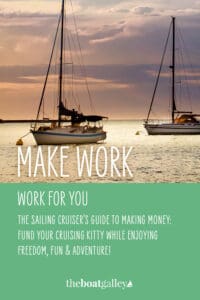 One of the questions for many would-be cruisers is how to afford it. The reality is that most cruisers work to some extent. Even with pensions, savings and investments, most of us need a little supplement. Figuring out this side of things often separates those who actually go cruising from those who say "I'd like to . . . "
A few options:
Working from the boat, either full- or part-time
Stopping periodically and getting a job locally
Stopping periodically and going back to a previous job
If you're planning to do any extended cruising, it's a topic worth thinking about several years in advance of when you plan to cast off the dock lines. Now is the time to be picking up skills for that future job and learning the legal requirements for what you plan to do. If you'll be cruising outside your home country, know that it's very hard to get a permit to work locally. You'll almost certainly be limited to remote work or going back to your home country or one of its territories.
Kimberly Prince, of Sailing Britican, has a new book out with a wealth of information about ways to make money while cruising, the logistics and the legalities. Called The Sailing Cruiser's Guide to Making Money, she walks you through coming up with an idea, planning how to make it happen and discusses the realities of working while cruising. I highly recommend it.
I've been working at least to some extent almost the entire time we've been cruising. Initially I wrote magazine articles to pass on things we learned; then as our expenses grew faster than Dave's Social Security and our investment income, it was to provide some extras in the budget. Now, The Boat Galley provides part-time income for five cruisers.
Working while cruising isn't always easy . . . but I find it far more enjoyable than working while not cruising! You can make the finances work but the time to start planning how you'll do it is now.
Hope to see you out here!
Wondering how to store everything on your boat? Don't worry, we've got you covered:


Make Boat Life Better
Some links in this article (including all Amazon links) are affiliate links, meaning that we earn from qualifying purchases.