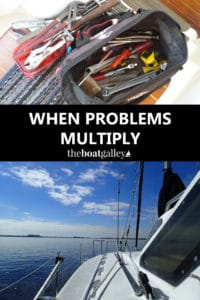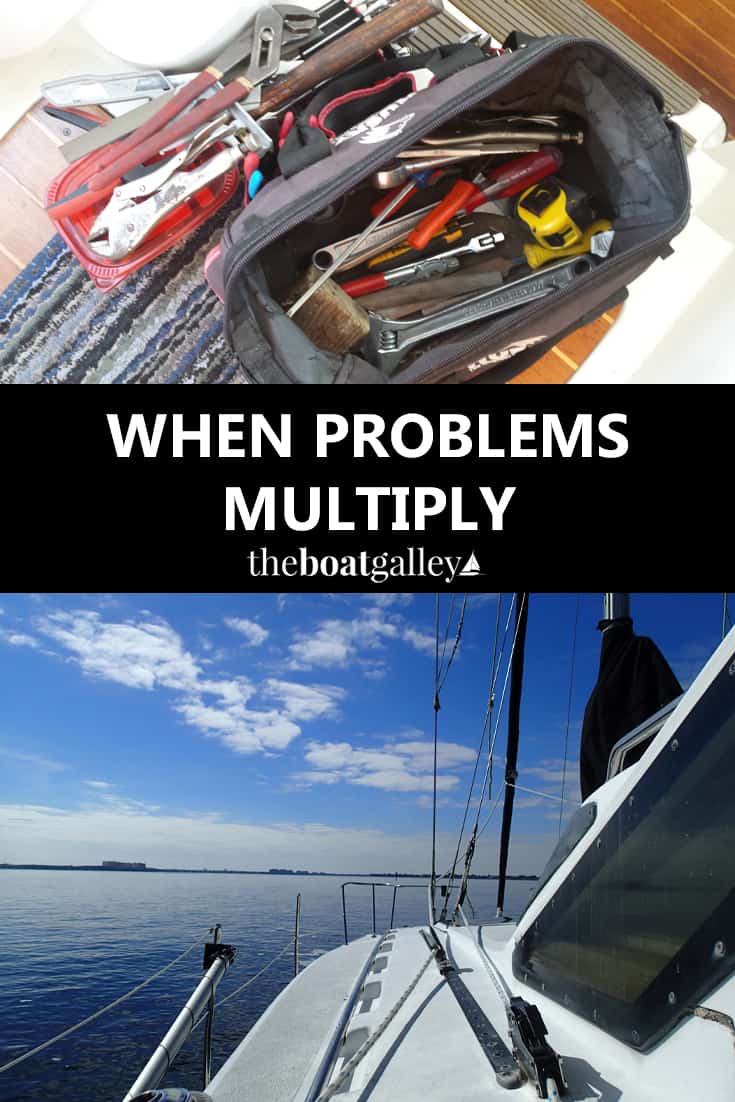 The last two weeks have been a seemingly never-ending series of interconnected problems. Here's how it all went down.
I wired our new radar and inadvertantly got the power wires on the wrong side of a watermaker hose to have a "tidy" installation. Problem 1.
Dave noticed the wiring problem and saw that the hose could be unattached from the watermaker, moved and reconnected on the right side of the wires. So he did that.
Two days later, he ran the watermaker, which runs off our Honda generator. To start the watermaker, the generator has to be running full speed, but once it's started, the generator can be turned to "Eco" (economy) mode.
Normally, I go up on deck to turn the generator to Eco while Dave watches the watermaker, but that day I was doing something else and so Dave started the watermaker and immediately went on deck to turn the generator down.
When he came back below, he saw that there was a fountain in the watermaker compartment. The hose he had reattached had not been firmly connected and saltwater was going everywhere. Problem 2.
He cleaned it up and went ahead and ran the watermaker.
Four days later, late Thursday afternoon, when Dave went to run the watermaker, it wouldn't turn on. There was a hum and then it would overload the generator, which would turn off. Problem 3.
A bit of troubleshooting with the help of the Rainman dealer revealed that saltwater had most likely gotten inside the motor, corroded it and it was seized. We were going to have to uninstall the watermaker to repair it.
When we'd installed the watermaker, we put it in a place where four of eight mounting screws were fairly inaccessible. Problem 4. It took some good sailorly words and breaking two mounting blocks off gelcoat to remove it.
Finally got it out on Saturday morning and contacted the Rainman repair facility in Fort Lauderdale about getting it to them for service.
We decided to take the watermaker to Ft. Lauderdale and wait for the repair so that we could get it back as quickly as possible. Since it had just suddenly not worked, the membranes weren't pickled. We needed to get the unit fixed ASAP so that we could flush the membranes and keep "ickies" from growing on them. Problem 5.
Saturday afternoon saw us drive to Ft. Lauderdale and we made arrangements to drop the watermaker off on Sunday morning so that repair could begin Monday morning. We'd have the unit back on Monday afternoon.
Monday didn't go as expected for the Rainman repair facility and they didn't start on our unit until 3:45 but they thought they'd have the unit ready for us the next morning. They were pretty sure the motor was the problem and they had a spare on hand. Okay, we'd stay another night and got a motel room for one more night. Problem 6.
At 7 PM, we got word that there was good news and bad news. The good news was that the problem was the motor (far less expensive to replace than the high-pressure pump); the bad news was that the box marked as containing the motor for our unit actually held a motor for the previous model. One would have to be ordered. Problem 7.
At that point, we decided to return to Marathon and the boat on Wednesday morning. The further good news was that we should be able to rig a freshwater flush for the membranes off using the boat's freshwater system. Creating that would be Problem 8.
We stopped by Home Depot on our way back into Marathon and spent about an hour planning and finding parts for the freshwater flush. About three hours' work back on the boat and Dave had rigged up a very basic freshwater flush system. Normally we shouldn't let the membranes go longer than a week between flushes and it had now been nine days. We're hopeful they're still okay.
For that initial flush, we were okay using the watermaker water in our tanks. Any water with chlorine in it — which is most city water — would also damage our membranes. We hadn't had city water in our water tanks in over two years, so we figured it was okay.
But we didn't have an unlimited supply of non-chlorinated water in our tanks. We were going to have to start getting water from the marina. And it would sure be a lot easier for cooking and washing if we could use our regular water system instead of living out of jerry cans.
That meant that we'd have to install a charcoal filter on the water line going to the membranes, aka Problem 9. So back to Home Depot for various parts to do just that. Then a trip to West Marine for the connectors that Home Depot didn't have. Then another trip to Home Depot for the extra parts needed to connect to what West Marine had. It's a Rube Goldberg mess of using five parts to connect two together.
But it works.
We're hoping to be ready to leave in just over two weeks and this did set us back a bit. One stupid bit of miswiring that led to nine problems.
Our first year of cruising, a situation like this would have had us thinking "we can't deal with this" and "what were we thinking to get a boat?" We each would have been thinking that but for the other's actions, we wouldn't have a problem. As the problems mounted, so would have our frustration. Stress. Overwhelm. Possibly tears, definitely tearing hair out.
Now, we see situations such as this as a challenge: how can we overcome them? Instead of getting frustrated, we stop and come up with a plan of attack. When problems start to multiply, we take it as a sign to slow down and regroup instead of blindly charging ahead. In this case, we reminded each other of the overall goals: get the watermaker repaired and save the membranes. We got the watermaker out from where we'd installed it and to the repair facility; when we discovered it couldn't be repaired right away, we figured out an alternate method for flushing the membranes. We hit our goals.
Because of the time spent on this unexpected project, we might not get everything done that we had hoped to do before we left. And we're okay with that.
When we first started cruising, we thought that absolutely everything on "the list" had to be done before we left on a trip. That, in itself, led to a lot of worry and stress.
Now we realize that the boat will never be perfect. The key is to know what items truly need to be done and what can be done along the way. Safety items have to be done. Things that affect the boat's operation have to be completed and tested. Doctor's appointments can't be skipped. But cleaning we can do anywhere. There are grocery stores everywhere. Touching up the interior teak can happen in any anchorage. We now have two lists: items that absolutely have to be done before we leave and things that don't.
I can go on and on, but two of the big things we've learned in twelve years of cruising are flexibility and ingenuity. Things aren't going to go as expected or hoped for. Cruising is a life that will challenge you to deal with what's thrown your way. No, that's wrong. Not just grudgingly deal with problems that arise. Thrive on finding solutions. Develop confidence. Triumph.
The transformation from being frustrated by problems to feeling that you can deal with them doesn't happen overnight. But hang on, it will happen. And when it does, there's a lot less stress.
Give your boat its best chance in hurricane season:


Making Boat Life Better
Some links in this article (including all Amazon links) are affiliate links, meaning that we earn from qualifying purchases.