A bit ago, Judy asked me for recommendations on brands for a replacement stove — she wanted a three burner, with oven and broiler. Since I've only had extended experience with an older Force 10, I asked the question on TBG's Facebook page. Here's the info I got, along with comments/questions/complaints I've gotten at other times via email and in the comments on other "stove" posts. Brands are listed in no particular order and this is FAR from a scientific study!
Hillerange/Princess Seaward: Three readers (including my cookbook co-author Jan) all report that they like the stove; I've heard other good comments on the Women Who Sail Facebook group.
Getting ready to cruise? Prepare to Cruise (a FREE mini-course) gives you lots of free resources along with affordable recommended courses and coaching for more in-depth needs.
One feature that I've heard about several times is that the Princess has an enamel-lined oven, instead of the stainless than most others have. Several people have commented how much better it holds heat in. Other specific comments:
"We love our 3 burner Princess by Seaward. Reliable, even heating in the oven so that if we set it to 350, it stays at 350. Works as well as our high end oven at home. Stovetop burners are fine, but all are the same size. Can't get a fast boil nor a very slow simmer but these are very minor complaints."
"So far the Seaward Princess is working pretty well for us. The clips to keep the stove eye grids from rattling are a bit of a PITA but I can live with that. Broils pretty well too"
Force 10: Mixed reviews. Three readers liked theirs, but I've also heard comments elsewhere that the installation instructions and customer service are both pretty bad in recent years. Comments:
"Installed a 2 burner Force 10 with broiler last fall. So far so good. Ordered extra rack too."
"Replaced our old 1970's stove with a Force 10 3 burner. OK. BUT used to be able to cook a whole turkey. But new oven is soooo much smaller that is no longer an option"
We had a Force 10 on Que Tal and it wasn't horrible, but it did have some problems with the oven just not coming up to heat. The burners and the broiler both worked well, and I liked the way that the oven door tucked away when open.
Morgan's Cloud has published three posts about the problems they encountered and how, once they dealt with them all, they like it best of any stove they've had:
Dickinson Mediterranean: I've never heard anything bad about one, and the Facebook comments that were left were very positive:
"We have a Dickinson Mediterranean. The oven size is GREAT but probably just need 2 burners. Rarely have more than 2 pots on the stove and 3 don't really fit. We've had it for about 6 months and gets used multiple times a day. I've been having some issues with lighting the burners but other than that it's perfect! Super easy to clean too!"
"Love the Dickinson Med…even has broiler and wooden cutting board cover, pot holders…looks nice too"
"We installed a Dickinson Mediterannean on our still-being-built Dix 43. It's a quality looking piece of kit, well fitted and finished. Time will tell if it can boil water or not. Oven's big enough to roast a small turkey in."
Eno: Had one good comment on Facebook about their 2-burner stove, and I've heard that the oven on the 4-burner does not do a good job — it is a single strip along the back wall and has very uneven heat as a result. Online reviews elsewhere talk of non-existent customer service.
"We have a eno 2 burner with oven. Has worked very well for us"
Broadwater (Australian): Gets some great comments but apparently parts are no longer available.
"We have a 4 burner Broadwater ( Australian ) it's Fantastic !! Lots of broiling room & great temperature control. 5 stars"
However, Morgan's Cloud was not very happy with theirs and did a post on it — read it here.
Spinflo (British): Got one great review, but it's actually an RV stove not a marine one.
"We have a British Spinflo with 4 burners, a grill and large oven. Great temperature control. Not gimballed but that doesn't matter on our boat. But is designed for campervans. You can get extra parts. I got a 2nd rack for inside the oven. It has electric ignition. Love it but need someone to make me some potholders."
Attwood: Got one positive comment here too:
"Attwood 3 burner oven from 1997. Works great. Use a lot as liveaboards."
And, finally, here's a Practical Sailor review of four boat stoves from July 2007: Galley Ranges and Small Stoves Update (note: you must be a subscriber to read the article).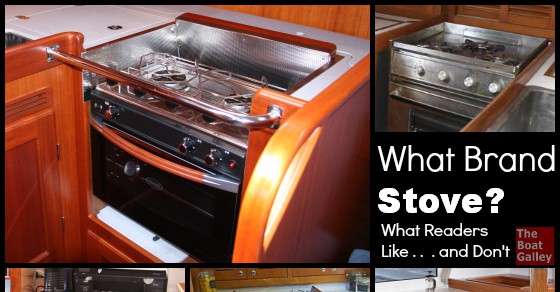 Some links above (including all Amazon links) are affiliate links, meaning that I earn from qualifying purchases. Learn more.