In the course of almost every DIY boat project, Dave mutters one of two things. Sometimes both:
Ten pounds of "stuff" in a five pound bag
They must have installed this and built the rest of the boat around it
Basically, it means that there is absolutely no room to get to a nut or bolt that he needs to. No room to swing a regular wrench; no way for a regular socket to reach.
And then his special tool comes out: the Universal Joint Socket Adapter. With it, he can reach just about any nut or hex head bolt he needs to and apply the leverage necessary to break it free.
Mechanics probably already know about this one, but if you've never seen or used one, here's how to do it (as Dave notes, you'll almost always use it with a socket extender in order to reach the bolt or nut, so that's how he's demonstrating it).
The four pieces (you can get universals for 1/4", 3/8" and 1/2" drive sockets – the set Dave recommends below has all three):

The socket extender goes on the socket handle – good ones have what are called "detent" balls and notches so they don't come apart while you're using them. Basically these are like a tiny little spring-loaded ball and matching indentation for it to fit into. You can see the detent ball on the rachet handle near Dave's index finger (this is what you're retracting when you press that button under his thumb to get the socket off the handle).

Then the universal adapter:

And finally the socket:

NOTE: The Universal gives you up to about a 45 degree angle.
Vary the length of the extender to reach what you need – and you can use another extender after the universal, too.  Dave has never found a nut or bolt that he couldn't somehow reach.
His choices, available from Amazon:
These are made of chrome vanadium steel. A few people have asked about the advisability of having stainless tools on the boat due to concerns with rust. Stainless would be nice but frankly are cost prohibitive for most of us.
A wipe down with an oily rag does a good job of protecting most tools. Of course, anything that goes in the water (intentional or not) gets rinsed with fresh water, dried and sprayed with WD-40 to remove all traces of moisture in the little nooks and crannies.
---
Our FREE Provisioning Spreadsheet
Wondering how much of what foods to take on your next trip? Know just how much to buy of what — all arranged by grocery store aisle — with our handy Provisioning Spreadsheet. Includes detailed instructions to edit it for your favorite foods, how much your family eats, and how long you'll be gone. No spreadsheet skills needed!
It's FREE — get it here.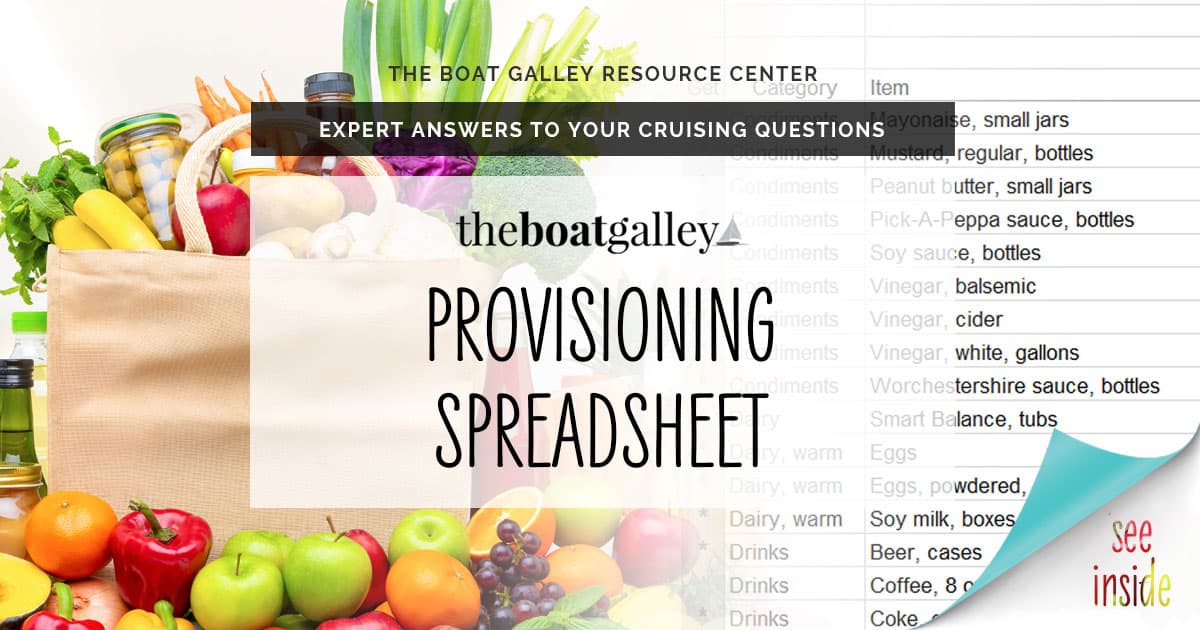 Some links above (including all Amazon links) are affiliate links, meaning that I earn from qualifying purchases. Learn more.