If you have a sailboat, sooner or later someone's going to have to go up the mast. Maybe to check the rigging, maybe to fix something, or maybe to install new gear.
The traditional way is to use a bosun's chair: basically a "chair" made of a plank and fabric sides that attaches to the main halyard. Then the lucky person on deck gets to crank a winch and haul the person in the chair up.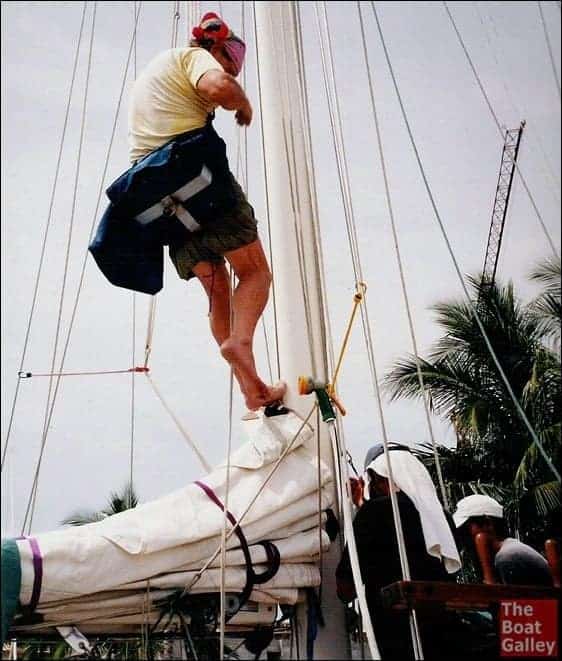 The photo above was from our first trip up the mast on our first boat, Que Tal. These guys were doing some work on our boat and didn't have too much trouble winching Dave up, trading off every few minutes. For me to haul him up was a different story. We had to run the halyard all the way back to our two-speed jib winches and it was very slow going, especially as I had to also periodically take up on the spinnaker halyard that was attached to a climbing harness as a safety backup. (NOTE: on future trips, we also learned to tie ourselves to the mast so we couldn't swing.)
When we were looking at Gemini catamarans prior to buying Barefoot Gal, we had the opportunity to buy a "Mast Mate." To be honest, we only sort of knew what it was (the guy selling it had given us a lot of help but wouldn't take payment, but did have this gizmo to sell as it was too short for his boat . . . ). The guy selling it told us he'd used it on a Gemini and it was like having a ladder up the mast – he loved it.
A Better Way Up the Mast
To us, the Mast Mate is a huge improvement on a traditional bosun's chair. It is made of very heavy webbing with loop steps on each side for the person going aloft. The top attaches to the main halyard and there are slugs that go in the sail track to keep it right at the mast. There is also an optional "belt" that can go around the person and the mast – and it has pockets for tools and parts.
We use a bosun's chair in addition on the topping lift (you could also use a spinnaker halyard) both as a safety measure and so that the person aloft can sit to work at the top of the mast – but the person on deck can just take up on it every three or four feet and cleat it off, which is easy since there's no weight on it. The bosun's chair is also a good resting spot halfway up the mast (a 40-foot mast is like climbing four sets of stairs to the fifth story of an office building).
Advantages:
Much faster for the person to go to the top of the mast.
Don't need a gorilla cranking the winch on deck! We often hear people in the harbor asking for a couple of "strong guys" to help winch up a bosun's chair so that repairs can be made at the mast top. We can do it with just the two of us (Dave is 78 and I'm 56 . . . )
Could go aloft single-handedly (although wouldn't have the safety of a second line)
The only disadvantage is that you have to take the main sail off the mast (you can leave it on the boom) to slide the slugs into the track on the mast. That literally takes less than minutes at the beginning and end of the operation – be sure to leave the sail ties on the sail so it doesn't blow off the deck!
It's easier to see it in pictures: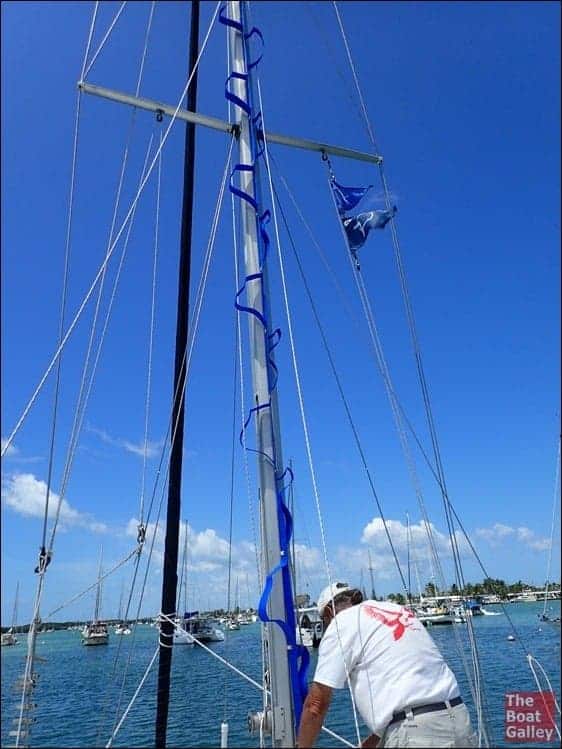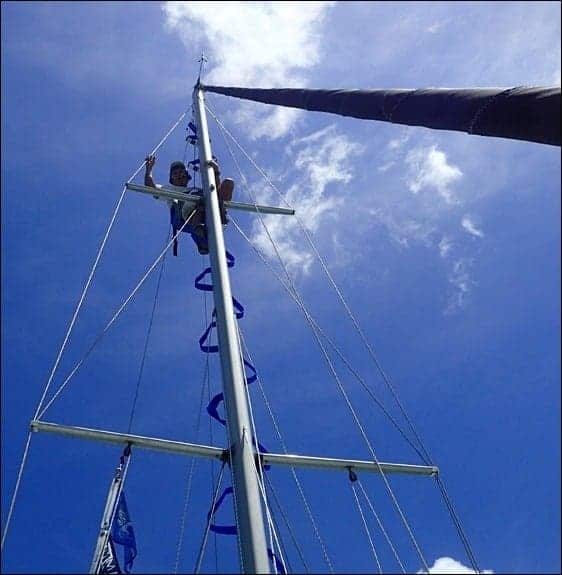 Going aloft may not be exactly fun, but we've found that the Mast Mate makes it much, much easier. We particularly like that it makes it feasible for us to do it without needing help from another boat – not that we've too proud to ask for help but so that if we have a problem in a remote spot, we can handle it ourselves. It simply makes us more self-sufficient.
You can only buy the Mast Mate directly from the company or if you happen to run across a used one. I will admit that they are not cheap, but it is a piece of gear that you are trusting your life to. We have had several inquiries about ours since Dave went up the mast last week – people saw just how much easier it was than the other boats nearby who were winching up bosun's chairs the same day!
Here's a video on the Mast Mate in use – below that are some tips on going aloft in general and specifically with the Mast Mate.

NOTES: There are some other mast climbing systems available, such as the ATN MastClimber. We have not used any others, but the ATN MastClimber looks to us to require greater physical fitness and flexibility.
Some people initially opt for a climbing harness to go up a mast. That may be okay for a very quick repair, but will quickly get uncomfortable. It makes a reasonable backup system for a bosun's chair, however.
A climbing harness can also be a good backup to the Mast Mate, but it will not provide a comfortable perch to work from at the top of the mast (even the ones made for sailors). We find a bosun's chair to be a lot better. We have a CrewLift by CrewSaver.
Tips on Going Aloft
Think though what you need to do at the top of the mast and take all the tools you might need. Bosun's chairs and the Mast Mate tool belt have big pockets for parts and tools – use them as you'll want your hands free.
It's a good idea to take an empty ditty bag with a long line attached. If you find you need something more, you can lower the ditty bag to the person on deck and then pull it back up again.
The Mast Mate is easiest to use with lightweight shoes or stiff-soled sandals (we wear our Keens). Boots are big to try to fit on the steps and bare feet will get sore quickly.
It's best (most say essential) to have two independent systems holding you aloft on separate halyards so that if one should fail (rare, but it happens) you won't fall to the deck.
Tie yourself to the mast so you won't start swinging (obviously more important on a monohull than a catamaran). If it's windy or wavy, it's good to have two belts so that when you get to the spreaders you can put one above before removing the one below (and vice versa on the return trip). It's a pain to do but a safety factor.
If possible, choose a calm day.
The person winching or tailing below should periodically cleat the halyards off so that if one slips, the person aloft can't fall far (we aim for every 4 feet or so). Never have both halyards uncleated at the same time if someone is up the mast.
If you are winching someone up in a bosun's chair, be very careful not to get an override on the winch. If you do, tightly cleat off the backup halyard before unwrapping the override.
Once the person aloft is at the level they need to be, the person below should move away from the mast so that if any tools or parts are dropped, they won't be hit on the head. (This accounts for more accidents with someone going aloft than injuries to the person aloft.)
If you have anchoring headphones, use them so you don't have to yell back and forth and try to understand what the other person is saying. We have "My Team Talks" Bluetooth headsets and love them. Not only do they work well with no interference, they're designed so that they don't fall off . . . even on a windy day at the top of the mast.
---
Our FREE Provisioning Spreadsheet
Wondering how much of what foods to take on your next trip? Know just how much to buy of what — all arranged by grocery store aisle — with our handy Provisioning Spreadsheet. Includes detailed instructions to edit it for your favorite foods, how much your family eats, and how long you'll be gone. No spreadsheet skills needed!
It's FREE — get it here.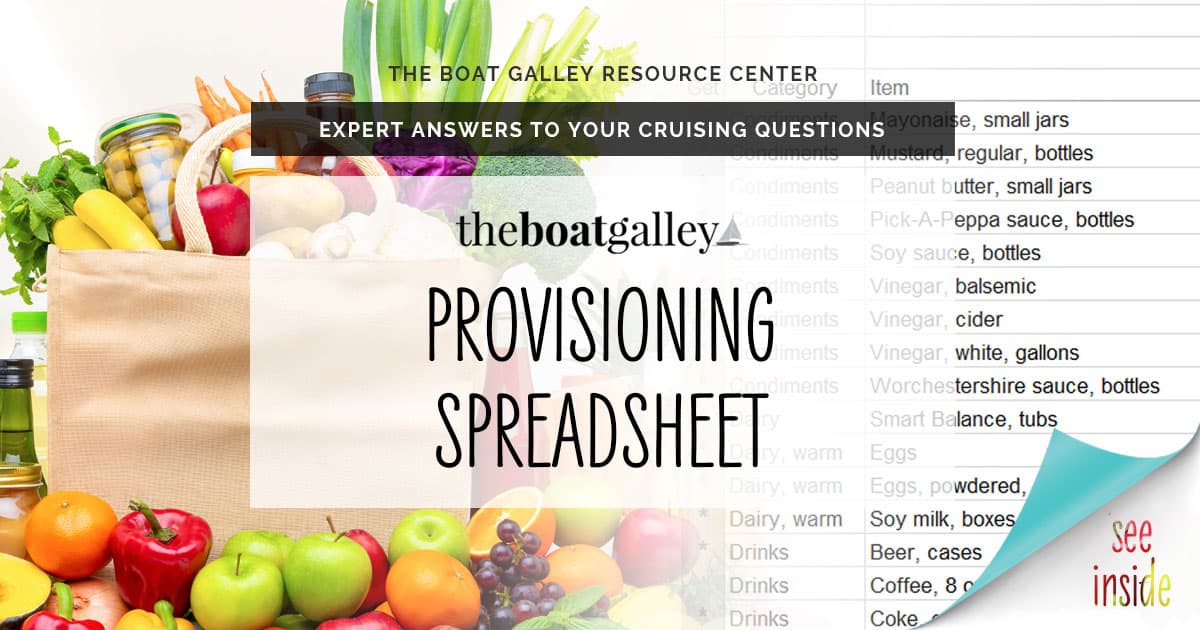 Some links above (including all Amazon links) are affiliate links, meaning that I earn from qualifying purchases. Learn more.