Somehow, boating and snacking just go together.  Whether it's the fresh air, the activity or the friends stopping by, it's not unusual to find people opening cupboards and looking to see what there is to eat!
Whether you're out for the afternoon or a week, it only makes sense to plan for snacks when you're planning the food on board – otherwise, you might be surprised to find part of your dinner ingredients missing.
We kept a snack bin on our boat, Que Tal.  A big plastic tub next to the companionway, I'd fill it with various treats that anyone could eat – or offer to anyone that came by – without asking, any time they wanted.  With it, Dave no longer felt like a child, having to ask "permission" to eat something, and I no longer was frustrated to find that the cashews for Cashew Chicken were gone. We do the same thing now on Barefoot Gal.
A few of our favorites for the snack bin:
Crackers, particularly in single-serving packets (or I'd divide them into small plastic bags with one serving each).  Add a jar of peanut butter to have with the crackers for a more substantial snack.
Fruit, especially oranges.  If you wrap them in foil, they stay good considerably longer.
Nuts, again in single serving packages.  Unshelled nuts, such as peanuts or pistachios, give the snacker something to do.
Olives can sometimes be found in single serving plastic packages – these are great!
GORP (

G

ood

O

ld

R

aisins &

P

eanuts) – is a favorite of Girl and Boy Scouts.  In rough weather, it can even stand in for meals, such as on such as our "rambunctious" sail from the Bahamas to Florida.  I put GORP into plastic bottles that fit into the drink holder on the steering pedestal, and then we'd just grab a handful at a time.  A good mix is roughly equal parts peanuts, raisins and M&M's, but you can use other dried fruit bits and other small candies as well (things that don't melt in your hand are best).
Applesauce in individual serving containers.
Individual packages of cookies, particularly ginger snaps (ginger is a natural  seasickness preventive).
Foods that take more "making" – such as dips or hot treats – are better left as appetizers or accompaniments for sundowners.
Got any other favorites?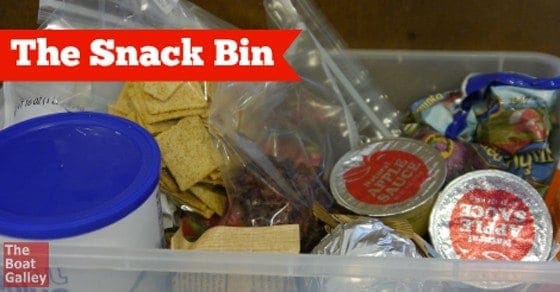 Some links above (including all Amazon links) are affiliate links, meaning that I earn from qualifying purchases. Learn more.