Are your charging cords out of control? I know mine are — two phones, a camera, laptop, tablet, and the MP3 player (charging and connection to the stereo). Oh, and the printer power cord, too.
We added more charging ports over the nav station, but my cord "solution" was a total failure. They're always in knots and I can't find the one I need.
Reader Jane Head, aboard Ibis and currently in the Exumas (Bahamas), sent me this great idea using Velcro.
Said Jane:
My husband could never find the phone charger cords, the adapter for the camera battery charger, the power cord for the tablet etc. and the nav desk frequently looked like a bowl of spaghetti.
I glued a 2" wide, sticky-backed strip of heavy duty Velcro (actually I ended up using two strips because we had so many cords) to the wall near the nav station. I believe this type is recommended for adhering tools to the wall in a workshop – it's that strong. I used the side with the "hooks,", not the fuzzy side.  Then we bought Velcro Cable Ties on Amazon. They come in black, white and assorted colors and various lengths (we used 6" and 8").
We simply wrapped each cord with a cable tie with the fuzzy side out and stuck them all to the "wall" Velcro. I had some small sticky-backed Velcro squares so I attached those to small parts like the AC adapters and stuck those up as well. Now everything is easily at hand, and remains in place even when at sea.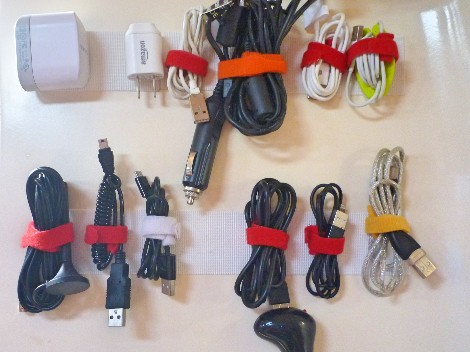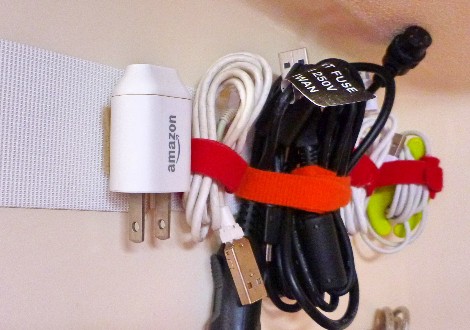 I love Jane's solution.  We're currently installing a solar controller right near our "charging station," but as soon as it's in place, I'm going to do a similar thing to corral all of our cords.
Amazon has all the supplies:
If you need more charging ports, I found that you can get all sorts of combinations of cigarette lighter sockets and USB ports. If you have Apple products, make sure that any USB ports are compatible with Apple specs. Also check the capacity and, if you're going to plug it into an existing cigarette lighter, it's capacity — we opted to hard wire these on their own circuits.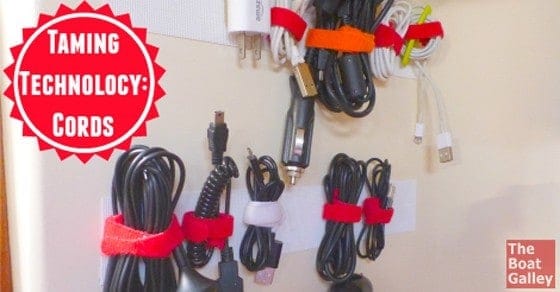 ---
Our FREE Provisioning Spreadsheet
Wondering how much of what foods to take on your next trip? Know just how much to buy of what — all arranged by grocery store aisle — with our handy Provisioning Spreadsheet. Includes detailed instructions to edit it for your favorite foods, how much your family eats, and how long you'll be gone. No spreadsheet skills needed!
It's FREE — get it here.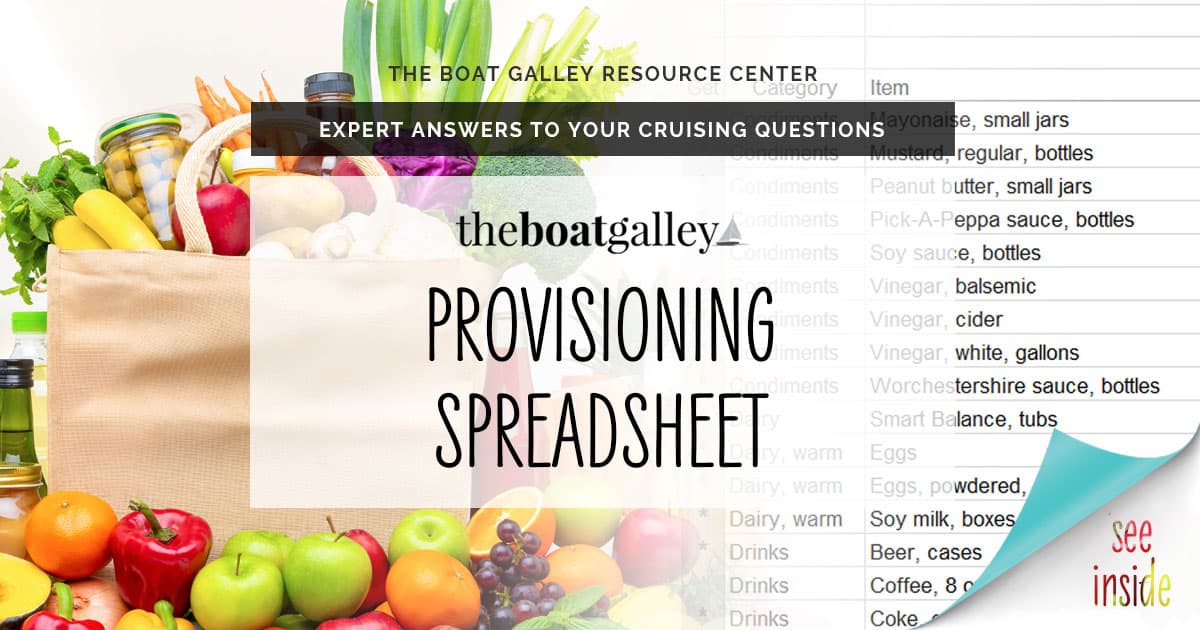 Some links above (including all Amazon links) are affiliate links, meaning that I earn from qualifying purchases. Learn more.