More than once, I've been asked if I know of a good sugar dispenser that works on a boat. You know, one that didn't get clogged up by humidity, rust in less than a month, or invite every bug in the anchorage over for a meal.
Unfortunately, my only suggestion has been to get a small Lock & Lock container like this, and then use a spoon to put sugar in coffee or on breakfast cereal. Not always the best or prettiest solution.
I now have a much better suggestion, thanks to two readers who both wrote to me about the OXO Good Grips Sugar Dispenser (view it on Amazon). One didn't give his/her name, and the other was Rena Blades aboard Delos, a Lagoon 39 that they're prepping for full-time cruising.
Reasons why this is particularly well suited for life aboard a boat:
The pour spout "snaps" open and shut: if you keep it closed, very little humidity enters to make the sugar clump or clog the opening; bugs don't get in; and it doesn't spill even if it tips over in the locker or at the table.
The metal is stainless and thus rust-resistant. OXO doesn't say what grade of stainless it is, so I'm guessing it's not the top grade and hence may eventually rust (read about stainless grades in kitchen items here). However, I haven't found a review anywhere with anyone complaining about it rusting, so it could be a higher quality stainless.
The clear body is plastic, not glass. Less chance of breakage and if it does, no glass shards around bare feet.
Holds one cup, which is a reasonable amount of sugar for coffee, tea and breakfast cereal.
Nice big opening in the top to refill the sugar (on a boat, be sure to put the dispenser down in the sink to refill — that way, if some spills as the boat moves, it's easy to clean up without leaving any behind for bugs).
Like to have breakfast in the cockpit or on the flybridge? The dispenser will fit in almost any drink holder (it's 2-3/4″ diameter and most drink holders are 3-1/2″), making it easy to keep it handy without it sliding on a table.
The only criticism is that sugar will flow out rapidly, so be careful how you tilt it!
Available on Amazon: OXO Good Grips Sugar Dispenser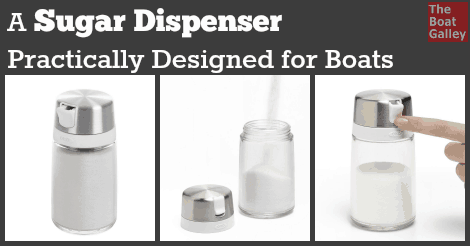 Some links above (including all Amazon links) are affiliate links, meaning that I earn from qualifying purchases. Learn more.