We didn't realize how well-stocked our first cruising boat, Que Tal, was when we bought her. We bought her in Mexico and the previous owner had recently brought her down from the US – fully stocked with spares. I mean, we spent 4 days just inventorying what was in the lockers.
Barefoot Gal, by contrast, had almost nothing aboard. When we first moved aboard, we brought a lot of tools and my first Amazon order was filled with things such as wire crimpers and PB Blaster. As we've done various projects, we've added more and more to our tools, supplies and parts.
Cruising in Florida, we've always been reasonably near populated places where we could get what we needed and gradually built up the spares. But now that we're planning to head to the Bahamas, we're seriously thinking about our spares. What else do we need?
On one hand, we want to be able to repair critical systems – or at least have backup systems in place. On the other hand, we have to consider space and money. As Dave says, "we can't just tow a whole spare boat around."
Yes, there are stores in the Bahamas, and we will be able to get things shipped in. But that can be both expensive and time consuming. So we're trying to strike a middle ground of having parts and supplies for the most likely problems – and those things that would HAVE to be fixed – and not trying to have spares for everything. We know from past experience that a lot of gear can actually be done without, or jury-rigged with what's available.
It seems like we've been buying things every day. I know we really haven't – most days what we're really doing is going over various systems and deciding what we do think we need to have aboard. To be honest, this part takes time!
Every boat is different, of course, but just to give an idea . . . this is absolutely NOT a comprehensive list!
Freshwater system: spare hose (all is 1/2" so it makes it easy), hose clamps, a variety of connectors, Y valve for the tank selection, spare water pump
Dinghy and outboard: hypalon patch kit, spare valve, spare prop, impeller, spare kill cord
Diesel: spare raw water pump and seals, 2 spare fuses, solenoid relay, spare fuel pump, alternator belt
Autopilot: spare belt
Sails: sail repair tape, thread, needles, lots of extra blocks, shackles and line
Stove: spare solenoid and regulator for propane
Electrical: lots of spare wire and connectors, fuses
Anchor light: spare Davis Mega Light (we use an LED bulb, but have the original incandescents as backup)
We opted not to carry a spare alternator as nothing runs directly off our alternator and we have both solar power and a generator for charging the batteries. It's been our experience that anywhere there are cars, there is someone who can rewind an alternator – or sell us one.
Plus there are all the consumables such as engine oil, filters (oil, fuel and water), engine coolant, coconut coir for the composting head, battery water, WD40 and more. Some of these we plan to take enough for our time in the Bahamas, others we figure we'll take some but may have to buy more while there.
And all the other "repair stuff" such as tools, screws, bolts, cable ties and so on that are just a normal part of living on a boat — we're pretty well stocked on all those.
The whole issue of spares can be a real "budget buster" for the first year of cruising. It's one of those hidden costs that doesn't show up in most articles. It's not quite so bad in subsequent years. Yes, you want to replace spares as you use them, but you usually don't use them all in a single year. Admittedly, if you are staying pretty much in your home area, you may not need too many spares and can just buy what you need as you need it. That's sort of what we did in our first year on Barefoot Gal – slowly started building spares as we needed things. But now that we're planning to go further afield, it's time to carry more with us . . . but not too much!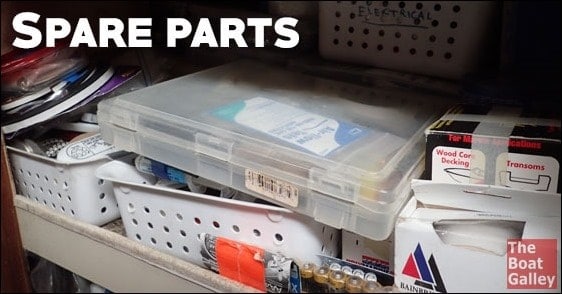 Some links above (including all Amazon links) are affiliate links, meaning that I earn from qualifying purchases. Learn more.