Dave and I are pretty convinced that having a good tool collection on the boat is vitally important. Boats break. That's all there is to it.
So what tools do we find most useful? Last night, Dave and I made a list of 10 general-purpose tools that have worked really well for us and that perhaps aren't the run-of-the-mill hammers, screwdrivers and hacksaws. Originally I was going to just post a list of them, but then I realized I needed to write more about why we particularly like them. So one at a time it is.
First up: The Stanley 145-Piece Mechanics Tool Set.
Dave got this when we moved ashore after selling our first cruising boat . . . complete with most of the tools on it. He's had it for 7 years now, and literally nothing has broken, failed, or been less than satisfactory.
Stanley also makes smaller sets, but we use just about everything that's in this set. It includes:
1/4″ and 3/8″ socket driver
SAE and metric sockets — regular and deep
Socket extenders
Screwdriver handle and adapter for sockets (not used a lot, but when it's needed, it's really handy)
SAE and metric Allen wrenches in holders (we find it handy NOT to have them on a ring or hooked together)
8 box/open wrenches — SAE and metric
Admittedly this set doesn't include every wrench or socket size we need on Barefoot Gal, but it covers probably 85-90% of what we need. Dave has had to purchase very few others. It's a great "core" set.
Reasons we particularly like it:
High quality tools at a great price — less than $60 for the whole set
All the little pieces snap into place in the case, so they don't go flying if the case is open and the boat rolls. This is a BIG advantage!
Since there is a place for everything, it's easy to see if a piece is missing when you're putting things away from a project . . . and find it then.
Case is pretty compact for what it contains. It is fairly sturdy, although Dave has had to repair one latch with some Gorilla Tape.
Stanley also makes a 201-piece set that includes a 1/2″ driver and sockets — we don't need this on Barefoot Gal, but it would be useful on larger/heavier boats and is also a great deal at less than $60.
One note: we've never invested in stainless wrenches (too expensive!) and have never really had a problem with tools corroding, even in the 6+ years we cruised full time aboard Que Tal. If one is exposed to salt water, we rinse it off in fresh and then spray it with WD-40.
The Stanley sets are sold at many Home Depot locations (and online with free shipping) and also on Amazon (it's over the threshold for free shipping and is Prime eligible).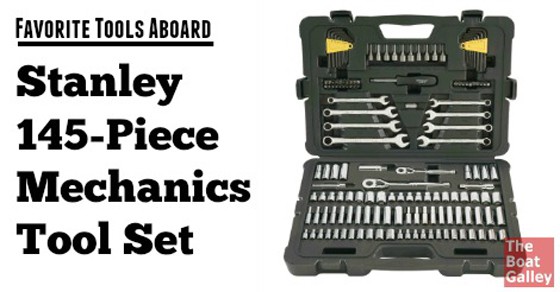 Making Boat Life Better
Some links in this article (including all Amazon links) are affiliate links, meaning that we earn from qualifying purchases.