I saw these at the grocery store yesterday and had one of those moments where I wondered why I hadn't seen them before.
Bees were a problem in a few of the anchorages we visited in the Sea of Cortez and I always worried about one getting into my can of soda or beer (a friend had one sting her multiple times in the mouth this way at a college football game and I'd been the one to take her to the ER, so it wasn't a completely unfounded fear).
If I saw any bug as we were enjoying a drink in the cockpit, I'd firmly clamp my finger over the opening in the can whenever I wasn't actually taking a sip.
In other anchorages we had some other bugs that would try to get into cans, and it was always possible to get sand in a drink when sitting on the beach . . .
Over the years, I've seen can covers that have to be removed to drink from the can and a lid and straw combo that didn't have a cap on the lid, so while it was better, I'd still sit there with my finger over the straw opening or get out a piece of aluminum foil to make a little cover.
These are perfect! And at a cost of just under $3 for two, affordable. A couple of notes: they don't make a leakproof seal, so a tipped can still has the possibility of spilling.
Cleaning can be a bit of a problem, as you have to get pop or beer out of the nooks and crevices. I've found that swishing the straw and cap in warm water works well — a nail brush can help to get anything out of the groove in the lid. While I haven't needed anything more, I'm sure that a denture tablet in water would clean out any real gunk in the straw and cap (say if it got forgotten for a couple days).
I found the ones above just hanging by the canned juice (yeah, the covers and straws would be great for my juice in the morning too). If you can't find them where you are, Amazon sells them online (these are a little pricier and appear to be higher quality):
2015 Update: I just saw these on Amazon. Not only are they less expensive, they'd be perfect for beer (I hate sipping beer through a straw!):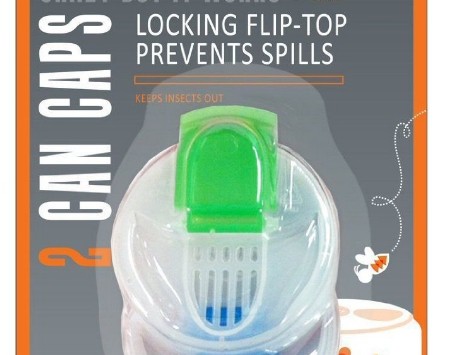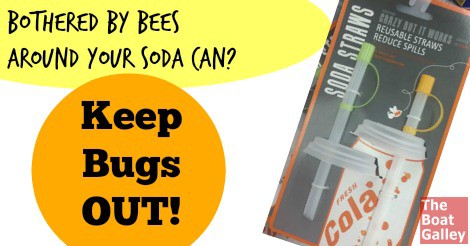 Some links above (including all Amazon links) are affiliate links, meaning that I earn from qualifying purchases. Learn more.