Here's a nifty dish drying pad . . . which doubles as a non-slip hot pad for pans!  Many thanks to Belinda Wolfe, aboard Rickshaw, for sharing this. (UPDATE: I have THREE of these on Barefoot Gal — one of my first purchases after we bought the boat — and love them!)
I absolutely love this idea!  Here's what Belinda said; her photos are at the bottom of this post.
Here is a product I really love.  As with most cruisers/boaters I want products that serve more than one purpose.  This one does. It is an OXO drying mat/hot pad.  
I have two – one on each side of my sink.  A small one that is next to my drain rack that I use to drain glasses and a large one between my sink and my cook top.  That one I use to set dirty dishes.  The beauty of it is that any water that drips off those wet dishes, or anything else wet that I set down –  like frozen food, the water stays on the mat.  Since all boats list, even those at dock, this mat keeps the water corralled.  It keeps the water from running back in the corner or under the stove rim.  And when I take a hot pan off the stove I can put it on the mat.  It  is easy to clean and it can be dried quickly with a towel – unlike a cloth drying mat.
The silicone is naturally non slip — good for both dishes and hot pans — and is heat-resistant to 425° F.  They clean easily, too — I find that a nail brush works well if any "gunk" gets around the ribs.
The OXO mats come in three sizes and are available on Amazon.  All are a medium gray as shown in Belinda's photos below:
In reading reviews, I find two comments over and over.  First, people like these over other silicone drying mats because there is a continuous lip around the outside, so water doesn't spill off the side as on some other brands (Belinda also loved this feature).  Second, even the "large" mat is fairly small.  While this might be a complaint for home use, it's usually a positive for a boat galley!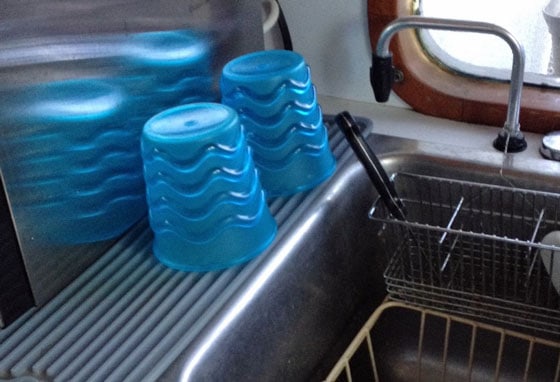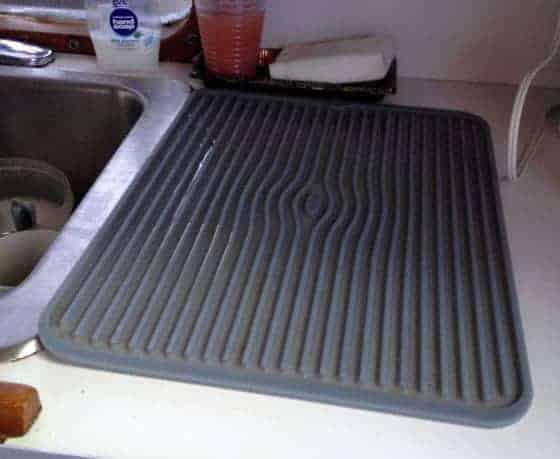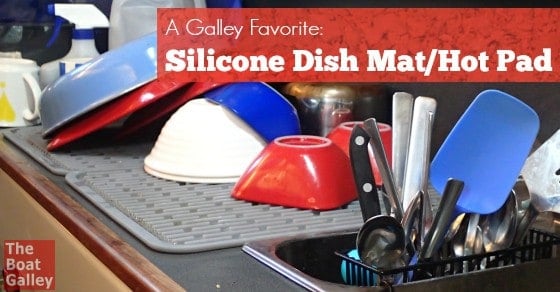 Making Boat Life Better
Some links in this article (including all Amazon links) are affiliate links, meaning that we earn from qualifying purchases.