SailorBags invited me to write a blog post for them several weeks ago, and thanked me with one of their 12-can cooler bags.  Yep, that's it in the photo . . . at a get-together at our local sailing club with my friend Susan Hanfland.  I love the way it looks and it's the perfect size for a dinghy trip or happy hour excursion!
One thing that I really like is that when they say "12-can size" they're allowing plenty of room for ice.  So many times, a cooler that's listed as "12 cans" will hold that many only if you don't add any ice!  That sort of defeats the purpose of a cooler, doesn't it?
The photo doesn't tell the complete story, though.  You see, it was taken on one of the recent 100+ degree days (I think it got up to 104 that day).  I'd packed the cooler at 10 AM, stupidly left it in the hot car while out sailing and came back at 4 PM to find ice cold drinks and hardly any ice melt . . . at least 75% of the ice was still in cubes!  A friend's Igloo cooler had no ice left.
And then there's the fact that the very first time we used the bag — yeah, before I had taken even one photo of it — a certain someone (male, related to me by marriage but I certainly won't name names) put the cooler in the dinghy and then put his bottle of red Gatorade on top of it.  That would be the bottle that wasn't quite shut tightly.  There was red all over the bag.  Half a bottle of Gatorade leaked out before we noticed it.
I was amazed at how perfectly it cleaned up — I wiped off what I could with a couple of rags in the dinghy, but the rest had dried (100+ temps again) by the time I could do more.  Still, a wet rag and a dab of dish soap cleaned it right up — no real scrubbing or anything.  There really is no trace of the spill.
So, more details . . .
All SailorBags are made of a special type of sailcloth.  There aren't just cooler bags, but all sorts of other tote bags, duffle bags, tablet cases, wine bags, day packs and more — even place mats.
The cooler bag uses some special insulating foam that works great — and I'm convinced that the white color helps, too.  There's also a zipper pocket for a bottle opener or corkscrew, or even silverware.  The carry straps go all the way under the bag, so they're not going to tear loose (I've had that problem with several other brands — particularly with large bags, the load is heavy).  There's also a shoulder strap if you're going a ways with it (tip: put the strap across your chest so the load is more balanced).  The liner can be pulled inside out to clean and dry.
All the bags squish down for storage, unlike hard-sized coolers — a huge plus on a boat!
All the cooler bags have triple layer bottoms which, combined with the toughness of the fabric, means they're going to last a lot longer than many others.  Other bags are generally a double layer of fabric throughout.  On appropriate items, they've added tons of pockets, both inside and quick-access ones from the outside.
Pretty much anything can be embroidered.
Inexpensive shipping won't add a ton to the cost.
The bags aren't cheap, but also not out of line with other high-quality bags.  We definitely learned over the years that you get what you pay for when it comes to soft-sider coolers — and the cheap ones just fall apart and don't keep things cold.
I'm really impressed by the bag they sent me and will definitely be looking at getting more of theirs as the need arises: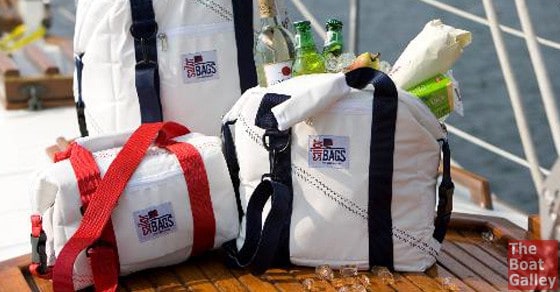 Some links above (including all Amazon links) are affiliate links, meaning that I earn from qualifying purchases. Learn more.