I've had such a good time reading this book!
In 1974, a young couple – Ben and Helen Harrison – left San Francisco and headed down to Costa Rica (an adventure in itself!) to build a cruising boat. Just after New Year's 1977, they launched it, went through the Panama Canal and cruised up to Key West, where they still live.
Anyone who has even contemplated building a boat or who has spent time doing a major project in a country where you don't really speak the language, knows just how big of an accomplishment this is. Lots of boats are started; few make it to the water.
But this isn't a dry story of finding boat parts and doing work. No, Ben Harrison has written a humorous tale of a young couple trying to figure out how to make things work in a foreign culture. Yep, it's their true story.
Working with a fiberglass factory in Costa Rica, they build what becomes the prototype of the Cabo Rico 38. The factory built the bare hull, then they did everything else themselves. From figuring out the layout to creating it, getting teak logs milled into planks and then laminating them into the curves needed on the boat, plumbing and wiring to building a dinghy and stepping the mast.
And they had fun, both with building the boat and just in living. The story of having a pig roast is hilarious as is getting the boat from the highlands where they built it down to the water. And then they began cruising – long before GPS and learning to take sextant sightings as they went.
Great book, highly recommended! If you have a Kindle or the Kindle app on your tablet or laptop, the Kindle edition is a steal at just $3.99!
P.S. I also got a copy of Ben's audio CD, Destino. Ben has played in many of the Key West bars . . . if you like Jimmy Buffett's music, you'll like Ben's songs. Most are his own compositions – my favorite is "Short on Underwear" which captures the all-too-frequent essence of cruising.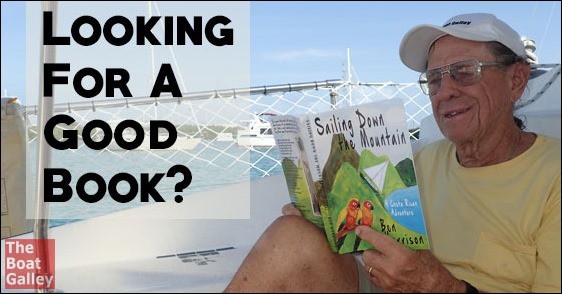 Some links above (including all Amazon links) are affiliate links, meaning that I earn from qualifying purchases. Learn more.