How do you cover leftovers on the boat?
The Problem
Aluminum foil and plastic wrap have their problems: the space they take up and the fact that it's almost impossible to reuse either, so you have more trash. And they're usually packaged in cardboard. In foreign countries, both can be expensive . . . leading you to carry more rolls with you from places where they're cheaper.
You can put the food into a plastic container with an airtight lid . . . but then you have an extra container to wash. If you're trying to conserve water, that's a problem.
Or you can put the original container inside a Ziploc – but it doesn't always fit, and then you have to wash the Ziploc if you want to re-use it (and if you don't reuse it, it's no better than using the aluminum foil or plastic wrap).
I recently found a better solution!
The Solution: Silicone Covers
I picked up a package of these reusable silicone covers at the Annapolis Boat Show. I also misplaced them when I got back to the boat, so I ordered another set (different brand) from Amazon and then promptly found the first set.
While they haven't totally replaced aluminum foil and plastic leftovers containers, they've cut down on those by probably 90%.
The silicone covers are round and very stretchy, so they'll fit on either a round or square container. They don't work very well on rectangular pans – that's where I still have to use foil or plastic wrap.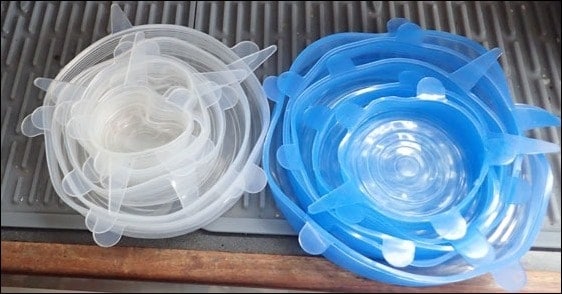 For a round container, choose one that's a little smaller than the diameter of the can or bowl and stretch it over the top. For square containers, choose one that is nearly the same diameter as the width of the pan, put it over two corners and stretch to fit over the other two. Because it stretches to fit, these covers do not work well on the disposable foil pans – they bend and collapse as you try to stretch the lid.
To get the best seal, wipe off the top and outer edge of the container. I usually don't bother to, unless the cover just isn't staying on. The only other "trick" is to make sure that it's right side out – the two sides look very similar and it's easy to get it inside out. A close look or running your finger over the surface reveals which way it really folds and yes, that's usually the problem if it's sliding off a bit (there are ribs on the inside to help it stay in place).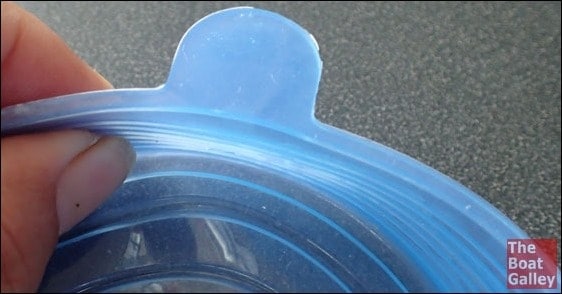 You can also use them to cover hard fruits and vegetables that have a cut surface. I've used them on both onions and oranges. Don't use them on soft foods that will bruise easily, such as apples or avocados.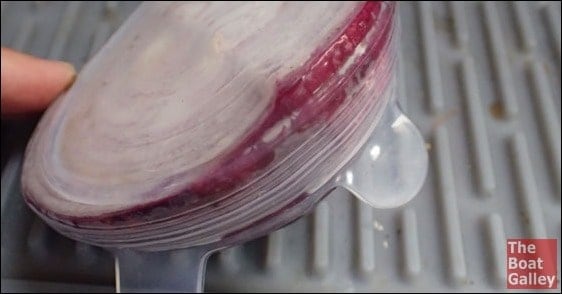 They wash up easily by hand – far easier than trying to get gunk out of the corners of Ziplocs to reuse them.
What Covers Work Best?
Okay, so what set to buy? I find that I use the small covers far more than the large size ones, and I often need several at the same time. So a set that has multiple small ones is a plus for me. And while the two sets that I have look to be identical except for one being clear and one blue, the clear one is actually a stretchier silicone (seems to be slightly thinner) and is therefore easier to use.
The original set that I bought on Amazon isn't being sold any longer, but I bought this set as a gift for a friend and it seems to be just as good.
NOTE: The blue set that I got are "Kitchen+Home" brand. There's nothing wrong with them; I simply like the clear, thinner ones as being easier to put on. See the blue ones here on Amazon.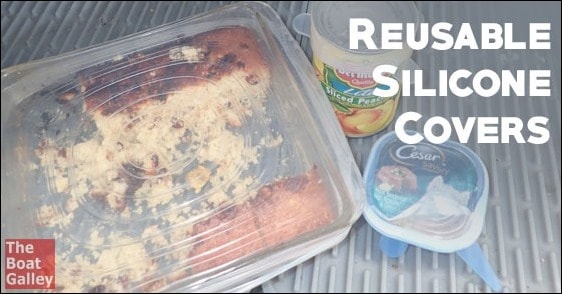 Some links above (including all Amazon links) are affiliate links, meaning that I earn from qualifying purchases. Learn more.