Boat sheets. Trying to get sheets to fit the odd sizes of mattresses in a boat can seem like an impossible task.
Even if you have a "standard" size bed in the boat, such as the queen size one on our Gemini catamaran, it's usually a much thinner mattress than the super-thick ones that most sheets are made for.  We put a 3-inch foam topper (for those curious, see it here on Amazon) on our very thin boat cushions, mainly for comfort but also so that sheets would hopefully fit better. It did a great job on the comfort, but our "mass market" sheets still never stayed tight.

While the bottom sheet didn't pop off, it would get so loose as I moved in my sleep that it would tangle around my feet, waking me in the middle of the night. Making the bed was fun in the morning as we (okay, Dave usually makes the bed) had to tug and pull the sheet back into position, tucking it under the mattress, to at least start the next night with a taut sheet. Tough to do as you're kneeling on the bed!
If you have a v-berth, as we did on our previous boat, the problem is even worse. Square sheets just don't fit on triangles. The previous owner had made their own fitted sheet to the shape of the mattress, but over time the sheet shrank . . . and the mattress didn't. So again, the sheets didn't really fit. In fact, they popped off every few days.
About a month ago, Beth from Sailboat Interiors sent me a "review set" of boat sheets — her Quahog Bay Boat Sheets. I have to say, they fit much, much better than the generic ones I had and are a nicer material, too. Since I've been using these, the bottom sheet is staying in place. I'm not waking up in the night, tangled in the sheets. And Dave isn't using his "sailor vocabulary" as he's making the bed in the morning.
The fabric is 300 thread count Egyptian cotton with a sateen weave. These are silkier and also sturdier (slightly heavier weight) than the standard percale weave that most sheets are made of. While I've only had them a month, I'm sure that they're going to last longer than the thinner sheets I've had in the past. They also just plain feel nice!
I took this picture before I fully tightened the elastic:

The big difference is that instead of just having elastic sewn into the fitted sheet, Beth uses both braid and cord elastic and runs it through a casing to cord locks, so that you can tighten up the sheet as much as you need to for your mattress. Using elastic provides a bit of give — even when pulled fairly tight — so that you won't tear a sheet just by rolling over in your sleep.

I put the bottom sheet on and pulled on the elastic some and slid the cord locks into place. That night, the sheets were better than the old ones but still somewhat loose. The next morning, I tightened them up some more but I was leery of how much I could pull them. The next day, I pulled probably another foot of elastic through each cord lock and finally got nice tight sheets — frankly, I was surprised at how tight I could pull them!

In addition to the queen sheets that we have, Sailboat Interiors has similar sets for v-berths — "regular," "extra-large" and custom sizes– and custom sizes for quarter berths and aft berths. While I haven't used any of these, I think the fact that the v-berth sheets are made in a triangle shape with elastic to pull them tight will make them work well on most boats — the big trick seems to be pulling the elastic tight enough to keep the sheet snug. I know that I was reluctant to pull it enough!
Okay, now for the cost. No, these aren't cheap sheets as the material used is nice, verging on luxurious. There are cheaper options such as using a less expensive set of sheets and adding your own elastic straps (here's how I did my previous set but the straps don't do as good a job as the elastic in the casing). Fully custom sheets are another option but are more expensive — my search turned up options ranging from $190 to $249 per set.
The Quahog Bay Boat Sheets are a happy medium between these options — very nice sheets without being a DIY project, for less than the cost of the totally custom sheets. While I was given this set to review, I think the price is fair for the quality of the sheets and I'd buy a set in the future, particularly if they last for several years.
To learn more and/or order a set of your own:
And now you can also buy Quahog Bay boat sheets at Amazon.
---
Our FREE Provisioning Spreadsheet
Wondering how much of what foods to take on your next trip? Know just how much to buy of what — all arranged by grocery store aisle — with our handy Provisioning Spreadsheet. Includes detailed instructions to edit it for your favorite foods, how much your family eats, and how long you'll be gone. No spreadsheet skills needed!
It's FREE — get it here.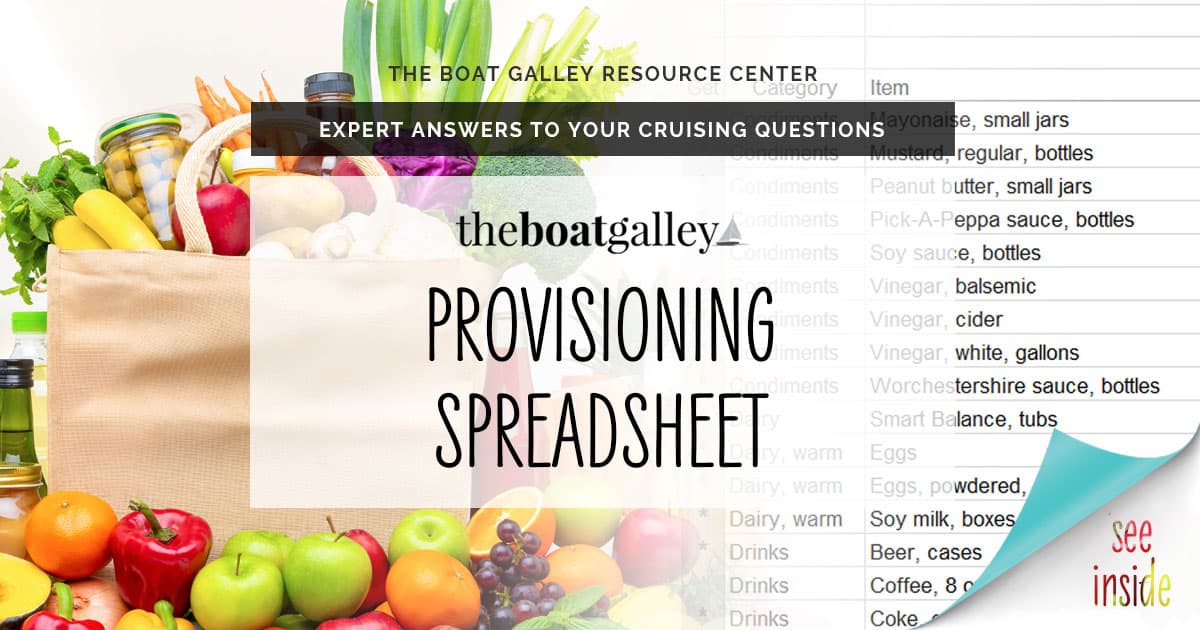 Some links above (including all Amazon links) are affiliate links, meaning that I earn from qualifying purchases. Learn more.