After my post a couple of days ago about two different strategies for dealing with cooking heat when it's hot out, Jan (my cookbook co-author) reminded me of another great way to improve your boat's ventilation when in rainy areas: Port Visors.
If you have opening ports, Port Visors will allow you to keep ports open in all but the nastiest squalls. Admittedly, in nice conditions they will block some of the air flow so you have to balance how often they'll improve the ventilation versus how often they'll restrict it. Port Visors might block some sailing splashes, but in most conditions you'll want to close the ports when underway.
Port Visors are made of UV-resistant Lexan (i.e., basically unbreakable) and come in a variety of sizes and shapes to fit most common ports. What I like about them is that there's no metal to rust and they attach with adhesive so you're not drilling holes that then have to be sealed. The installation is fairly easy by boat standards — they come with step-by-step directions, but you can see the whole process in a post Jan wrote on her web site, CommuterCruiser.com.
The installation is permanent, so you're not you're going to be taking them off and putting them back on. They are extremely tough and have been designed so that sheets and lines will slide off them without ripping them off the side of the boat.
They have a bronze tint to them and do shade the port holes — sort of like wearing sunglasses. In other words, light still gets below but it's not a harsh glare.
The company that makes and sells Port Visors is owned by a couple of life-long boaters, Bob and Paula Biles. They have a reputation for excellent customer service. Their web site gives all the technical details, measurements, photos and ordering info — check it out!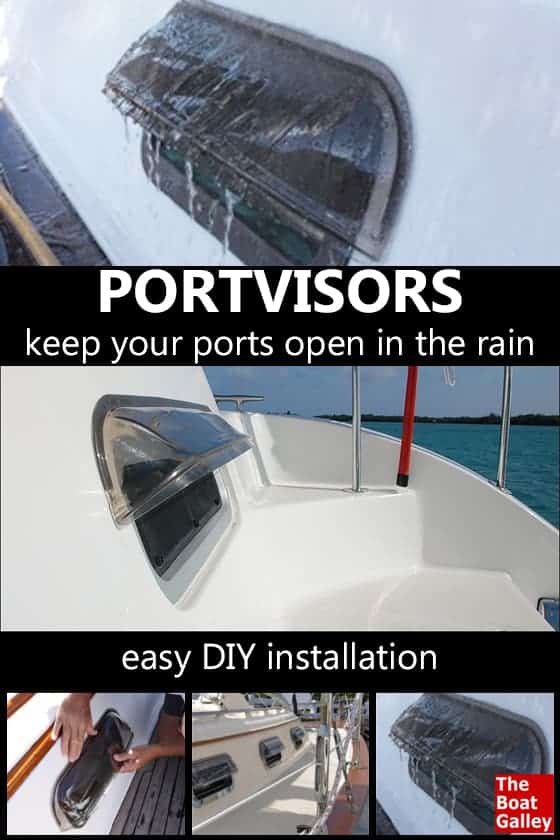 Some links above (including all Amazon links) are affiliate links, meaning that I earn from qualifying purchases. Learn more.