In 2013, Dave and I went to the Annapolis Boat Shows. First a day and a half at the powerboat show, then three days at the sailboat show. And we went aboard a lot of boats. I have no idea how many, as I didn't take photos of them all (many had too many people for me to get a decent photo).
At the sailboat show, I overheard variations on the same comment several times on monohulls under about 45 feet:
Getting ready to cruise? Prepare to Cruise (a FREE mini-course) gives you lots of free resources along with affordable recommended courses and coaching for more in-depth needs.
Why do they try to cram sleeping for 6 (or 8) in here? If they'd make the table smaller, there could be a lot better galley!
You know what? I agree. And it's equally true of many used boats that I see (don't get hung up on the fact that these are new boats in the photos, please, and simply consider the layouts).
Take a look at that photo of the Moody 41 galley at the top of this post. There are lots of great things about the boat, and the galley isn't bad. In fact, it's got a fairly good layout. But to me, a 41-foot boat is large enough to be able to have a great galley.
Right now, when you remove the covers from the stove and sink, there's only a little bit of counter space other than what is over the (top-loading) refrigerator. And the section over the refrig is tucked back into a corner — so it's not the easiest to work on. If there were 3 or 4 inches more counter space between the stove and refrig lid, it would be a phenomenal galley.
In house sales, the kitchen is considered one of the big selling points, whether it's a new home or a realtor is marketing an existing home. There's always a photo of the kitchen in the best possible light.
But somehow, boat builders don't seem to get this. For them, it's all about the number that a boat can sleep. And to increase that number, they make a large table that can covert to a bed. That space has to come from somewhere, and it usually is the galley.
Let's face it, most of us aren't going to have 6 people sleeping overnight on a 32′ boat — or even a 40′ one. Two is more likely, with four (kids or friends) also a possibility. But six? Eight? Not too likely. I'm sure that some people do have this many on this size boat, but that doesn't seem like a reason for every boat to be designed for the possibility.
And guess what? Two to four people don't need a huge table to eat at. But they probably do want to eat, and a few more inches of galley space makes it a lot easier to prepare meals. And that makes for happier sailors.
Now, I'm not asking for a huge galley. Frankly, a huge galley can lead to the cook being thrown across the boat in rough weather . . . or if a passing boat kicks up a big wake. But many times, just a little bit more space in the galley would open up a world of possibilities for counter space and storage of often-used items. I've posted photos of some of the galleys I saw at the Boat Show on Facebook, and I'll be writing more about specific features and trends I saw.
I'll admit that there were some boats that — to my way of thinking — had better layouts, but there weren't many. Most had variations on the same plan.
But not all. Take a look at this galley on the Gozzard 41 (same length overall). To me, it's much more inviting to cook meals in, with enough counter space for "normal" food prep. Since the boat's layout is unusual, I've put it below the photo of the galley. While there may still be things I'd like to change in it, overall it seems a lot more liveable for the typical two to four people.
By designing the boat to sleep 4 at most, the table can be smaller and the galley larger, with an actual "sitting area" in the bow (the sitting area transforms into a v-berth). Someone thought about how the boat would actually be used!


Finally, while I was hearing this comment as people looked at new boats, it's a problem on older boats as well. Our Tayana 37 (sleeps 6!) had a much larger table than we really needed (it made into a longer than standard bed — sheets wouldn't fit it) and a definite lack of counter space. The only real counter space I had was over the refrigerator, meaning that I'd move whatever had been on the counter onto the companionway steps whenever I had to get into the refrig.


---
Our FREE Provisioning Spreadsheet
Wondering how much of what foods to take on your next trip? Know just how much to buy of what — all arranged by grocery store aisle — with our handy Provisioning Spreadsheet. Includes detailed instructions to edit it for your favorite foods, how much your family eats, and how long you'll be gone. No spreadsheet skills needed!
It's FREE — get it here.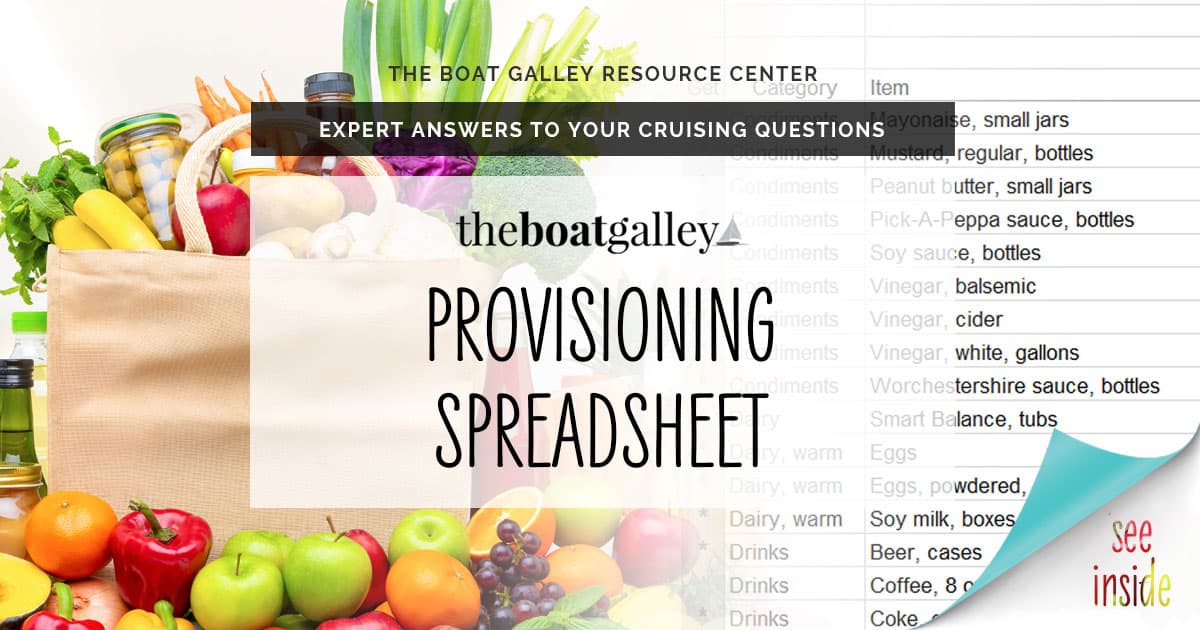 Some links above (including all Amazon links) are affiliate links, meaning that I earn from qualifying purchases. Learn more.