Sell everything and move aboard.
It sounds so simple.
The reality is that it's not simple, and you really don't sell everything. Some stuff you need every day, some stuff will get moved aboard the boat, some will go to storage, some will be given to family or friends, some sold and some donated to charity.
How in the world do you organize it all? Especially if the boat is over a thousand miles away? And if you're not going straight from the house to the boat, but are going to spend some time visiting family first?
I don't know that we have the perfect answer, but here's how we're doing it.
We started by getting a storage unit near us. Long term, we'll transfer things to a storage facility in Florida where they'll be more conveniently located if we need something (say camping gear for a land excursion or winter clothes to visit one of the kids for Christmas).
For now, though, the storage unit holds items that are going to family that we'll be seeing near the boat, things that are going to the boat and things that are going to stay in storage. I'm trying to keep things for each destination together so that we can eventually load a trailer with some degree of logic. Items that we need to keep with us (say, the extra check books, medicines, dog supplies) are in a corner of our bedroom.
At first, I was just labeling boxes with a marker as to where they went. But after a few ended up in the wrong sections of the storage unit — and the keep-with-us financial file ended up with the items to be stored — I decided that I needed something more visual.
Color-coded duct tape labels were the answer.
I got several bright rolls of duct tape in non-similar colors (bright orange, lime green and chrome — nothing that could be confusing in low light such as green and blue or pink and orange), and use that to color-code the boxes. Orange for keep-with-us, green for the boat, chrome for items earmarked for friends or family, nothing for boxes just going in storage. And I write the destination on the duct tape as well.
On one hand, it seems like overkill — why can't we just read the label written right on the box? I think that with everything going on right now, we're just distracted. Anything we can do to make our lives simpler and get this right helps!
If you're preparing for or have recently started cruising, Unwritten Rules of the Cruising Life (online course) can help you make a seamless transition to living aboard. Learn more.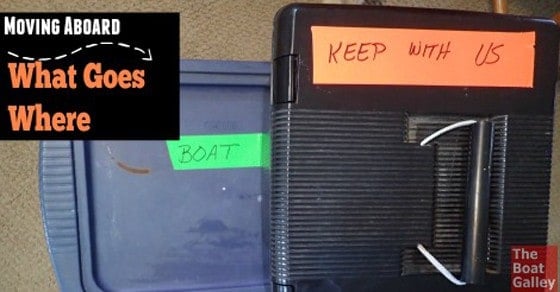 Some links above (including all Amazon links) are affiliate links, meaning that I earn from qualifying purchases. Learn more.