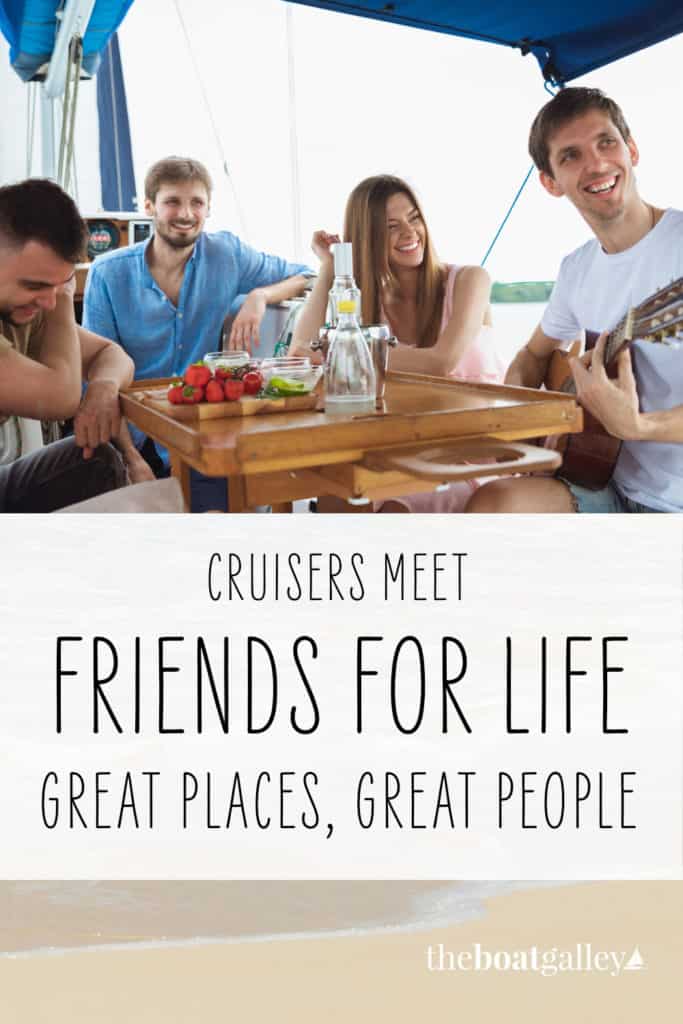 If you ask a cruiser about the best parts of the life, they'll tell you about amazing beaches, sea animals, and all the amazing people they meet along the way. In today's guest post, Judy Ludin introduces you to a few boat friends (and acquaintances) that make cruising so rewarding.
I agree with her. Cruisers are the best.
---
"You're off to Great Places! Today is your day! Your mountain is waiting, So… get on your way!"

― Dr. Seuss, Oh, the Places You'll Go!
This is one of my favorite Dr. Seuss quotes–and to this, I would add "and you will meet interesting people each and every day!"
Despite the COVID restrictions, we have still met some interesting people on our cruising adventure. Keep in mind that the people we are meeting have chosen to live their lives on the water; with all of the joys (sunrises and sunsets) and trials and tribulations (boat maintenance, mildew growing everywhere) that come with that choice.
Meet Tiger Shark, (his name is actually Jensen, but he changed it when they moved onto the boat a couple of years ago). He's a very smart, very inquisitive 6-year-old who lives on a boat with his parents.
His Dad is a trained engineer but does boat mechanic projects to make money. His Mother does sewing for cruisers, and in her spare time, is a fire dancer. They have chosen this lifestyle so they can enjoy quality time with their son while exploring the world.
On Sundays, they gather a group from the Harbor to go to shore to pick up trash.
Nick and Alex live on their 40-foot catamaran with their 4 1/2-year-old son, Hugo. They are French.
Nick is a computer analyst and Alex teaches yoga. They bought their boat in the US, and are exploring our country as well as the Bahamas. Hugo is schooled on board and enjoys playing in the park with other children. When they are somewhere for an extended period of time, he attends preschool, so that he can socialize with other kids. We often see him running around the boat, jumping on the trampoline on the bow to burn off energy.
And then there's the author of a well-known cookbook (The Boat Galley Cookbook) for cruisers. Carolyn Shearlock lives on her boat with her husband, Dave. Her website and knowledge were incredibly helpful to us in terms of preparing for this journey. [Aww, thanks, Judy.] Her husband recently had a hip replacement, so they moved onto land for a few months while he was doing physical therapy. Now they are back on the water.
Last night at sunset, a man was passing by in his dinghy, with a beer in one hand and a cigar in the other (and yes, somehow, he was driving too!). He is a retired firefighter and a relatively new sailor. He and his girlfriend are cruising around Florida, and he was busy picking Eric's brain about where to go, how to get there, etc.
Delana and Jeff are soaking up every minute on their sailboat. She is a nurse and he is a roofer. They are here in the Harbor and will have to head home soon, but they are trying to figure out how they can spend more time away from land and on their boat.
And then there's the man on the boat next to us; he is alone. He keeps to himself; the only time we see him leave his boat is to go take a shower. We've never seen him bring groceries on board – what does he do all day, and what does he eat?
And lastly, the lady behind us; she has a dog. Too bad she and our neighbor can't get together–at least for a drink! I wonder if we weren't in a pandemic, if that would happen–or if some people just prefer to be by themselves.
When I look out onto Boot Key Harbor, there is a sea of masts, and I think that for every mast, there is a story.
[Just a couple of days ago, Judy added to her profiles of people they'd met . . . ]
Ken and Kelly of s/v Crooked Anchor, planned for nine years to go cruising. They sold everything, left their jobs and after a long wait due to COVID, are finally in the Bahamas. Ken's masterwork (wood carving) is everywhere on their boat, including a stunning wooden door leading into their cabin, with a hand carved sailboat. Kelly sports tshirts that say "captain's wifey," and they are enjoying every second.
Rich and Nancy, of m/v Sonic Sea Dog, left the rat race to go cruising. Nancy, a former florist, is a beach lover and every chance they have, they are beach bums soaking up the sun. They look forward to celebrating their 10th wedding anniversary in the Exumas.
Dan and Carol, of m/v Lucky Stars, discovered cruising 30 years ago, when they were visiting the Bahamas on a large cruise ship. They struck up a conversation with a couple who was cruising on their boat, and they thought "what a concept!." Carol said they didn't realize that was a thing, so they decided to give it a try, and have been enjoying it every since.
Magen and Dan, of s/v Lucella, cruise with their two adorable children, Isabella, 6, and Lucca, 4, and their dog, Baxter. They sold everything and bought a beautiful catamaran, and are cruising the bahamas. Dan dives into the water and spearfishes every chance he gets, and Magen and the kids love playing in the sand and swimming in the crystal clear water.
Stephanie and Louis of s/v Acadia, are newlyweds who decided to spend the first few years of married life on board. They encountered some major challenges along the way, including having to completely rebuild their engine. After being delayed for months with boat repairs, they are finally in the Bahamas.
Tom, of m/v Tom and Hank off the Hook, is cruising the Great Loop with his Labrador Retriever, Hank. Their voyage is dedicated to Tom's four year old nephew, Carson, who is being treated at St. Jude's for cancer. At each dock, he places a whiteboard outside the boat with custom artwork, highlighting the locale and raising awareness for Carson and his family.
Glenda and Bill, of s/v Ollie Ree, sold everything to go cruising, and are loving being in the Bahamas. Glenda loves yoga, so we practiced together this morning, until the heavens opened up and it poured! Their home port is Bradenton, Florida, where they plan to spend the summer so they can hug and kiss their five adorable grandchildren.
Marshell and Dan, of m/v Son of a Son, left their fast paced life in St. Louis, where Dan was a marketing executive. They had a very large home on five acres, and decided to sell it all to go cruising. Dan's Father told him that the years fly by, and advised him to live his dream while they can. They have overcome some of the hard adjustments of living on a boat, and are living the Bahamas life.
Every boat has a story.
---
Judy Ludin spends her free time on free spirit, a 35-foot Catalina – doing yoga, meditating, reading, playing on her stand-up paddleboard, writing, playing the ukelele, and just being in nature. She says the best times are when they untie the lines and sail away. You can see read all her posts about travel on free spirit here.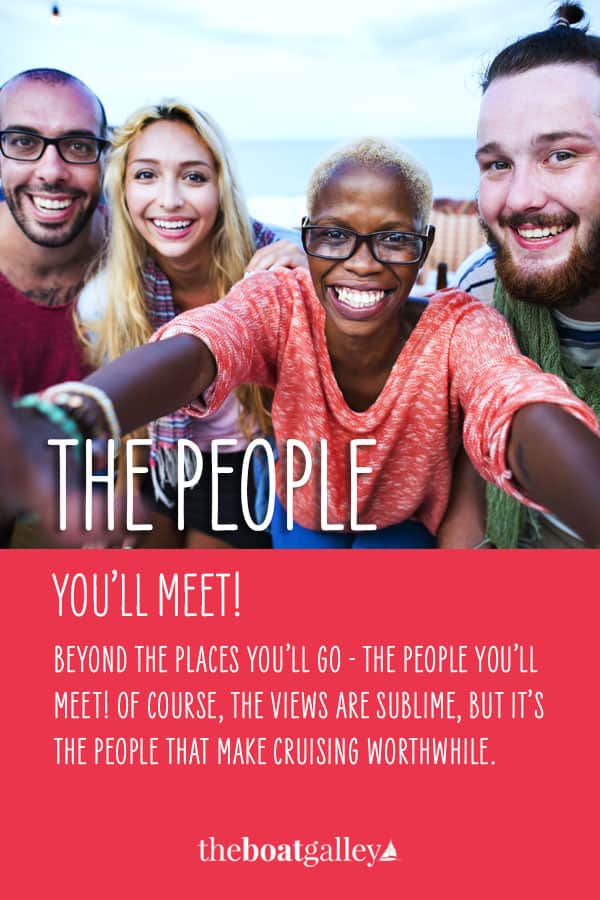 Some links above (including all Amazon links) are affiliate links, meaning that I earn from qualifying purchases. Learn more.