Over a year ago (now several years ago), writer Ed Robinson sent me an email, asking if he could send me a review copy of his book, Leap of Faith: Quit Your Job and Live on a Boat. Knowing that a fair number of TBG readers are trying to do just that, I figured that there was no harm in looking. But, I warned Ed, I'd give an honest review — no special treatment just because I'd gotten a free book.
He agreed and a few days later I received the book. And I enjoyed reading it. He's on a mission to make others realize that you don't have to be a millionaire to head off cruising. You just have to get more disciplined with your finances.
Leap of Faith has 25 chapters, each 4 or 5 pages long and presenting either a slice of life aboard a boat or a piece of the plan to make it come true. If you're just starting to explore the dream of heading off into the sunset on a boat, it's a nice road map of the nuts and bolts of how to actually make it happen.
On the other hand, if you've been reading up for a while, you may have already heard some of the advice other places — but hearing it again can't hurt, right?
The real difference between this book and others I've read is that by alternating chapters on how to do it — which admittedly involves giving some stuff up — with bits of what cruising is like, the tradeoffs become real.  You see what you're gaining in exchange for what you're giving up.  Keeping the end in sight is key for making the decisions every day to make it happen.
And as it says on the back cover: They gave up everything and now they have it all.
Where to get it —
$3.99 for Kindle (you don't need a Kindle; there's a Kindle app for most laptops, tablets and smartphones)
$11.95 list (but sells for less) for print copies at Barnes & Noble and Amazon
UPDATE: We spent several months last winter on a mooring ball next to Ed and Kim. Wonderful people who really do things they way they tell others. Ed has now written a series of fictional cruising stories called Trawler Trash (the Breeze series) — as I write this, he just published the seventh book in the series. Fun read . . . and if you've cruised in SE Florida and the Bahamas, you might just recognize a few places!

---
Our FREE Provisioning Spreadsheet
Wondering how much of what foods to take on your next trip? Know just how much to buy of what — all arranged by grocery store aisle — with our handy Provisioning Spreadsheet. Includes detailed instructions to edit it for your favorite foods, how much your family eats, and how long you'll be gone. No spreadsheet skills needed!
It's FREE — get it here.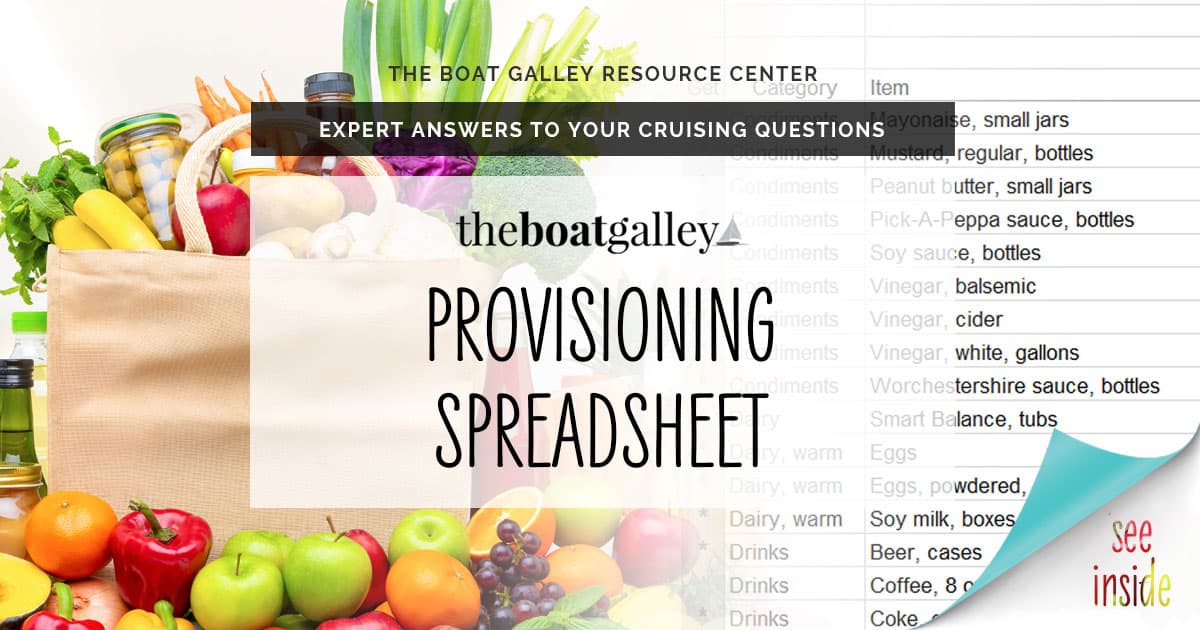 Some links above (including all Amazon links) are affiliate links, meaning that I earn from qualifying purchases. Learn more.