If you're outside your home country, you know it's critical to have a backup of your important papers. You know, things like your passport and boat papers. Should they ever be lost or stolen, it's much, much easier to replace them if you have a copy (and often the copy can be used until you get the replacement).
Need help figuring out how to store everything on your boat? Storage Solutions for Life Afloat (online course) can help you make a seamless transition to living aboard.
Even at home, it's a good idea to have a copy on hand for exactly the same reason.
The problem, however, is that you simultaneously need the copies to be in a physically separate location (in case of fire, theft, flooding, etc.) but you also want them very easily accessible.
Our first shot at this was to leave a stack of photocopies with my brother. But he and his wife travel a lot and we realized they might not be home when we needed something. And every time something changed (boat docs, the dog's vaccination records) we had to make a copy and mail it to him. Not always easy if we were in a foreign country.
The Better Way
A much easier way is to scan the documents (or take a photo if you can get it sufficiently clear to read the fine print) and then email them to yourself. Then, if you need a document, you can get it from any computer — or even a smartphone.
The email account must have web access, which almost every email service now does.
I prefer to use my regular email account instead of setting up a special one for this, just because I won't forget the account name or password. But if your primary email doesn't have web access, you can get a free email from Gmail, Yahoo or anywhere else for this.
If you use IMAP (where documents stay on the server until you delete them) you're all set — just don't delete the emails with the documents attached. I simply made a folder called "Important Documents" and moved all these emails to it.
If you use POP and have it set to delete new mail from the Inbox after downloading, it'll take a couple extra steps to leave the mail on the server:

On most email programs, there is a dropdown box next to the "Check Email" button. From the dropdown, click "Send Only" (that is, don't get new mail) and send your document(s).
Immediately go to your browser and access your email. Create a folder called "Important Documents" (or whatever you prefer) and move the document emails to it. This way, they are out of the Inbox and won't be deleted after you download new mail.
Now go back to your email program and make sure that the "Check Email" is set back to "Send and Receive" (in most programs, it switches back automatically after one "Send Only" but it's good to double check).
Test by closing your email program and accessing your email via your web browser. Navigate to the "Important Documents" folder, find a document, open it and print.
I send each document in a separate email and use the subject line to state what it is so that it's very easy to find what I need, and also to see what documents I have.
Documents that I can think of having, depending on where you are and where you're headed (please add others you can think of in the comments):
Passport, including any visa pages
Captain's license or other certifications
Boat import permit if out of your home country
Power of attorney (sometimes called "captain's letter") for each adult on board who is not the documented "owner" to make decisions regarding boat, signed by the owner(s) — if two of you are listed as so-owners, sometimes this is required for either to act alone, too
Credit cards (front and back since back has info on where to report lost or stolen cards)
Name and phone/email list with bankers, insurance agent, family, etc. (numbers you'd want if there was an emergency and you lost your phone with the numbers in it)
Immunization records (particularly if traveling in an area with mandatory immunizations)
Marriage certificate (rarely needed, but I have heard of a few cases in foreign countries)
Birth certificates or adoption papers for children
Documents relating to pets
Travel documents — airline confirmations, hotel reservations, etc. (I always add these before a trip — imagine if your purse or other bag was stolen — what info would you need?)
Living will — we don't like to think about this, but . . .
If you are not a married couple, or are a blended family, think about additional documents you might need in case of a medical emergency or if one of you were incapacitated (for example, authorizing medical treatment for step-children in a foreign country, etc.)
Any documents you'd need if your boat (or home) was a total loss, such as an inventory (see a sample inventory).
And while I'm writing this in the context of cruising or even just weekend boating, keeping copies of important papers online is good for anyone.
You can also use cloud storage such as Dropbox or Microsoft's OneDrive (and many others) to store all these documents. I like using email just because it's easy and I'm not likely to forget my username and password . . . which I've done several times with both Dropbox and OneDrive because I just set them up on my computer and forget about them.
I know that some people put documents on their computer and/or an external hard drive as their backup. Since these are usually physically in the same location as the original, I think that using email or even one of the cloud services provides far greater redundancy. I've known three different people who kept a copy of all their photos on an external hard drive as the backup, then lost both their computer and external hard drive at the same time — one due to a lightning strike, one to sinking and one to theft.
Got another way you've discovered? Or other documents you need to keep? Or a time when you needed copies and didn't have them . . . or did and it saved the day? Please tell the rest us about it!

---
Our FREE Provisioning Spreadsheet
Wondering how much of what foods to take on your next trip? Know just how much to buy of what — all arranged by grocery store aisle — with our handy Provisioning Spreadsheet. Includes detailed instructions to edit it for your favorite foods, how much your family eats, and how long you'll be gone. No spreadsheet skills needed!
It's FREE — get it here.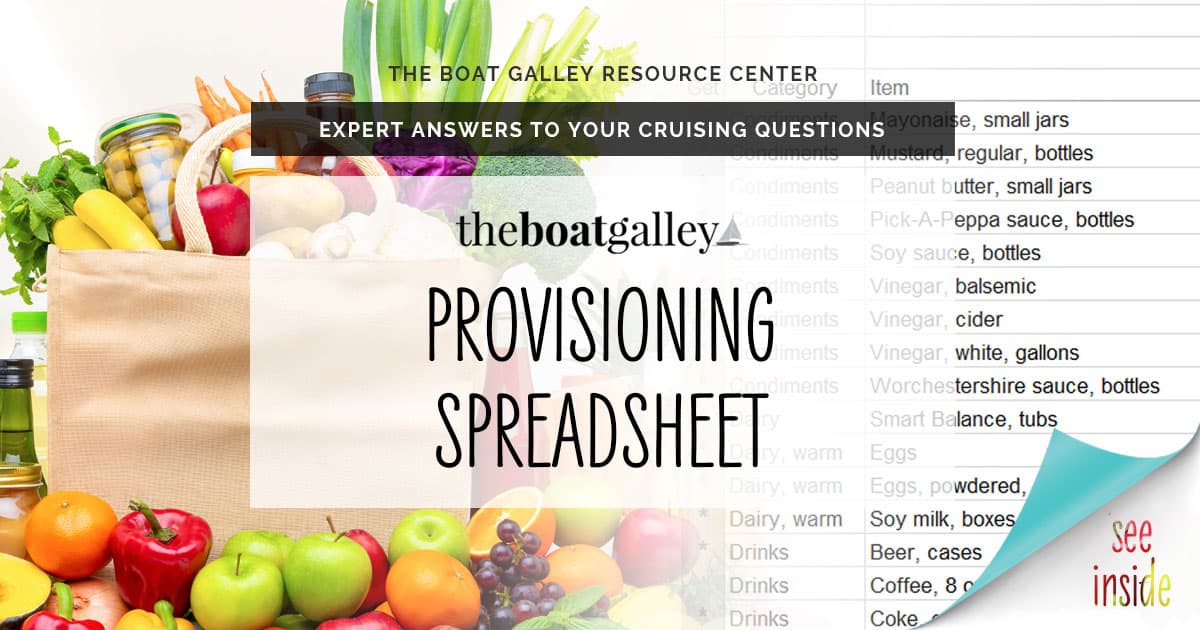 Get answers to all your storage questions in Storage Solutions for Life Aboard! Online course with all materials available immediately to help you end the piles of "stuff" that have no permanent places. Many of the ideas you can implement today. Real help, real fast.

Some links above (including all Amazon links) are affiliate links, meaning that I earn from qualifying purchases. Learn more.