I'm always on the lookout for ways to conserve water without sacrificing lifestyle. And a few weeks ago, I figured out a really simple way to rinse my dishes with noticably less water.
For those just interested in the bottom line: just add about a half tablespoon of white vinegar per quart of rinse water. Works well in an Aquabot sprayer or with a little houseplant watering can. Vinegar cuts soap to make your rinsing much more efficient.
For those who want to know more about it: The boatyard we're in had just gotten a new water softener and while they were getting it set up properly, the water was really, really soft. Soft to the point where it was hard to rinse your hands, rinse your hair after shampooing, and rinse the dishes. The last was the one that really got to me, since we have to hand carry every gallon of water we use about 100 yards from the "potable water" faucet. Using, and hence carrying, three times as much water to rinse dishes just irked me.
But then I got to thinking. When I'd been a kid, mom always urged me to put a little vinegar in the water I rinsed my hair with — said it helped cut the soap. Hmm . . .
I already use an Aquabot to rinse the dishes (it's a one-quart pressure sprayer that's fantastic for rinsing dishes — read my post about it here). I just started adding about a half tablespoon (I don't measure) of white vinegar to the water.
Suddenly, I was using even less water to rinse dishes than I had been before the water softener was installed. And when they took it out of service for a few days while trying to figure out why it was over-softening the water, I found that I was still using less water. (Using the Aquabot, it's easy for me to know how much water I'm using to rinse since I know how often I refill it for a typical load of dishes.)
There's not enough vinegar that you smell it or taste it on the dishes. And I already carry a gallon or two of white vinegar with us for cleaning, so I'm not adding to the load on the boat.
I will definitely continue to add the vinegar when we're at anchor (or in the mooring field). We do have a watermaker, but if we can run it a little less, we're all in favor of that. It's a 12v unit and we have substantial solar power — but we still have to watch our power consumption to keep things in balance. Fifteen minutes less of watermaker time a day does make a difference!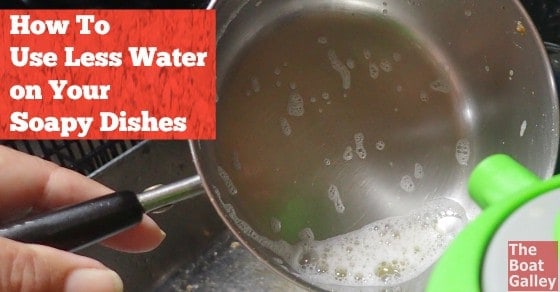 Making Boat Life Better
Some links in this article (including all Amazon links) are affiliate links, meaning that we earn from qualifying purchases.