I frequently get asked how I get internet on the boat, so thought that might be a good topic for The Boat Galley newsletter.  
Here in the US, I use my phone as a hotspot and have a T-Mobile unlimited plan. When we're in slightly remote spots with a weak signal, I plug my phone into an external battery and then put the phone and battery into a small dry bag and hoist it up to the top of the mast with the main halyard (be sure to attach a downhaul line to make it easy to retrieve).
Planning to cruise the Bahamas? Don't drive yourself crazy trying to figure everything out. Get my self-paced online course, Get Ready to Cruise the Bahamas, for step-by-step details on 30 critical tasks. Just $39.
In the Bahamas, we used a hotspot device and I know many people who use them in the US as well. This is particularly good for families, so that the kids don't lose internet for schoolwork when Mom or Dad leaves the boat and takes their phone. Again, plugging it into an external battery and then raising it helps the connection considerably.
Regardless of where, I generally get about two bars more by raising it, making it possible to stream YouTube, sports, and movies.
Phones and hotspots work well around populated areas where there are cell towers. But what about more remote locations or more than 10 miles from land? Or where you need bulletproof high bandwidth to run a business? For those situations, I recommend consulting with this week's newsletter sponsor, SeaTech Systems. This week's ad is for their DIY electronics consulting, but they also sell a wide range of communications packages and can help you choose just the right one for your needs.
---
Be sure to subscribe to The Boat Galley newsletter to keep up with what we're up to and get helpful tips and encouragement from the water.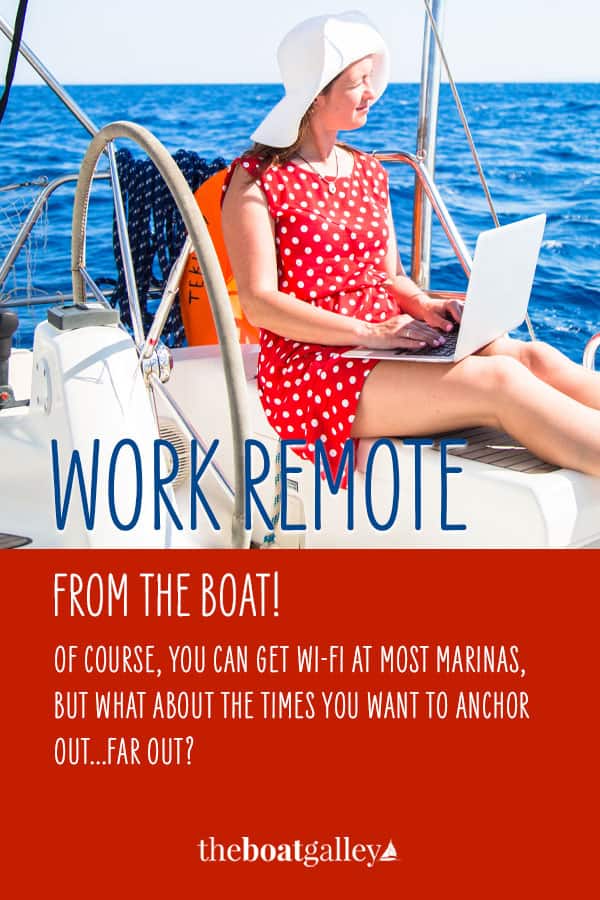 Want more information about going to the Bahamas? Learn everything you need to know with Get Ready to Cruise the Bahamas. Click to see all 30 topics covered!

Some links above (including all Amazon links) are affiliate links, meaning that I earn from qualifying purchases. Learn more.