How many times have you had to get a hose off a hose barb and found it next to impossible?
Hoses are a tight fit to begin with, and then if they've been clamped in place for years, it can seem like they are welded together. Water hoses, waste hoses, vent lines, engine lines, transmission and hydraulic hoses — all have to be removed at some point.
More than once, Dave would tug and tug, then finally resort to cutting the hose . . . but then he still had to get the old stub off before he could put a new hose back on the fitting.
When I said we were going to be removing our marine toilet this summer and replacing it with a composting head, one of my readers (he requested to be anonymous) told me we had to get a hose puller. It'd make the job of removing all the old hoses from the head, pump, valves and holding tank a lot easier, he said. I put it on the list of things to get . . .
Two days later, I got an email from the reader — he'd been at Sears and spotted one in the tool department and bought it for Dave! He sent it to us (I swear I have the best readers!) . . .
It's become one of Dave's favorite gadgets. As he says, you don't need it all that often, but when you do it saves a ton of time and energy.
It's pretty evident how the hose puller works. You work the point between the hose and the barb and wiggle it around to break the bond between the two. Often, Dave had to put it in at two or three different points around the barb to break enough of the bond to be able to get the hose off. Then tug a bit . . . . sometimes more than a bit . . . and pull the hose off.
Because it's bent in a "U" shape, this hose puller works much better than any straight tool such as a screwdriver, ice pick or awl — and it won't slip and go all the way through the hose, either.


Hose pullers are generally sold for automotive purposes, such as removing radiator hoses. You can also buy them in sets of 4 or 5, each of which is bent differently. For a boat, the "U" one works well for everything we can imagine needing.
Some hardwares and auto parts stores carry hose pullers (although they may just carry the sets and not the individual ones). I've never seen one in a home improvement storeand an online search doesn't them at Home Depot, Lowe's and similar stores. But Amazon, of course, does carry several including the exact one that Dave has and finds easy to use: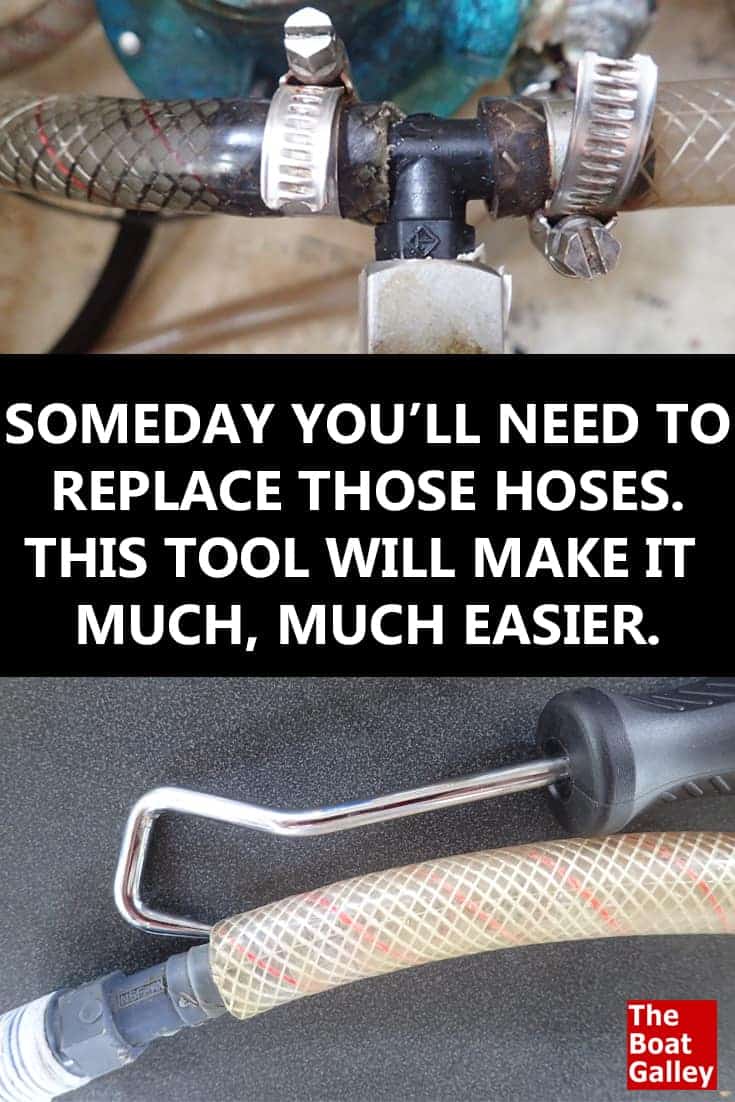 Making Boat Life Better
Some links in this article (including all Amazon links) are affiliate links, meaning that we earn from qualifying purchases.