I'm the designated line-burner on the boat. Not quite sure how I got this fine honor, but it's important to keep all the lines and shock cords from fraying, and burning (or really melting) the ends works well for most lines.
I actually learned the basics back in Girl Scouts when I was in grade school (yes, back when you could teach a kid to use a lighter!), and have refined the technique for even better results since then.
Getting ready to cruise? Prepare to Cruise (a FREE mini-course) gives you lots of free resources along with affordable recommended courses and coaching for more in-depth needs.
This is how we keep all our lines from fraying whether in use on the boat or bits in the "spare line" bag (with one exception, see below). Ditto for shock cord that we've cut. You can whip the ends of lines (which we do on our sheets), but we find this works well for and takes almost no time.
Here's how I do it, along with various tips (and please add your own tips in the comments — I'm always looking to learn new things):
To make it easier to see, I'm doing this on a spare line and in the galley. Often, though, I'm doing it with the line actually in use. We'll run a new piece of line that's longer than what's needed, then I cut and burn it just beyond a knot.
Some of the new no-stretch lines such as Dyneema and Spectra do not melt and this technique does not work on them. You have to either backsplice those or use heat-shrink tubing.
Tools and supplies —

Electrical tape
Very sharp knife and cutting board or scissors (I use my Rappela fillet knife — see it on Amazon — makes a cleaner cut than anything else I've ever used).
Butane torch — you can use a long-nose lighter, but they tend to go out in even a gentle breeze. I have a Blazer Stingray Butane Torch we also use for heat-shrink tubing on electrical projects. It's more expensive than some other butane torches but works perfectly every time. We previously had an Ancor Mini Butane Torch, which costs about a third less (and is called "marine") and it just didn't work well at all (we actually were stupid enough to buy a second one when we were in Mexico as it was all we could find — the second one died faster than the first). If you're going to buy one, get the better one. Also get a spare can of butane — it's cheap and horribly frustrating to run out in the middle of a project!
Begin by double-wrapping electrical tape around where you want to cut the line. Pull it tight and don't just tear the tape — cut the end so it's nice and finished looking. Getting the tape tight and smooth is key to having a nice-looking end.

Cut the line in the middle of the tape — you want as clean a cut as possible. Admittedly, you can't always do it on a cutting board — but even if you're just doubling the line and cutting through the loop, a really sharp knife will provide quite a clean cut. Dull knives or scissors won't. And be ure to cut it in the middle of the tape so both freshly cut ends are taped.

Leave the tape on. Light the burner and pass the end of the line through the flame to just melt the ends of the fibers. You don't want the line to actually catch on fire, but it can happen. Just blow it out. With experience, you'll be able to judge how close to put the line to the flame and how to pass it back and forth through the flame so it melts and doesn't catch fire.

That's it — you're done! Be sure to do the other half of the cut. NOTE: If you accidentally caught the line on fire, the end will be black but you'll still see all the fibers melted together.

If you get the Blazer Stingray Torch — it's designed so that it can be used hands-free (in other words, letting go of the igniter does not stop the flame). To turn it off, you turn the fuel down to zero. Because it's not intuitive (we're all used to lighters that go out when you release the trigger), and not marked, I made my own label to remind me:

Now for an advanced technique to make a "pointy" end where you need to thread the end of the line through something . . . Dave cringes every time I do this but I've never had a burn!
Don't tape the end, but do cut it cleanly. If you want (and can), cut the end at a bit of an angle.
Work the flame back and forth over the last inch or so of the line and get it melting.
VERY quickly, put down the burner and lick your fingers (or dunk them in a cup of water) and then run them from the line to the tip to make a point out of the melting fibers.

This is easiest to do on "cheap" line such as polypropylene and nylon, but also works on polyester. It's hard to do on double braid since the two layers want to melt separately if you don't have tape around the cut. If you need to make a point on double braid, you're better off spiraling electrical tape from a couple inches behind the end to an inch or more after the end and working it into a point.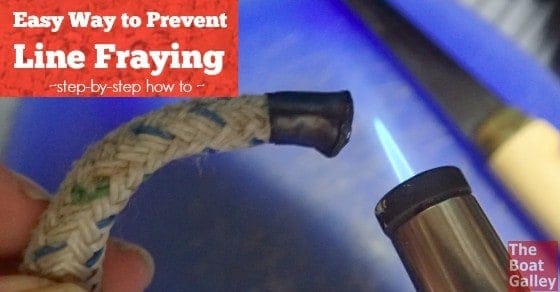 ---
Our FREE Provisioning Spreadsheet
Wondering how much of what foods to take on your next trip? Know just how much to buy of what — all arranged by grocery store aisle — with our handy Provisioning Spreadsheet. Includes detailed instructions to edit it for your favorite foods, how much your family eats, and how long you'll be gone. No spreadsheet skills needed!
It's FREE — get it here.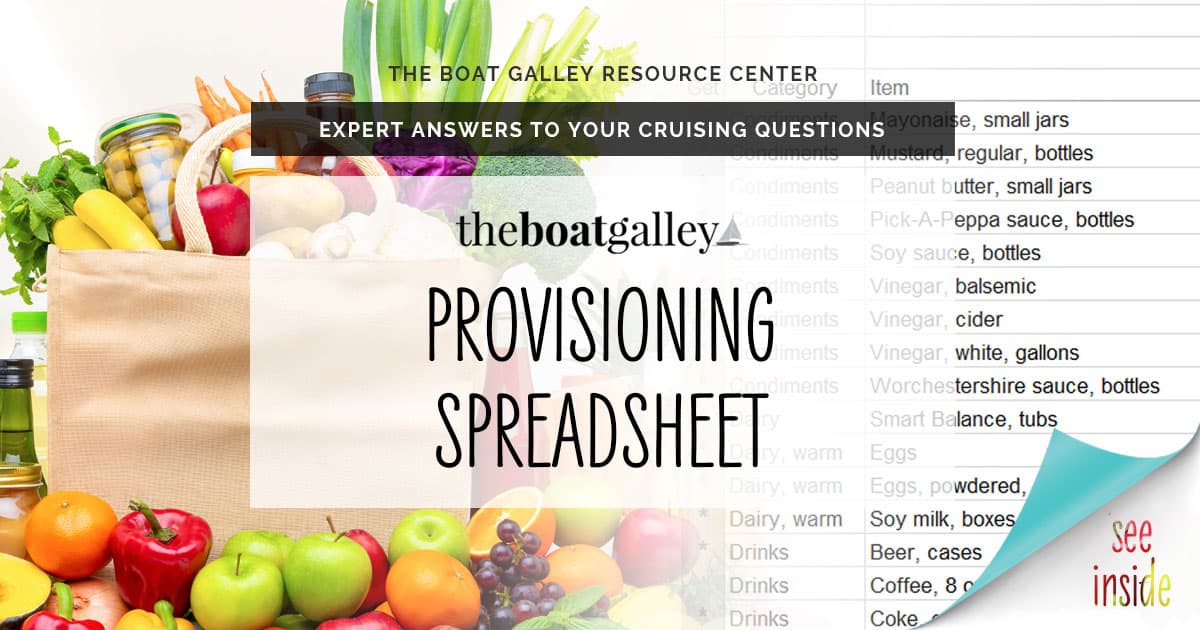 Some links above (including all Amazon links) are affiliate links, meaning that I earn from qualifying purchases. Learn more.