Oh, it hurts. But it happens.
I was putting a piece of stainless tubing below and turned to say something to Dave. In that second, the end of the tube gouged a scratch in the teak behind the settee.
It's happened before, generally moving something through a doorway. And Barefoot Gal has a long teak counter in her port hull — right opposite all our tool storage. Yes, it's gotten scratched more than once. (We'll leave aside the question of why any boat manufacturer would have a wood countertop in a high use area for now . . .)
Rather than sanding and totally refinishing the area, I've learned that Old English Scratch Cover furniture polish does an amazing job of "fixing" the scratches. For teak, the "dark wood" formula works best. It's also good for walnut, mahogany and cherry; for woods such as oak, maple and birch, use the "light wood" formula.
Shake the bottle before starting to ensure that the color is thoroughly mixed. Unless it's a really big scratch, a Q-Tip works well as an applicator.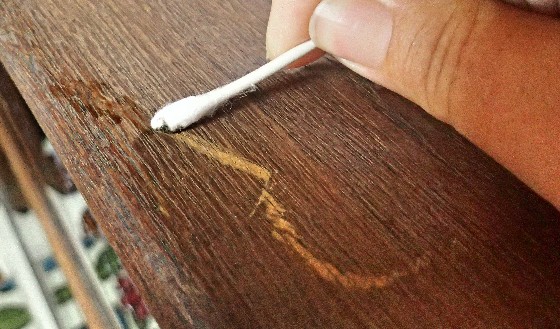 While you don't want to just smear it everywhere, don't worry if some goes on the "good" wood.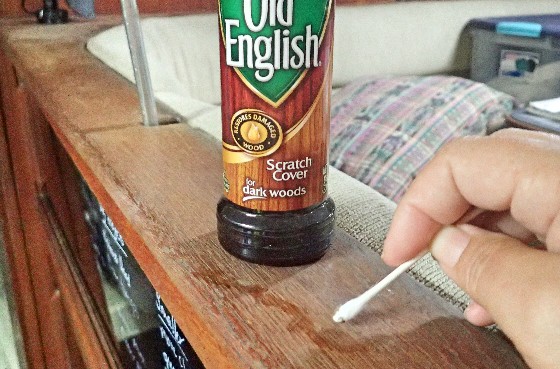 Before it dries, simply take a rag or paper towel and wipe the excess off. Immediately after you apply the Old English, it's slighly noticeable. But in a few days, it's absorbed into the wood and is almost impossible to detect.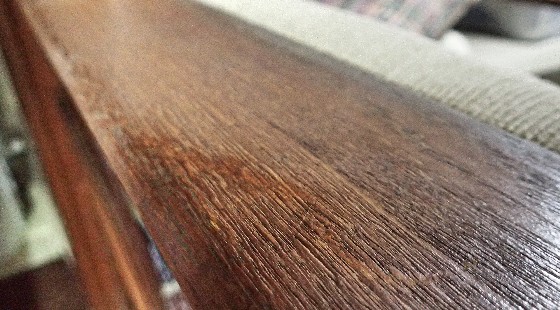 You can buy Old English Scratch Cover at most supermarkets and big box stores (in with cleaning supplies). For keeping wood looking good, their Lemon Oil is also good.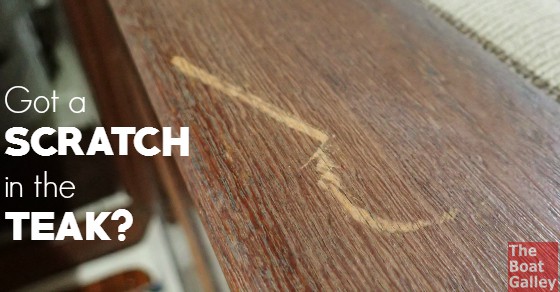 Some links above (including all Amazon links) are affiliate links, meaning that I earn from qualifying purchases. Learn more.