Preparing to cruise? Or about to head to a new area? Want information and inspiration? Or want to show family and friends your dream? Check out the Distant Shores DVDs!
Distant Shores is a Canadian TV show by cruisers Paul and Sheryl Shard (it also has very limited distribution in the US — if you get WealthTV, look for it). Over 100 episodes have been aired in the nine seasons that the show has run.
Sheryl and Paul sent me four seasons' worth as review copies, and Dave and I have had a ball watching them. Each one has us contemplating a trip!
So what sets their videos apart from others? First and foremost are their interviews with people along the way — whether they be lockkeepers on the Erie Canal, cruisers readying to depart on the Caribbean 1500 or crystal artists in Waterford, Ireland. You learn about the areas they're passing through, not just what's happening on the boat. And you learn it in the people's own words, as they show off their piece of this planet.
But that doesn't mean that they just gloss over the realities of travel by boat. They show what it's like to go through various locks, whether it be in the US or Scotland, the best way to pass and be passed on the ICW, and all sorts of other things. And yes, they show a bit of boat work — and offer up tips on that as well with what seem to be just offhand comments such as "what I'm looking for here is . . . " There's a lot of information in each show, and I find myself picking up new bits each time I watch an episode. Yes, I'm guilty of watching and re-watching!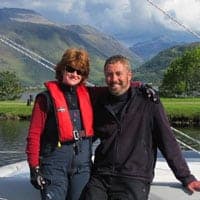 A little bit about Paul and Sheryl — they've been cruising and making documentaries since 1989, having visited over 60 countries and sailing over 90,000 NM, including 5 ocean crossings. Their professionalism in filming, narration and production is equally top-notch (their work has been on Discovery Channel, Travel Channel and PBS, so you know they're put together well). They know what they're doing both as far as cruising goes and making TV shows.
To be honest, I had not heard of Distant Shores until Sheryl contacted me recently about their DVDs. And all I can think is that I wish I could have given their DVDs to several family members who just didn't get what we were doing when we bought Que Tal and began cruising. While they haven't cruised the same area that we did, they do present a glimpse of the cruising lifestyle that's neither "every day is vacation" nor about to scare the pants off anyone.
Each season has thirteen episodes, generally on 3 DVDs, and there are several multi-season packages as well as packages for a specific location such as the Bahamas. Digital downloads are available for some seasons, but not all.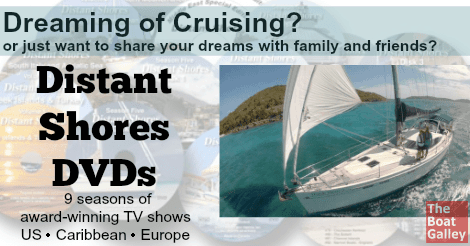 Some links above (including all Amazon links) are affiliate links, meaning that I earn from qualifying purchases. Learn more.