Another great cutting board — I think I like this the best of any I've ever owned! Which isn't to say I don't also like my OXO one that I wrote about here, just that I like this one even better.
Recently, my "second" cutting board (not the OXO) broke in two after nearly 20 years of use and abuse on a lot of camping trips. I had seen the Dexas when a friend brought it to a function at our sailing club, and decided to get one for myself.
Reasons I like it:
The shape is great for sliding foods off the cutting board right into a skillet. I don't spill nearly as often!
The rounded-up edges also do a better job of containing juices (think ripe tomatoes or meat). Great on a boat that moves!
Non-slip on the bottom (see photo at right). It doesn't slide on the counter, even when I'm not holding it.
The material doesn't dull my knives and it's very easy to clean.
Bleach solution doesn't hurt it (I spray my cutting board with bleach solution after using it to disinfect it.)
LOVE the handle on the end — makes it really easy to hold and lift with food on it.
About the only disadvantage that I've found so far is that it takes a little more storage space than a totally flat board such as the Oxo. The Dexas Chop and Scoop comes in three sizes — I had the 11 by 15 when living ashore and found it a really good size, but check both your counter and storage space. Available on Amazon: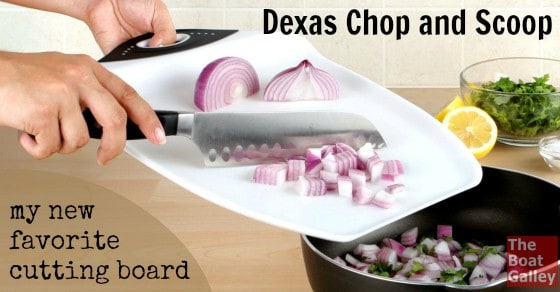 Some links above (including all Amazon links) are affiliate links, meaning that I earn from qualifying purchases. Learn more.