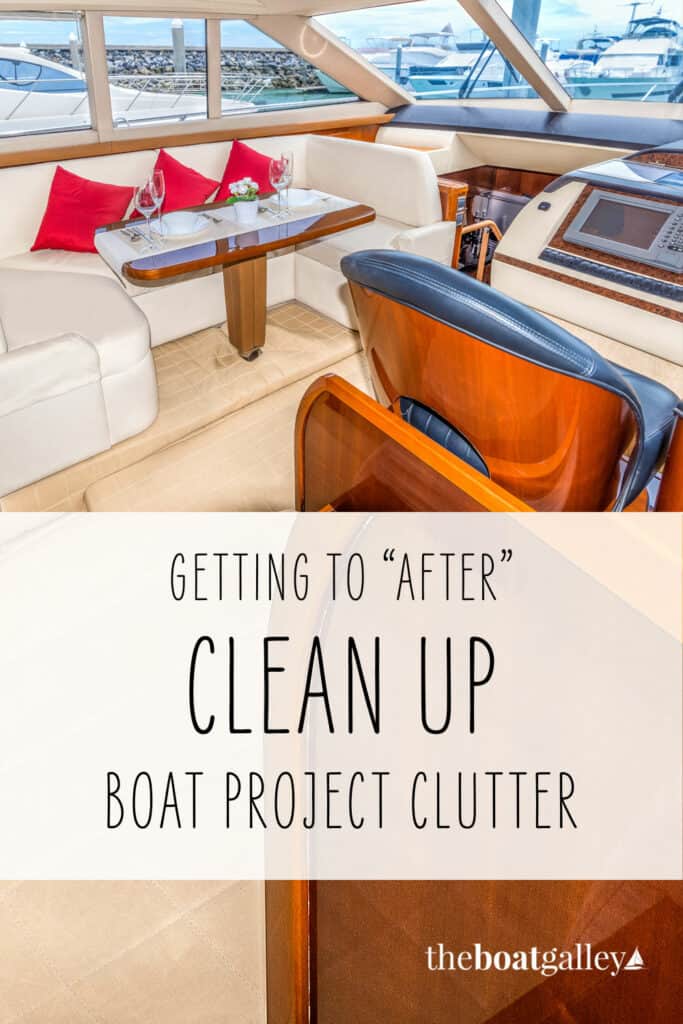 I have to say, the last few weeks I've been feeling a little stressed. Grumpy. Just feeling out of sorts.
About three weeks ago, we started on a project to reinforce the bulkhead in one of our aft cabins. I knew there'd be a bit of a mess, so I took everything out of the cabin. It all went on the settee, leaving us just barely room to sit at the table. It was only going to be a couple days, and we could live with that.
Well, project creep set in. First, Dave tidied up some of the wiring that had been moved during the project.
And then he decided that as long as everything was out of the cabin, it'd be a good time to add a valve to the water tank under the bed. Of course, it was an unusual valve that had to be ordered and took 6 days to arrive.
Then it was my turn. I wanted to deep clean the upholstery on the walls while nothing was in the way, and it took two days to dry. Add in a few days filled with appointments 50 miles away and it was getting close to three weeks that "The Pile" had taken over our main living area.
Finally, I thought, I'd be able to put everything away. Nope, torrential rains moved in – and I needed to be able to put some things in the cockpit while I moved other items around.
Yesterday "The Pile" finally went back to its home.
Ahh. Bliss.
I hadn't realized how the clutter and not being able to find things except by plowing through The Pile had affected me until it was gone.
I've had a few emails recently from people who have recently moved aboard and are finding it stressful. Moving aboard can be hard for several reasons:
We often overestimate the storage on the boat and bring too much stuff (we did this both times we moved aboard!). It sits in piles until we finally do one more purging.
That last downsizing is tough because this is all stuff we thought we needed!
You have to move five things just to put one thing away!
We're trying to figure out what should go where. Things get moved multiple times. Not only is it work, but it's hard to remember where anything is.
Like us, there may only barely be room to sit down.
It's overwhelming.
I can't make it totally painless. Things will get moved around as you find the best places for them, and it will be a while before you remember where everything is. But I do have a few suggestions:
Can you get an AirBnB or hotel room for a week, so that you can work on moving into the boat, but then spend your evenings out of the mess?
If not, can you get a small storage unit and put the majority of boxes there and then just bring one or two to the boat at a time?
Even just keeping the boxes in your car can make the boat less cluttered.
As you decide what you don't need, make daily trips to wherever you're going to donate it. Don't start another pile! Get rid of it.
As you get rid of the clutter, you'll be surprised at how quickly the boat starts feeling like home. Enjoy! 
---
Be sure to subscribe to The Boat Galley newsletter to keep up with what we're up to and get helpful tips and encouragement from the water.
Here's your "Quick Start" to everything you need to know when living on a boat:


Making Boat Life Better
Some links in this article (including all Amazon links) are affiliate links, meaning that we earn from qualifying purchases.